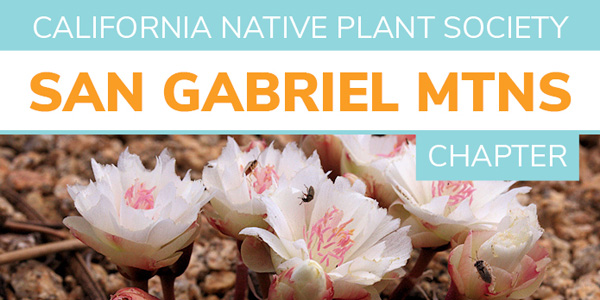 THE PAINTBRUSH
January 2021
Welcome to The Paintbrush in its new incarnation! This is the first issue of our chapter's newsletter in its new all-electronic format. The advantage of this change to you, the readers, is that articles can be of any length, appropriate to the topic, all of the photographs are in full color, and they appear in your email inboxes, to be read at your convenience. The benefit to the chapter is that they are easier to put together and eliminate the costs of printing and mailing (a big benefit in a year without a plant sale to raise funds). We even have the possibility of publishing articles when they are timely, rather than on a rigid schedule.

We are interested in hearing from you about the new format and content. We don't have the flexibility to go back to the traditional and much-loved format. But we may be able to make improvements, based on feedback that we receive. Please send your comments to info@cnps-sgm.org.

Click here to view all of the Paintbrush articles on our brand new News & Stories Page

MOVING INTO 2021
By Cliff McLean
2020 was a year of many difficulties, most of which were a result of the COVID-19 pandemic. Many people were directly affected by the virus, including some of our members. The growing availability of vaccines provides hope of return to normal, but we know that this will not happen for quite some time. So, we expect to stick with online meetings and avoid field trips for much of 2021.
EVOLUTION OF A NATIVE PLANT PERSON
By William Hallstrom

My relationship with the native plants of California, and especially those of Los Angeles County goes way back, but we haven't always been so close. I grew up in the San Gabriel Valley and I have been hiking in the local mountains for as long as I can remember. While the aromas of various species of Salvia and Artemisia and other plants of the scrub and the chaparral spark vital memories for me, I could not have necessarily identified them until much more recently. In fact, despite being both an avid hiker and gardener, for the longest time I was only vaguely aware of many of the key plants of our local ecosystems.

READ MORE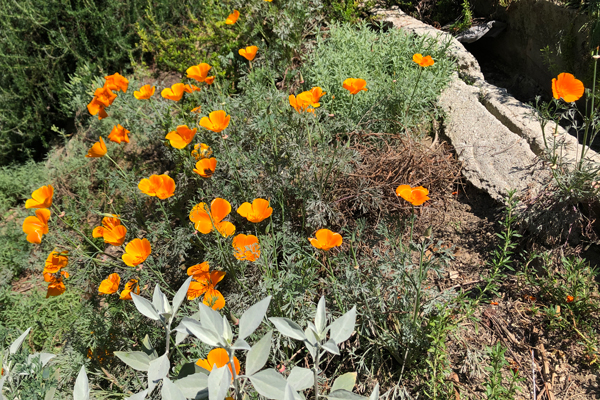 ARTIST INTERVIEW - LESLEY GOREN
By Margaret Gallagher


When I first encountered Lesley Goren's art several years ago, I immediately fell in love with the vibrant, graphic style she uses to portray native plants and tell stories about California's ecology. Her work brings together elements of illustration, printmaking, pattern design, and graphic storytelling (among others) to create a style that is unmistakably her own. Her subjects range from the untamed beauty of California's spring wildflower blooms to the complex stories of wildfire causes and effects. Her artwork is colorful, contemporary, and very accessible, helping to inspire love and understanding of native plants in a wide audience. I sat down with Lesley earlier in 2020 to talk about her art.

READ MORE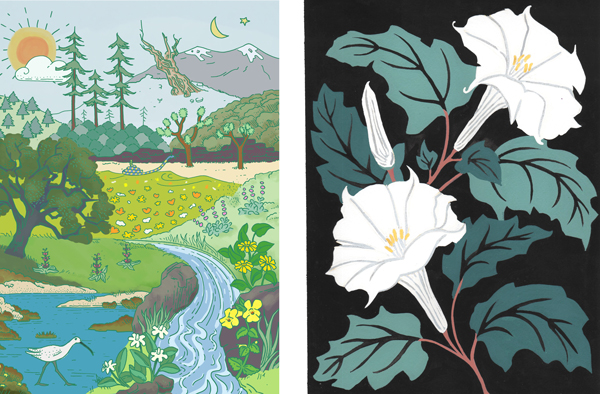 PLANT OF THE SAN GABRIEL MOUNTAINS: FOOTHILLS AND CANYONS APPLICATION IS NOW FREE AND ONLINE
By Cliff McLean
Gabi and I produced an interactive CD in 2008 and sold it at nature centers and botanic gardens. Now we have made the entire application available for free on our website. It currently has over 1800 photos and descriptions of 258 plant species and 69 families.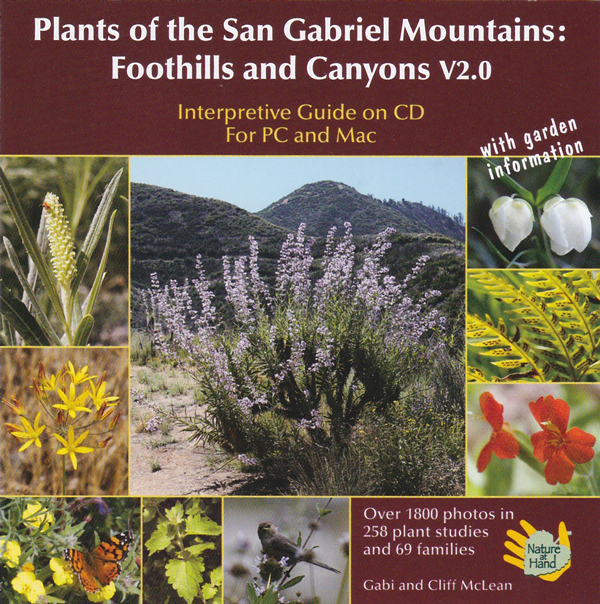 UPCOMING EVENTS
Chapter board meeting, Thursday January 21 at 7:30pm via Zoom. Board meetings are open to all chapter members. Email us at info@cnps-sgm.org for the meeting link if you would like to attend.

Monthly program meeting, Thursday January 28 at 7:30pm via Zoom. Program details will be announced soon.
FOLLOW US ON SOCIAL MEDIA
CONTRIBUTE A STORY
All of our stories and articles in our newsletters come from our members and friends. Have an idea for a story on an native-plant-related topic? Reach out to us at info@cnps-sgm.org, we'd love to hear from you!

| | |
| --- | --- |
| | |
| | |