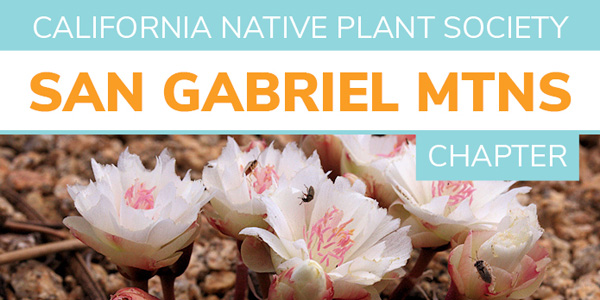 THE PAINTBRUSH
Our Chapter Newsletter
June 2021
Welcome to our second edition of The Paintbrush in its new all-digital incarnation!
We are interested in hearing from you about the new format and content. Please send your comments to info@cnps-sgm.org. Or if you would like to contribute an article, we welcome you to get in touch.

Click here to view all of the Paintbrush articles on our News & Stories Page

WHAT DO YOU WANT TO DO NEXT?
By Cliff McLean, President
I think that it is safe to say that nearly everyone is eagerly awaiting the time when we can get back to doing things together—face to face. As a country and as a local community, we have made tremendous progress in knocking down the COVID-19 infections, thanks to the vaccines and to the measures taken by most people to limit the spread of the virus. THANK YOU, EVERYBODY!
Now that we are past June 15, many of the restrictions have been removed for group activities in Los Angeles County, at least for those who are vaccinated. We now then look for opportunities to get back together, but with a bit of caution. We are highly dependent on the L.A. County Parks Department for our ability to resume our monthly meetings at Eaton Canyon Nature Center, as well as our monthly plant walks there.
We will probably face fewer restrictions for outdoor field trips, but they may also be somewhat limited by our own sense of caution, at least for a while longer.
It is also possible that we, as a community, may experience some setbacks in our progress with the virus, with potential re-impositions of restrictions, so we need to remain flexible.
In the meantime, it is time to begin to make some plans. We know that this fall, we will have our regular program meetings, either in person or via Zoom. What would you like to see and hear about?
I am also confident that, beginning in July, we will be able to resume field trips for people who have been fully vaccinated. So, imagine where you would like to go and what you would like to see in the field.
Please drop a note to info@cnps-sgm.org. We would love to hear about what you would want to do. It would be an extra bonus if you are willing and able to lead the suggested activity or help organize it.
INTRODUCING OUR NEW CHAPTER T-SHIRT!
Our biggest news to share this spring is our brand new t-shirt design. We are beyond excited to present this beautiful artwork! Created by local artist Rachelle Boyd, this design features quintessential native plants that capture the spirit of the San Gabriel Mountains - canyon live oak, bush monkeyflower, mountain mahogany, paintbrush, San Gabriel manzanita, toyon, Plummer's mariposa lily, woollypod milkweed, and Lewis's clarkia. Rachelle's artwork won our chapter's artwork contest in January 2021 out of 70 entries.

The shirt is available in grey in two styles, adult unisex and women's. It is hand screen-printed by a local women-owned business on a 100% certified organic cotton t-shirt.

Visit our website to pre-order a shirt at the link below. Placing a pre-order helps us know which colors and sizes to make, and ensures you can get the exact shirt you want.
ORDER A T-SHIRT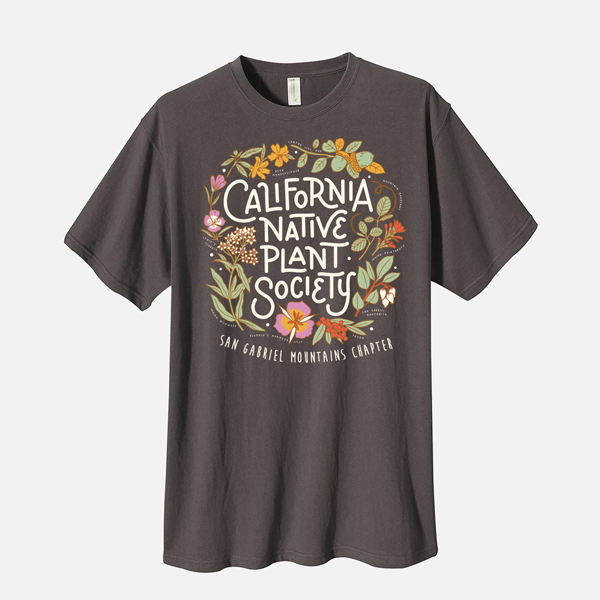 ARTIST INTERVIEW - RACHELLE BOYD
By Margaret Gallagher


Rachelle Boyd, the artist behind our new t-shirt, is an illustrator, fine artist, and outdoor adventurer based out of Southern California. We interviewed her about her love for native plants, what inspired her design, her creative process, and what she is working on now (hint: it involves monarch butterflies!). Click the link below to read the interview, and see more images of her artwork.

READ MORE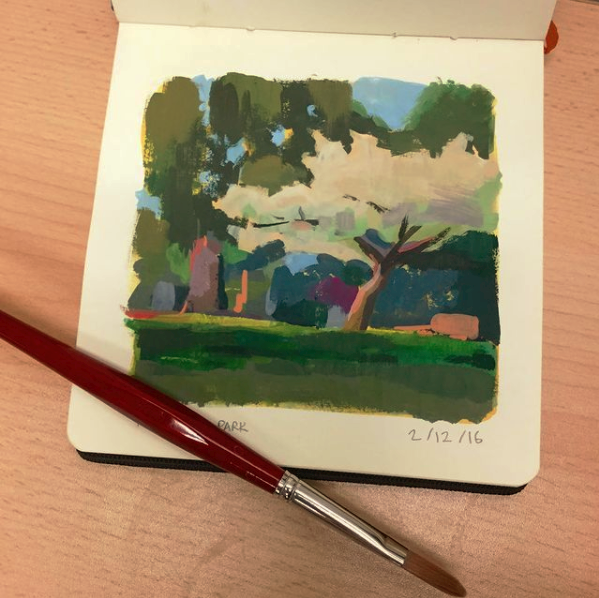 ART CONTEST
Our t-shirt artwork competition last winter drew in seventy entries from artists all over the area. Working in a wide variety of media - from collage, to oil paint, to digital design - these artwork represent a marvelous pool of talent and passion for native plants. Visit the gallery on our website to browse all of the entries.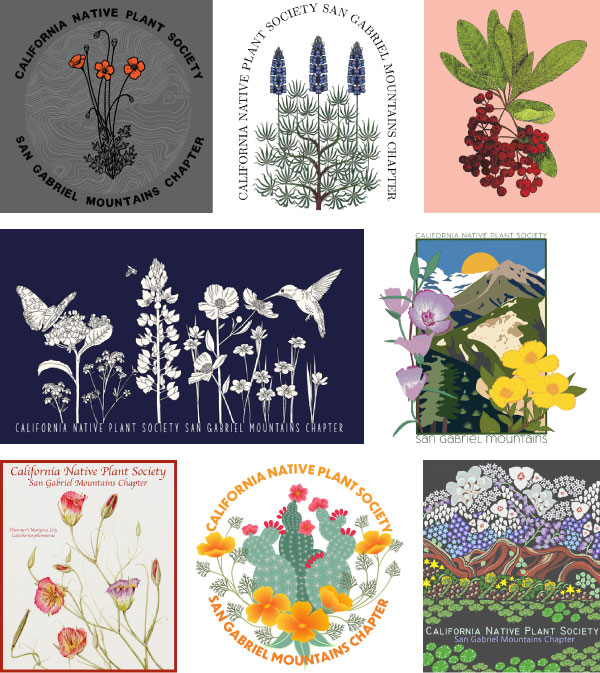 JUNE 24 PROGRAM: FLORA OF THE SAN GABRIEL MOUNTAINS WITH ORLANDO MISTRETTA
We hope you will join us at 7:30pm on June 24 for our monthly gathering - a Zoom presentation by Orlando Mistretta, author of the book Field Guide to the Flora of the San Gabriel Mountains.
Orlando Mistretta has lived his entire life in the shadows of the San Gabriels. As a graduate student at Rancho Santa Ana Botanic Garden, he discovered a manuscript by Joseph Ewan in the Garden's archives that first sparked his interest in the plants of this exceedingly rugged mountain range located in close proximity to Greater Los Angeles, California. For the past four decades, his botanical career has taken him all over the San Gabriel Mountains, including the most remote corners and in all seasons. The result is this field guide that is at once a personal and entertaining account of the region's botanical context and history of exploration, and a long-awaited inventory of its flora.
BOOK REVIEW: Field Guide to the Flora of the San Gabriel Mountains, by Orlando Mistretta
Released in January of 2020, this relatively new field guide has the potential to be an essential book on the shelves or in the backpack of any explorer of the San Gabriel Mountains. Two of our long-time contributors, Barbara Eisensten and Mickey Long, shared their reviews of the book.
"You too will want to get a copy of the Field Guide to the Flora of the San Gabriel Mountains before the next wildflower season. If you have some favorite plants that you wish to visit, consult this authoritative and comprehensive manual to begin your search with a strong background. If you are just interested in the plants you see on your hikes, this book will expand your knowledge and understanding. And if you are a botanist or naturalist, this book is definitely something you will want in your library." - Barbara Eisenstein
"Clearly a great deal of work went into compiling a complete listing of all taxa for the mountain range and recording locations from herbarium specimens for each. . . The keys will simplify the chore of tracking down an unknown find and the elevational ranges, specific to the San Gabriel's, will be helpful. This flora will be very useful to professional botanists, environmental consultants and serious naturalists." - Mickey Long
PROGRAM MEETING VIDEO RECORDINGS NOW ONLINE
Did you miss one of our program meetings, but still want to watch? Our virtual program videos are now online! Visit our YouTube channel to watch the following presentations, with more coming soon:
California Garden Design: Simple steps to make your garden more than a collection of plants, with Scott Kleinrock

Evolution of Sunland Welcome Garden, with Roger Klemm

Gardening Q & A, with Barbara Eisenstein and Orchid Black

Learn about favorite local native plants by using Calflora, with Cynthia Powell
VIEW RECORDED PRESENTATIONS
VOLUNTEER OPPORTUNITIES IN OUR AREA
Now that many people are once again gathering in person, there are local native plant and habitat initiatives that could use your help. We've collected a few below.
Interested in making something happen with our chapter? We welcome volunteers of all experience levels! Volunteer opportunities can be created by your imagination. We always need folks to help with our plant sale, to lead monthly plant walks in Eaton Canyon, or to plan and lead field trips. At the moment we are also looking for someone to assist our Program Coordinator in planning monthly programs.
South Pasadena Nature Park
A four-acre habitat park along the Arroyo Seco in South Pasadena. Each month volunteers weed and clean up in the park. The last volunteer day until September is Saturday 6/19 from 9am-12pm.
Washington Elementary Habitat Garden
Created and maintained by Pasadena Audubon, this habitat garden is an education resource for the students at Washington Stem Elementary. Help is always needed with weeding and other garden tasks. Email LoisB.PAS@gmail.com for more information.
Sunland Welcome Nature Garden
The Sunland Welcome Nature Garden, a volunteer-run native plant garden on Sunland Boulevard at the 210 freeway, is a showcase of local native plants. Contact Roger Klemm at treehuggers@ca.rr.com to join the next workday.
Sepulveda Basin Wildlife Reserve Plant Group
Invasive plant removal. Weekday mornings and some weekend events, organized through CNPS LA/SMM Chapter. Van Nuys. For information, contact Steve Hartman at naturebase@aol.com.
The Great River Cleanup - Friends of the Los Angeles River
Various locations along and near the LA River, June and July. Register on FOLAR's website.
Do you have a project you could use volunteers on? Drop us a line and we can include it in our next newsletter.


Follow us on Facebook and Instagram for more chapter news and updates.

| | |
| --- | --- |
| | |
| | |