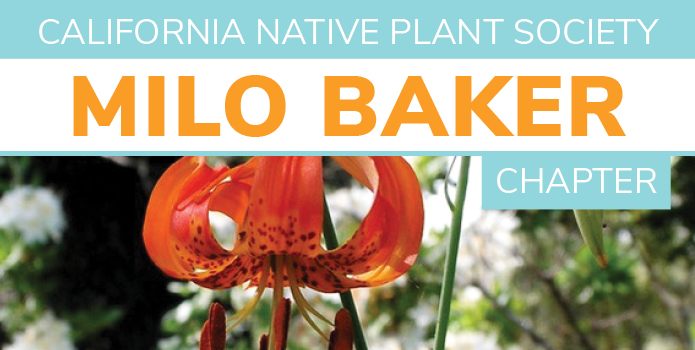 March Newsletter
What's in this issue: Speaker Series, Spring Scholarship Applications, News from the Nursery, Plant of the Month, March Plant Walks, North Bay Science Discovery Day, Volunteer Opportunities
Speaker Series
Third Tuesday of the Month at 7:30 pm
March 21, 2023 (In-person and on Zoom)
Luther Burbank Art and Garden Center, 2050 Yulupa Ave, Santa Rosa, CA 95405
The Importance of Herbaria
Alison Colwell, Curator, U.C. Davis Center for Plant Diversity Herbarium
The Importance of Herbaria with Alison Colwell, Curator of the UC Davis Herbarium. This presentation will describe herbaria in California and how they are important to many science disciplines including plant taxonomy, ecology, and ethnobotany.
You can find the registration link for this presentation at our website: milobaker.cnps.org
We are resuming the before meeting dinners at the Kirin Restaurant, 2700 Yulupa Ave, Santa Rosa. We will meet there at 5:45 pm. Please contact Liz Parsons (707) 508-8345 if you plan to go.
Spring Scholarship Applications Due April 1
The Milo Baker Chapter of the California Native Plant Society (Milo Baker) is looking to support students who are interested in learning about native plants or are engaged in study and/or research relating to native plant conservation, restoration, or other native plant studies.
Milo Baker provides two types of scholarships: a merit scholarship for educational expenses and a research scholarship to provide funding for research-related expenses. Awards are open to current and incoming students of Sonoma State University or Santa Rosa Junior College. Preference will be given to applicants who demonstrate a focus on Sonoma County flora or issues affecting plant communities of Sonoma County.
For more information and to apply, please visit the Scholarship page on our website.
Applications for the spring semester award must be received by April 1, 2023.
If you have questions, please email Michelle Halbur at mhalbur@pepperwoodpreserve.org
News from the Nursery
Vine Hill manzanita now live in the wild in 3 locations; not just 1
– Betty Young, Milo Baker Nursery Chair
(From left to right) Lynnette gives the Pitkin planting a thumbs-up; a new home for Vine Hill manzanita; Milo Baker volunteers plant at Cunningham Preserve.
You may recall the history of our own Vine Hill manzanita. If not, let me refresh your memory of the saga of the Vine Hill manzanita.
There was until this January, only one wild population in the world of Arctostaphylos densiflora (Vine Hill manzanita) at our CNPS preserve in northern Sebastopol. It is state listed as endangered; you'd think so with only one population of plants. Until 1975 that property was privately owned and most of it was a vineyard. That year, it was put on the market and CNPS purchased it.
After CNPS purchased the property, Phil Van Soelen, previous owner of Cal Flora Nursery and past chapter president, took on stewardship of this last remaining population of about 20 plants. Over the next 20 years, Phil did a wonderful job of propagating from the last remaining 20 plants and planting those clones on the rest of the property where the grape vines had been removed. Thank you, Phil, for saving this species at Vine Hill.
However, in 2020 our current CNPS steward, Sarah Gordon, noticed many VH manzanitas on the preserve were looking stressed with dead areas. Sarah called me in, since I have been involved with the root rot Phytophthora issues in nurseries and restoration sites since 2014. I tested soil in 4 areas of the preserve and got positive results. Our chapter then hired Ted Sweicki, PhD plant pathologist and leading expert in this field. He tested an additional 12 locations at the site, along with CDFA plant pathologists testing. Results were that the whole 1.6-acre preserve was infected.
Interestingly, the results from Ted showed most likely that the infection came from the remnant plants that were at the top of the hill, next to the road, probably not from planted clones, and probably moved down the hill with the water stream or on the shoes of botanists and others visiting the site. This water borne fungus-like disease moves with soil or in water. At least that is my interpretation from the results.
Therefore, in order to save this species in the wild, we needed to establish new populations of this species. Mature plants could not be moved since they are all presumed infected. The disease enters through the roots and eventually kills the plant as it travels up with water. After receiving a research permit from CFWS in January 2021, I began propagation with tip cuttings, hoping to get clean material ahead of the infection.
Meanwhile, the genomics lab at CSU East Bay collected samples from all 80 VH manzanitas (both natural and propagated) to determine whether the propagated plants that Phil did were a single clone from one natural plant or from multiple remnant plants. Phil had done an amazing job and had planted clones of almost every one of the remnant plants, 20 genetic lines in all. I used that information; to propagate cuttings in 2022 from the genetic lines I had not captured in 2021, resulting in 226 plants ready to plant this winter from 15 genetic lines. Plants from the other lines were either too infected to get clean material or no longer large enough to withstand any material removal.
Thanks to an amazing nursery volunteer team for all their help and support, especially Natasha Granoff for helping collect cuttings, Pat Sesser for helping to prep and stick cuttings, and Natasha and Lynnette for helping to test each set of plants to be sure all were disease free. The whole nursery team potted up rooted cuttings and later into large pots. Penny Dalton has helped me apply Agri-Phos (to slow infection spread), label and monitor the plants at Vine Hill.
During the time plants were growing, we found 2 protected areas with the same type of soil and received permission to plant in those 2 sites. Thanks to Sonoma Land Trust for allowing us to plant in the upper reach of the Lower Pitkin Marsh preserve and to our own Marcia Johnson for permission to plant on her part of the Conservation Easement we steward at Cunningham Marsh.
In January, we planted at these 2 preserves. 68 plants, from all 15 of the genetic lines we propagated, were planted at Pitkin Marsh. 19 plants, from 12 genetic lines, were planted in at Cunningham by our own CNPS stewards; Judith Rousseau, Alynn Kjeldson, Karen and Dan Thompson, Lynnette Bower, Marcia Johnson, Jan Lochner, and Penny Dalton.
Special thanks to Laguna de Santa Rosa Foundation, with whom we partner in the nursery. They donated 3 person days to haul all the plants and materials for plant protection up to the top of the hill at Pitkin Marsh. Then after our volunteer plantings were rained out twice, they planted the 50 manzanita at Pitkin, put down landscape fabric and built and applied cages at their cost. Lynnette Bower helped with that planting.
These 2 preserves allow the Vine Hill manzanitas to develop into a functioning habitat. But just for insurance most of the other VH manzanitas we grew were taken to Botanical Gardens: East Bay at Tilden, UC Berkeley, San Francisco (Strybing), San Francisco State, UC Santa Cruz, Humboldt, and Mendocino. Thanks again to Penny for driving and her company on those trips.
IT TAKES A VILLAGE TO SAVE A SPECIES
If you would like to help to water and monitor our two new populations of Vine Hill manzanita, please contact me, Betty Young youngb0721@msn.com, 707-695-4257.

Plant of the Month
Asarum caudatum – Wild Ginger
– Liz Parsons, Milo Baker Vice President
On a recent visit to Pomo Canyon campground, there were two species growing as an understory to the redwood: Redwood sorrel (Oxalis sempervirens) and wild ginger. Both species can be grown in our gardens as ground covers in shady situations. They are a perfect compliment to ferns, since ferns also grow best in a shady garden area.
The habits of all species of Asarum are similar—creeping or clumping ground covers with glossy, evergreen leaves with a pungent odor, and flowers with three maroon/brown petal-like sepals. They are members of the Pipevine family, Aristolochiaceae. The other member of the family is the pipevine, Artistolochia californica.
Illustration by Liz Parsons
There are four species of Asarum in California, but only one, Asarum caudatum, is widely grown and readily available in the trade. A. hartwegii is unusual, but can be found if you search. A. lemmonii, found in the High Sierra and in the Klamath Range, is rarely found in the trade. The fourth species, A. marmoratum, marbled wild ginger, is uncommon, and while it can be found in northern Del Norte and Siskiyou counties, it is not generally available in nurseries.
The most common and easily grown species, A. caudatum, western wild ginger or long-tailed ginger, has brown flowers with sepals which terminate in a 2+ inch long thin twisting tail. These unusual flowers have been compared to insects and are hidden among the large evergreen leaves from December to March. The shiny dark green leaves make this an exceedingly attractive ground cover. The leaves and the crowded stems effectively shade out all competition.
Give this vigorous ground cover lots of room to roam, especially if you plan to give it summer water. With little or no summer water, it will survive but will look a little ratty. It can be found growing in the north coast ranges from Santa Cruz north to British Columbia and Montana.
Asarum hartwegii, cyclamen-leaved ginger, is a well-behaved relative. The large leaves have conspicuous white veining, hence the common name. The brown, stemless flowers are without long tails and are found nested among the leaves, facing-up. It spreads slowly by underground rhizomes and will eventually form a tight clump. This restrained habit makes it an excellent choice for a shady spot in the rock garden. It can be found under the yellow pines in the Sierra foothills and in the Klamath range, the high Cascade range, and the high Sierra
Asarum lemmonii, or Lemmon's wild ginger, is found in the shady, wet places in the high Sierra and in the Klamath range. The leaves are somewhat mottled; the brown sepals of the flowers have no tail. The plant will spread horizontally to form a loose mat.
The wild gingers are named for their pungent odor. The succulent stems were used as a ginger substitute by the pioneers and as flavoring by the CA Indians. The odor of the brown flowers attracts small flies which pollinate them. They can be propagated by their seeds or by stem cuttings which are easily rooted.
If you have a shady situation which is a problem, the wild gingers, especially A. caudatum are the answer to the problem. The deep green heart-shaped leaves, the pungent odor, and the surprisingly unusual flowers will delight you and enliven the space.
March Plant Walks
Sunday March 5, 11:00-3:00
Ferns of Pomo Canyon
Leaders: Wendy Born and Liz Parsons, CNPS Vice President
Click here to register
Rescheduled from February 28
Thursday March 9, 1:00-3:00 (with optional longer hike)
Ferns of North Sonoma Mountain Regional Park
Leader: Michelle Karle, Regional Park Aide, CNPS Chair
Click here to register
Monday March 13, 1:00-4:00
Spring at Healdsburg Ridge Open Space Preserve
Leader: Rosaleen Murphy, Certified California Naturalist
Click here to register
Tuesday March 14, 3:00-5:00
Rincon Ridge Milo Baker Preserve
Leader: Michelle Karle, CNPS Preserve Manager
Click here to register
Sunday March 19, 11:00-3:00
Wildflowers of Foothill Regional Park
Leader: Ruthie Saia, Certified California Naturalist, CNPS Chair
Click here to register
For more details about our plant walks please check our website.
To sign up for email alerts contact Milobakerevents@gmail.com
Ruthie Saia, Milo Baker Plant Walk Coordinator
2023 North Bay Science Discovery Day – Volunteers Needed
– Milo Baker Chapter Education/Outreach Committee
When: Saturday, March 11, 2023 | 10:00 a.m. to 4:00 p.m.
Where: Sonoma County Fairgrounds, Santa Rosa, CA
Our theme is: How do our native oak trees help fight global warming and promote biodiversity?
Please sign up for Volunteer Opportunities #1 or #2 listed below. To sign up for one or more shifts - please CALL Virginia at 707-217-9815 or email Catherine clipson@berkeley.edu with your contact information and we'll send you instructions. THANK YOU for signing up for one or more shifts to help us make NBSDD a big success!
Volunteer Opportunity #1
Location: Sonoma County Fairgrounds
Date/Time: Friday March 10 from 2:00 to 7:00 pm
Shifts: 2:30 pm to 5:30 pm (5:30 to 7:00 pm as needed)
We need volunteers to meet us at the shed behind the Luther Burbank Art & Garden Center on Yulupa Ave. to load materials from the shed into one or more cars/vans/trucks. We plan to arrive at the fairgrounds around 3:00 where the NBSDD organizers will open a gate for exhibiters. We are likely to be finished with the setup by 5:30 pm. (It could possibly take longer.)
Date/Time: Saturday March 11 from 8:30 am to 5:00 pm
Early Shift: 8:30 am to 10:00 am – Volunteers continue exhibit setup of perishable plant materials, microscopes. Unload materials from vehicles and arrange all materials by 10:00 am opening.
Mid-day Shifts: 10:00 am to 1:00 pm and 1:00 pm to 4:00 pm – Please sign up for one of our two mid-day shifts. You will greet adults and children and explain characteristics of native plants, fungi, insects, birds, and animals that interact within the oak woodlands.
Late shift: 4:00 pm to 6:00 pm – Volunteers take down exhibit materials, load into cars/trucks/vans. Drive to the Luther Burbank Art & Garden Center on Yulupa to put materials back into our shed.
Volunteer Opportunity #2
We need you to bring us plant specimens!!! List of plants to collect (from your own property) for NBSDD – by Fri. March 10 or Sat March 11.
Please bring native plant specimens to the fairgrounds on Friday. evening 4:00 to 5:30 pm OR Sat. morning 9:00 to 10:00 am. If you can't drop things off at the fairgrounds – please arrange to drop off at Virginia's place in Santa Rosa or Catherine's place in Sebastopol – whichever is closer. Detailed times/location of drop-offs to be announced by March 1.
Native plant specimens needed: For our exhibit table, we need leaves/needles, branches/stems, roots/rhizomes/bulbs, and seeds of native plants from our region. You can trim or clip materials from your own yard OR bring potted specimens – make sure that if you bring pots with live plants, you LABEL each plant clearly so we can return it afterwards!
Perennials: ferns, heuchera, marah (manroot), buckwheat, lupine, iris, monardella, Phacelia, salvia, triteleia, wyethia, succulents.
Shrubs/vines: manzanitas, baccharis, ceanothus, lonicera, coffeeberry, ribes, wild grape/vitis, elderberry, snowberry, California blackberry, salmonberry, thimbleberry, twinberry.
Deciduous trees: bigleaf maple, madrone, bay, sycamore, alder, buckeye, hazelnut, cottonwood.
Conifers: cypress, hemlock, nutmeg.
Virginia, Catherine, Susan, and April are taking care of oaks, redwood, pine, firs, and willow already. THANK YOU for finding diverse specimens that show the biodiversity that thrives in oak woodlands! Native plants you think of that we left off this list are also welcome. And remember – ONLY collect these leaves, stems/bark, roots/rhizomes/bulbs, and seeds from your own property or from a neighbor's property with their permission. DO NOT collect from parks!!!
Ongoing Volunteer Opportunities
This is a photo of the Kiwanis group that came out to Doran Beach on 11/11 to pull ice plant. They were fantastic and had members of the high school club with them as well. They have cleared over 1000 sq. ft.!!!
Living Learning Landscapes Workday – second Friday of the month (9:30 am - noon). Meet at 1808 Albany Drive in Santa Rosa. Please RSVP to April Owens aprilleeowens@gmail.com so we know to expect you!
Weekly Doran Beach Ice Plant Removal – every Wednesday (9:30 am - 11:30 am). Meet at 9:30 at the Cypress Day Use parking lot, west end. Bring clippers and gloves and knee pads if you like. One of the most pleasant workdays happens every week – a trip to Doran Beach to pull ice plant. We are clearing out the ice plant that is in the marshland to make room for natives. It is very visual and quite satisfying, with the sound of the waves, birds and foghorn.
Bodega Head Ice Plant Removal Project – second Sunday of each month (10:00 am - 1:00 pm). CNPS is leading volunteers at Bodega Head to save native species from getting smothered by ice plant. Meet at the main parking lot near the bathrooms. Bring water, clippers and gloves if you have them. Text Alynn at 707-321-1748 for more information and to let us know that you are coming.
For more information, please visit the Volunteer Opportunities page on our website.

| | |
| --- | --- |
| | |
| | |