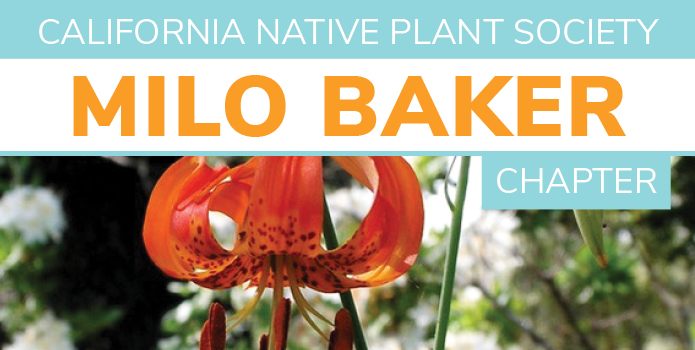 June Newsletter
What's in this issue: Speaker Series, Eco-Friendly Garden Tour, Spring Plant Sale, Growing for the Plant Sale, Plant of the Month, June Plant Walk, Ongoing Volunteer Opportunities
Speaker Series
Third Tuesday of the Month at 7:30 pm
June 20, 2023 (In-person and on Zoom)
Luther Burbank Art and Garden Center, 2050 Yulupa Ave, Santa Rosa, CA 95405
Home Turf – strolling the Sonoma State Campus;
an introduction to place with author, Lakin Khan
Abstract: We'll take a short visual tour of the Sonoma State Campus, a ramble with pictures and stories, as an introduction to the flora and fauna, trees and ponds that make up the natural environment of the campus. Much of the campus was originally designed as an arboretum, so there are many unique trees. We'll take a small tour of the Butterfly and Bird Garden, rich in native plants. Images will be shared with readings from Home Turf, a Bestiary of Sonoma State.
Bio: Lakin Khan writes and walks in the North Bay, amidst the woods and along the ocean, in the mountains and the marsh-trails of Marin and Sonoma Counties. She leads Jumpstart Writing Workshops online and posts to her blog, Rhymes with Bacon. Her collection of nature and animal essays titled Home Turf, illustrated by well-known printmaker Shane Weare, was just published in December 2022. Her poems, essays and short fiction have been published in the journals Zaum, The Dickens, the anthology, Zebulaon Nights and online forums, such as Significant Objects. She was the Fiction Director of the Napa Valley Writers Conference for eight years and has been a student, administrative staff, and an educator at Sonoma State University.
Zoom link to Lakin Khan's presentation
We are resuming the before meeting dinners at the Kirin Restaurant, 2700 Yulupa Ave, Santa Rosa. We will meet there at 5:45 pm. Please contact Liz Parsons (707) 508-8345 if you plan to go.
Eco-Friendly Garden Tour
– Betty Young, Milo Baker Nursery Chair
It was a bright and very warm day, but hundreds from our communities joined in the 2023 garden tour. We sponsored 2 gardens in the tour, plus working with our partners, the fabulous Laguna Foundation.
With the recent heat, the gardens were bursting forth with bloom. Our plant information signage attracted people to plants, even if they were not blooming. Cathie Haynes opened her garden in Cotati with help in greeting from Judith Rousseau and Ashley Hamlett. We had 159 visitors to her garden. Marie Kay Hansen shared her garden in Oakmont with greeting by Liz Parsons and myself. 186 visitors made their way to Oakmont. There was lots of interest in how Marie Kay convinced her Home Owners Association to allow conversion of her lawn to natives.
The Laguna Foundation topped everyone with 538 visitors to their fabulous demonstration garden. Most of their staff was there to support the tour and plant sale at our shared nursery. We almost sold out of plants and interest in native plant gardening was proved with the sale of 25 copies of our new Sonoma County Native Plant Gardener book.
Our partnership with the Laguna Foundation has grown since we started building the nursery 5 years ago. The CNPS Milo Baker Chapter is so fortunate to have their support. I, as Nursery Chair, especially value Ayla Mills, their nursery manager, and Maggie, Brent, Elias, Christine, Wendy, Anne and Carlos for going above and beyond what we committed to in our original agreement.
It was inspiring to see so many people asking about natives and wanting to switch. Our Milo Baker Chapter voices for the last 40 years are finally making an impact. Our neighbors are ready to extend habitat into their landscape, and support native birds, butterflies and bees, while saving water.
Thanks to all of our members for educating friends and neighbors about natives. And thanks especially to Cathie and Marie Kay for sharing their gardens and to Liz, Judith and Ashley for helping at the gardens.
Spring Plant Sale
– Natasha Granoff, Plant Sale Chair
The spring sale mirrored the October plant sale as customers lined up outside the gate, boxes in hand, waiting to rush the plant tables at 10am opening, with most of the plants sold within the first two hours! Laguna Foundation's garden was a big draw through the Eco-Friendly Garden Tour, and many who toured the gardens ended up at the plant sale.
Milo Baker had 629 plants at opening, sold 543 with 86 left to sell at the October sale. The majority were 4-inch sun perennials with a few shrubs, ferns, and the ever-popular Dutchman's Pipe, Aristolochia californica, for good measure. Milo Baker's net proceeds were $4,340.53. Sales included 23 Sonoma County Native Plant Gardener books, assorted t-shirts and merchandise, and thirty new Milo Baker Chapter members!
A huge thank you to all the volunteers who made the plant sale run so smoothly: Susan Dean and Catherine Lipson at the Membership, Education and Outreach table; Karen Thompson, Lynnette Bower and Michelle Karle the never-stopping cashiers; Pam Horton, greeter and sanitation foot matt attendee; Wendy Born for corralling all the volunteers and propagating ferns for the sale; horticulture and sales – Ruthie Saia, Wendy Born and April Owens; Erika Erzberger, merchandise sales; sales talliers Wendy Krupnick and Cindy Tancreto; Penny Dalton for set up, box collecting and plant holding table; John Dean, plant carrier; parking-Marcia Johnson; Tim McKeough, Bob Tancreto, June Stephens, and Gary Morgret, who also took photos during the sale; Wendy and Steve Smit, for a great volunteer food and snack spread, and Sean McNeil and Virginia Hotz-Steenhoven for volunteering to help the Laguna Foundation at their check-in table.
Growing for the Plant Sale
– Betty Young, Milo Baker Nursery Chair
Nursery Volunteers from left: Kristi Cain, Louise Riedel, Denise Kelly, Penny Dalton, Marcia Johnson, Deb Dobish, Jan Lochner, Wendy Born. Not shown-Cindy Tancreto and Natasha Granoff.
Heads down-getting those babies potted up. That's our Nursery Volunteer Team to a T. We could not make our plant sales happen without them. I have worked with thousands of volunteers during my career and "retirement". But never have I worked with such amazing dedicated people. They are truly unpaid professionals. Not in the picture but usually there for Nursery Days is Liz Parsons, and Pat Sesser. A special thanks to Barbara Coe who has supported the nursery for many years by propagating pipe vines and many other plants. We love her and wish her the best.
Extra thanks to Lynnette and Natasha on our Pear Team. We test every plant in the nursery that could be infected with the root rot pathogen (Phytophthora spp.). Each test takes 5 hours for 2 of us, then 8 days of incubation. You could not be assured of disease-free plants without their hard work.
For the spring sale we grew 629 plants and virtually all of them sold. You'll see the few left potted to gallons at the fall sale. We are propagating about 2200 plants for the fall sale.
I want to especially thank Lynnette Bower who has helped me manage the nursery this past year. She is talented, dedicated and a true native plant nerd and label printer extraordinaire. She also gave lots of extra time in helping Natasha organize for sale day. We hope she becomes more and more involved in the years to come.
We hope you found the plants you wanted. The cold wet weather prevented many from growing large enough to sell – my apologies. Come back the second Saturday of October and find them then!
Plant of the Month
California Native Salvias in the Garden
– Liz Parsons, Milo Baker Vice President
Plants in the genus Salvia are commonly called sages. Members of the Mint family, Lamiaceae, the California sages are generally small shrubs with fragrant foliage, a long flowering season, and low water needs. The aromatic foliage can be used for teas and herbal preparations. (Salvia officinalis, the most frequently used culinary sage, is a Mediterranean native.) The strong odor and taste are considered a boon to the gardener with a deer problem.
The CA sages are native to the dry hills of the chaparral, the foothills, the desert, and the coastal sage scrub community. They prefer a full sun, well-drained position with little summer water. It is no surprise that they are used for native gardens, revegetation projects, and dry shrub borders. The gray to green foliage works well in combination with many natives such as Eriogonum (buckwheat), Romneya (matillija poppy), Dendromecon (bush poppy), various grasses and Eschscholzia (CA poppy).
Salvia flowers are small, two-lipped and occur in dense whorls occurring successively up long stalks. The flower color varies from white, pinkish, and shades of lavender to purple. They have many excellent wildlife benefits and provide nectar to birds, butterflies and bees. The native sages all hybridize and many horticultural cultivars are recognized.
Salvia apiana, white sage, S. mellifera, black sage, and S. leucophylla purple sage, are all important components of the coastal sage scrub. Salvia apiana should be purchased from a nursery or grown from seed. There has been over harvesting in the wild as it is promoted for burning as a smug. It has large white-gray leaves and forms a 3'x 3' clump from which tall stalks of small white flowers grow. It makes a dramatic accent plant and is easy to grow from seeds or cuttings.
Black sage, S. mellifera, is a woody shrub that grows to 5' x 5'. Very heat and drought tolerant. There are two popular cultivars. S. m. 'Terra Seca' and 'Prostata'. Both are low growing forms. 1'- 2' x 6' and are excellent choices for dry banks and slopes, or to cascade over a wall.
S. leucophylla, purple sage or white leaved sage, is a large upright shrub. The popular cultivar 'Pt. Sal' is a low growing plant—about 2.5' to 3' high and a spread of as much as 6'. It has silver gray leaves and the pinkish flowers are produced in whorls on long flowering stalks. It is a water-wise plant that is good looking and undemanding. Occasional summer water is recommended.
S. 'Alan Chickering' is a hybrid of S. clevelandii x S. leucophylla, which appeared in a botanic garden in Orange County. It was selected because the blending of desirable characteristics: deep lavender flower color, foliage with a delightful fragrance, and a compact habit.
S clevelandii is a mounding shrub, 4' x 4'-5', with rich purple flowers, and 2 inch long green leaves with reddish stems. A handsome shrub with several popular cultivars—'Aromas', 'Winifred Gillman', 'Whirley Blue' among them. My favorite is 'Winifred Gillman' because of the deep purple flowers in whorls, green leaves, and reddish stems. It is not as hardy as the others and in areas with a heavy frost it can die in a cold winter. I take cuttings every fall in order to insure a supply. S c. 'Aromas' is hardier with foliage that has a gray cast. All three are fast growing, good additions to any garden.
S spathacea, hummingbird sage, has large, sticky, coarse, hairy leaves and beautiful deep pink flowers. It sends up sturdy stalks that can grow to 15". It blooms constantly, is very fleshy, and spreads by underground runners to form colonies in the shade or in full sun if given extra water. True to its common name hummingbirds love this one!
S. sonomensis is a creeping ground cover that is native to the chaparral areas of the state and as the common name implies, grows extensively in Sonoma County. The pungent odor is pleasant company on any hike through the dry areas of our county. It makes an excellent ground cover with a little supplemental summer water. S. 'Bee's Bliss' is an excellent choice for a fast spreading ground cover. It blooms with purple flowers in May. It is a hybrid with Sonoma sage as one of its parents. I have found it to be a better choice for the garden, as it seems to be more tolerant of garden conditions.
S. 'Dara's Choice' is taller (2' - 3') and less creeping. This hybrid between Sonoma sage and black sage was selected by Dara Emery who worked for Santa Barbara Botanic garden for many years and was responsible for many native plant introductions.
Closely related members of the mint family that have similar habits are the pitcher sages (Lepechinia fragrans and L. calycina) and wooly-blue curls (Trichostema lanatum).
Salvias are easy to grow from seeds or from cuttings. Tip cuttings of new growth can be taken almost anytime during the year. Treat them with rooting hormone for best success. Shrubby salvias grow rapidly and can be short lived. To prolong their life, cut them back after they flower. A little extra summer water will give you a better-looking plant.
All in all the salvias are excellent choices for our California gardens...especially if deer are a problem. Even if they are not, they are handsome shrubs.
June Plant Walk
Wednesday June 21, 9:00–10:30
Doran Marsh Regional Park, Ice-plant removal project
Leader: Michelle Karle, Regional Park Aide
Click here to register
For more details about our plant walks please check our website.
To sign up for email alerts contact Milobakerevents@gmail.com
Ruthie Saia, Milo Baker Plant Walk Coordinator
Ongoing Volunteer Opportunities
This is a photo of the Kiwanis group that came out to Doran Beach on 11/11 to pull ice plant. They were fantastic and had members of the high school club with them as well. They have cleared over 1000 sq. ft.!!!
Living Learning Landscapes Workday – second Friday of the month (9:30 am - noon). Meet at 1808 Albany Drive in Santa Rosa. Please RSVP to April Owens aprilleeowens@gmail.com so we know to expect you!
Weekly Doran Beach Ice Plant Removal – every Wednesday (9:30 am - 11:30 am). Bring clippers and gloves and knee pads if you like. One of the most pleasant workdays happens every week – a trip to Doran Beach to pull ice plant. We are clearing out the ice plant that is in the marshland to make room for natives. It is very visual and quite satisfying, with the sound of the waves, birds and foghorn. To join us, please text Jan Lochner, (707) 569-4724, to let her know you are coming.
Bodega Head Ice Plant Removal Project – second Sunday of each month (10:00 am - 1:00 pm). CNPS is leading volunteers at Bodega Head to save native species from getting smothered by ice plant. Meet at the main parking lot near the bathrooms. Bring water, clippers and gloves if you have them. Email Alynn at alynnkjeldsen@gmail.com for more information and to let us know that you are coming.
For more information, please visit the Volunteer Opportunities page on our website.

| | |
| --- | --- |
| | |
| | |