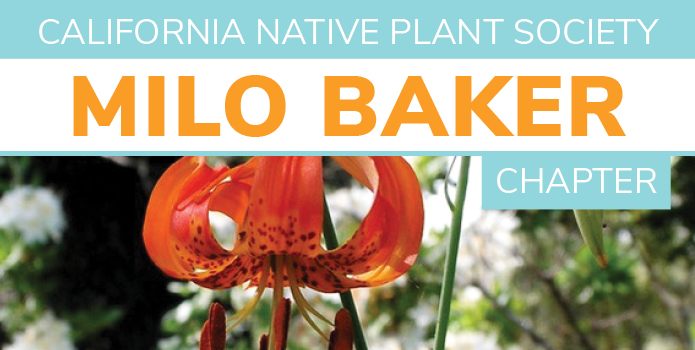 September Newsletter
What's in this issue: Speaker Series, Fall Plant Sale, News from the Nursery, Fall Merit and Research Scholarships, North Park Restoration Day, Ongoing Volunteer Opportunities
Speaker Series
Third Tuesday of the Month at 7:30 pm
September 19, 2023 (In-person and on Zoom)
Luther Burbank Art and Garden Center, 2050 Yulupa Ave, Santa Rosa, CA 95405
Bart O'Brien, Director of Tilden Regional Park's Botanic Garden
Abstract: Bart O'Brien will be sharing some of his favorite California native plants for gardens and how to care for them in a rapidly changing climate. Familiar, lesser known, and newer selections will be discussed, with a focus on plants that are appropriate for smaller gardens.
Bio: Bart O'Brien has been the manager/director of the Regional Parks Botanic Garden (RPBG) in Tilden Regional Park since 2013. Located in the Berkeley Hills of Northern California's Bay Area, this outstanding and beautiful ten-acre garden is dedicated to the horticulture, conservation, and research of California native plants. Prior to coming to the RPBG, Bart spent 24 years at Rancho Santa Ana Botanic Garden where he held a variety of positions including Director of Horticulture, Curator of the Living Collection, and Director of Special Projects.
As a fifth generation Californian, Bart is an authority on the flora of California, and Mexico's northwestern Baja California. He is also an accomplished collector, grower, photographer, lecturer, and author. He is co-author of three recent books: the award winning California Native Plants for the Garden (2005), Re-imagining the California Lawn – Water Conserving Plants, Practices, and Designs (2011), and the bilingual Care & Maintenance of Southern California Native Plant Gardens – Cuidado y mantenimiento de jardines de plantas nativas del sur de California (2006). Currently he is putting the finishing touches on a complete listing of over 300 cultivars of manzanitas (Arctostaphylos) for an upcoming issue of The Four Seasons, the technical journal of the Regional Parks Botanic Garden.
Bart O'Brien received the 2022 Liberty Hyde Bailey Award, the most prestigious award from the American Horticultural Society. Bart was named a Fellow of the California Native Plant Society in March of 2018. The Southern California Horticultural Society selected him as Horticulturist of the Year in 2005. O'Brien was listed as one of "The 100 Most Powerful People in Southern California" by the editorial staff of the Los Angeles Times/West Magazine (Aug. 13, 2006).
Milo Baker Annual Fall Plant Sale October 14th
– Liz Parsons, Milo Baker Vice President
The 52nd annual fall plant sale for our chapter will be held at the Laguna de Santa Rosa Foundation-CNPS nursery on Saturday, October 14, 10:00 AM to 1:00 PM. Milo Baker Chapter members will get a chance to buy plants on Friday night, October 13 from 3-6 PM. This is a pre-sale for members only. Check our website for a link to our flyer for the event. It features an illustration of Arctostaphylos by Lynn Colborn. This flyer advertises our sale so please post it on your local bulletin board.
Our chapter nursery volunteer team, led by Betty young and Lynnette Bower, has grown over 2000 plants, 400 more than last year, so we won't run out. Some were grown from seeds and some from cuttings and others are from small plugs purchased from a wholesale nursery. Cal Flora Nursery helped us by letting us receive the plugs at their nursery. Our partners, the Laguna Foundation will also have a great selection of plants for sale.
Plant Sale Inventory List (pdf)
There will be a huge selection of plants. See our website for a complete article where I give you an overview of the plants at the sale so that you can begin to plan. I included most of the plants that we have more than ten. Check the website on September 15 for the final list. The plants will all be in gallon containers and will be priced at $12.00 each, tax NOT included.
The Laguna Foundation is located at 900 Sanford Road, Santa Rosa. Bring your own cardboard box, Please do not arrive early. There is no parking on Sanford Road before the gate opens.
The plant sale is the only fundraiser that the Milo Baker Chapter holds every year. The nursery employees over 100 best management practices to assure that you purchase disease free plants. Please be sure to walk through the disinfectant mat when you enter the nursery and respect all of the protocols to ensure that the nursery remains a clean space.
Fall is planting season in California. The soil is still warm and the roots will grow through the rainy season and will be well rooted in the spring, ready to survive the summer heat. See you at the plant sale!
Check our website for more information about the Plant Sale and a complete inventory of plants.
Volunteers Needed for the Plant Sale
Volunteers needed for the fall plant sale, October 14th. Please contact Pat Sesser, volunteer coordinator, for more information: patriciasesser@comcast.net
News From the Nursery
– Betty Young, Milo Baker Nursery Chair
Help us Add to our Nursery
We have a very small greenhouse at our nursery and need to add onto it so we can grow more plants during the winter for our spring sale and for spring propagation for our fall sale. If you have some experience with building we can use your help. We need to remove the back wall of the current greenhouse and add a twin structure to the end and then level the expanded structure and put the back wall onto the end of the new section. If that sounds like fun, let me know, we can use your help.
We also need to pour a slab for a 3-sided potting media holding bin. If you know how to do that, again let me know. If you can help with construction call or e-mail Betty Young, 707-695-4257, youngb0721@msn.com.
If you are not able to help with the physical labor, your donations would be most welcome to help cover our costs. Send to CNPS-Milo Baker Chapter, PO Box 892, Santa Rosa, CA 95402. Designate that it is for our Nursery Project.
---
Seed Packaging Workshop
An important part of our fall plant sale is providing native seed to customers who want to propagate their own plants. If you have seed from your native garden plants or from appropriately collected seed from the "Wild" that you would like to share, please bring it Tuesday, September 19 at 10:00 AM to our chapter nursery for our annual seed packaging extravaganza.
It's a fun social morning for a great cause. A light lunch will follow. If you can provide a list of the seed species you are bringing, please send it to Louise Riedel, lriedel@comcast.net by the 15th. Thank you so much.
---
Milkweed – Save the Monarchs
As many of you know, the gorgeous and important Monarch Butterfly is seriously threatened in California. In response, the Goldridge Resource Conservation District (RCD) contracted with the Laguna Foundation to grow milkweeds to reestablish lost habitat in Sonoma County.
The butterfly has real trouble finding a single plant here and there, but a large planting can easily be spotted and energy conserved by nectaring and laying eggs in one area. The Monarch requires the milkweed to complete its life cycle. Ayla Mills, the Laguna Nursery manager, has hundreds of milkweed, grown from locally collected seed, ready to go.
These plants are available at no cost. If you know of a space (at least 25 plants) where a number of milkweeds could be planted, call or email Ayla Mills, ayla.mills@lagunafoundation.org, 530-520-2924. Thanks go to the Goldridge RCD and Laguna Foundation for making this resource available.
Fall Merit and Research Scholarships

The Milo Baker Chapter of the California Native Plant Society is looking to support students who are interested in learning about native plants or are engaged in study and/or research relating to native plant conservation, restoration, or other native plant studies.
Currently, we have two scholarship types: a research scholarship which grants up to $3,500 to cover the cost of research materials and expenses, as well as a merit-based scholarship which provides up to $1,000 for general education costs. Last school year, we awarded seven students from Sonoma State and the Santa Rosa Junior College. Our next round of applications will be due on November 1st, and we encourage everyone to help spread the word. Learn more about our scholarship recipients and application requirements on our website: https://chapters.cnps.org/milobaker/about-us/scholarships/.
With cost-of-living increases putting more pressure on our already stressed students, a scholarship gift can make the difference of a lifetime. If you are interested in supporting our scholarship program, we encourage you to donate directly to our Chapter by contacting Karen Thompson at ket@sonic.net or by mailing a check, specified for our scholarship program, to Milo Baker Chapter, P.O. Box 892, Santa Rosa 95402.
North Park Restoration Day
Saturday, September 9, 9:00 AM – 1:00 PM
You are warmly invited to the first day of a community cleanup and restoration of North Park, 921 North Street, Santa Rosa. Volunteers will be working together to create a more people- and wildlife-friendly space, from removing invasive ivy, planting native trees and perennials, picking up trash, and painting a mural, and sidewalk chalk art. Coffee, tea, and donuts will be there too!
Learn more about the importance of Native Habitats from the California Native Plant Society and the Bird Rescue Center with your fellow neighbor. Whether you drop by or stay all day, get your hands dirty or keep the conversation flowing, you are welcome!
Helpful items to bring: work gloves, hand tools, a hat, mug/cup, and a water bottle. For more information contact Keala Peterson at kealapeterson@gmail.com
Ongoing Volunteer Opportunities
This is a photo of the Kiwanis group that came out to Doran Beach on 11/11 to pull ice plant. They were fantastic and had members of the high school club with them as well. They have cleared over 1000 sq. ft.!!!
Living Learning Landscapes Workday – second Friday of the month (9:30 am - noon). Meet at 1808 Albany Drive in Santa Rosa. Please RSVP to April Owens aprilleeowens@gmail.com so we know to expect you!
Weekly Doran Beach Ice Plant Removal – every Wednesday (9:30 am - 11:30 am). Bring clippers and gloves and knee pads if you like. One of the most pleasant workdays happens every week – a trip to Doran Beach to pull ice plant. We are clearing out the ice plant that is in the marshland to make room for natives. It is very visual and quite satisfying, with the sound of the waves, birds and foghorn. To join us, please text Jan Lochner, (707) 569-4724, to let her know you are coming.
Bodega Head Ice Plant Removal Project – second Sunday of each month (10:00 am - 1:00 pm). CNPS is leading volunteers at Bodega Head to save native species from getting smothered by ice plant. Meet at the main parking lot near the bathrooms. Bring water, clippers and gloves if you have them. Email Alynn at alynnkjeldsen@gmail.com for more information and to let us know that you are coming.
For more information, please visit the Volunteer Opportunities page on our website.

| | |
| --- | --- |
| | |
| | |