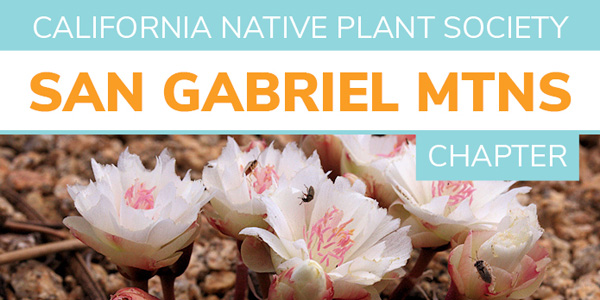 THE PAINTBRUSH
Our Chapter Newsletter
November 2021
We hope you enjoy this latest edition of our newsletter, The Paintbrush! As of January 2021, our newsletter is now all digital. However, it has a venerable history of print editions stretching back to our chapter's founding in July of 1984. You can visit our archive to browse articles like "Advice to Frazzled Environmentalists" (Spring 1988) or "The Prickly Fruits of Navot: From Pear to Cholla" (March-April 2002).
In this newsletter, we are delighted to welcome new contributors Joe Parker, Naomi Volain, and Nina House. If you would like to contribute an article or artwork for our next issue on a native-plant-related topic, we invite you to get in touch at info@cnps-sgm.org to pitch us your idea.

Click here to view all of the Paintbrush articles on our News & Stories Page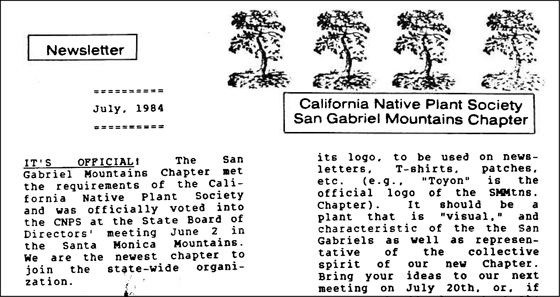 Our very first chapter newsletter, July 1984
NATIVE PLANT SALE 2021
By Barbara Eisenstein

Date: Saturday, November 6, 2021, 9 a.m. – 2 p.m.
New Location: Monrovia Historical Museum, 742 E. Lemon Ave, Monrovia, CA 91016-3008

What a roller coaster the past year has been! After a long, hard year, I (and others) thought that the amazing vaccines would put this horrible pandemic behind us. And then along came the Delta variant. Argh! Fortunately, working in my native plant habitat garden helped me stay on an even keel during this difficult time. And so it is with great happiness that I am writing to let you know that the San Gabriel Mountains Chapter of the California Native Plant Society – following a one-year hiatus – is planning to hold its annual native plant sale this Saturday.
READ MORE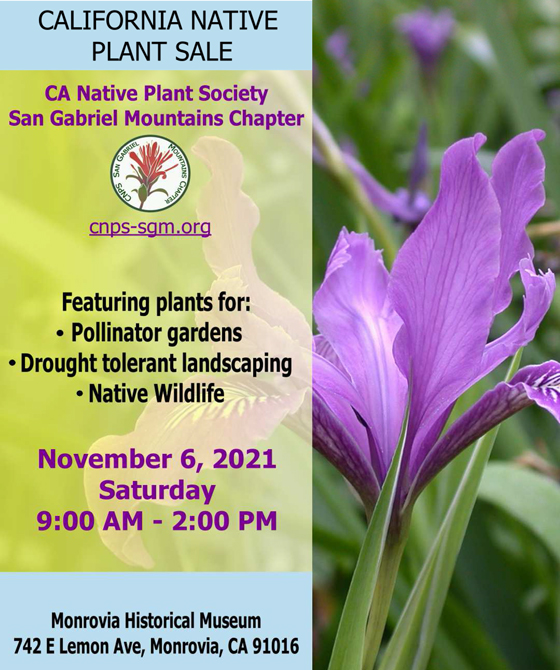 PLANT SALE OFFERINGS
We will be offering a wide variety of reasonably priced California native plants and wildflower seeds. All our plants are appropriate for gardens in the Los Angeles basin, including plants for attracting birds and butterflies to your home garden. Plant experts will be on hand who would love to share their knowledge with you and answer questions. We obtain our plants from high-quality local nurseries specializing in native plants.

Also available will be books and gifts from Artemisia Nursery, plant-dyed goods by Berbo Studio, artwork by Margaret Gallagher, and the information from the Monrovia Garden Club.
DOWNLOAD THE PLANT LIST
MORE PLANT SALE INFORMATION
Organizations represented at the plant sale, clockwise from top: Our CNPS chapter (photo by Orchid Black); Berbo Studio (2 images); Margaret Gallagher; Artemisia Nursery
EDIBLE CALIFORNIA NATIVE PLANT GARDENING
By Joe Parker
California native plants provided abundant food for the Indigenous people of the region. This bounty grew out of a reciprocal relation California's Indigenous communities cultivated with the plants, depending on the plants for nutrition while honoring native plants through daily practices and seasonal song and ceremony to show respect and help care for them. So the traditional ecological knowledge (TEK) of Indigenous Californians provides us with rich resources for edible California native plant gardening while also suggesting ways to develop respectful relations with our native plant relatives.
Yet many are not accustomed to approaching native California plants as food sources. So gardening for food with these plants requires some creativity and a willingness to adapt and learn from Southern California Indigenous people who know the land so well.
READ MORE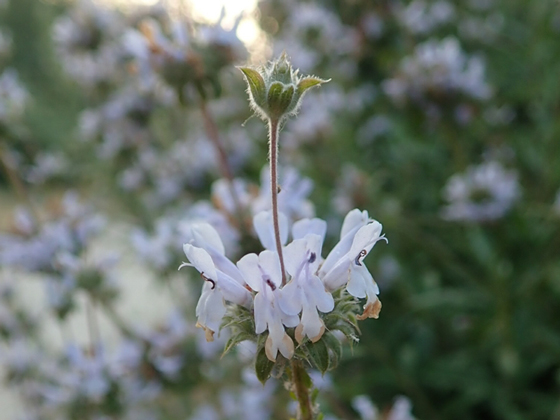 THE IMPACTS OF FIRE AND DROUGHT IN THE SOUTHERN SIERRA
By Nina House
Nina House is a Botany masters student at the California Botanic Garden who was awarded a student grant by CNPS San Gabriel Mountains Chapter in 2020. Her thesis is a floristic inventory of two remote and rugged watersheds in the southern Sierra Nevada. While documenting many rare, threatened, and endemic plant species in the mountain meadows and conifer forests of her study site, she has observed the devastating impacts of large wildfires and severe drought.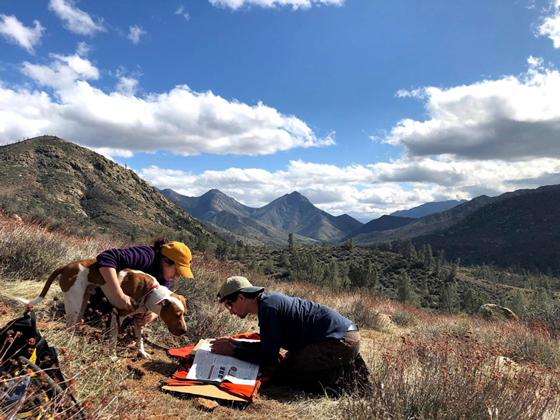 PYROFILES & OTHER COMICS
When the wildfires were blazing in late 2020, I felt shocked and powerless, but personally impacted as I watched ashes fall from the sky here in Pasadena. My reflex as a science teacher was to educate about the California native plants in relation to climate change. With cartooning as the media and genre that I teach in now, the challenge is to condense science education, relevance, and entertainment into brief sequential boxes (panels, in cartoon speak).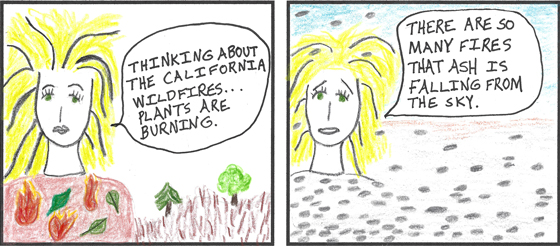 NOTES FROM THE HILLSIDE: AN ERA OF CHANGE
By Graham Bothwell

Readers may recall the "Notes from the hillside" articles I wrote for The Paintbrush newsletter during the years I carried out a weekly survey of native flowers on the hillside from 2013 to 2019. Regardless of annual conditions, watching the annual floristic cycle was a treat every year. Having lived here since the mid-1980s, I have rainfall records covering the period 1987 through 2021. These show a major decline in rainfall, with an especially noticeable reduction in the past 5 to 10 years. The impact is typified by the state of the one specimen of coastal wood fern that I know of on these hillsides. For the first time during my observations, this year the fronds totally collapsed and have mostly withered to almost nothing. The coming winter rains will hopefully revive it. I find myself wondering whether, if the rainfall trend continues, we may see permanent changes. There might even be changes that are difficult to reverse when and if better regular rainfall resumes.

READ MORE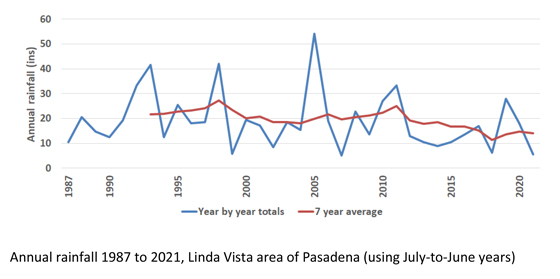 VOLUNTEER OPPORTUNITIES IN OUR AREA
Now that many people are once again gathering in person, there are local native plant and habitat initiatives that could use your help. We've collected a few below.
Interested in making something happen with our chapter? We welcome volunteers of all experience levels! Volunteer opportunities can be created by your imagination. We always need folks to help with our plant sale, to lead monthly plant walks in Eaton Canyon, or to plan and lead field trips. At the moment we are also looking for someone to assist our Program Coordinator in planning monthly programs.
South Pasadena Nature Park
A four-acre habitat park along the Arroyo Seco in South Pasadena. Each month volunteers weed and clean up in the park.
Washington Elementary Habitat Garden
Created and maintained by Pasadena Audubon, this habitat garden is an education resource for the students at Washington Elementary STEM Magnet. Help is always needed with weeding and other garden tasks. Email LoisB.PAS@gmail.com for more information.
Sunland Welcome Nature Garden
The Sunland Welcome Nature Garden, a volunteer-run native plant garden on Sunland Boulevard at the 210 freeway, is a showcase of local native plants. Contact Roger Klemm at treehuggers@ca.rr.com to join the next workday.
Sepulveda Basin Wildlife Reserve Plant Group
Invasive plant removal. Weekday mornings and some weekend events, organized through CNPS LA/SMM Chapter. Van Nuys. For information, contact Steve Hartman at naturebase@aol.com.
Do you have a project you could use volunteers on? Drop us a line and we can include it in our next newsletter.


Visit our website, or follow us on Facebook and Instagram for more chapter news and updates.

| | |
| --- | --- |
| | |
| | |