In this issue: Speaker Series, Message From the President,
Eco-Friendly Garden Tour, Earth Day, In the Garden, and Volunteer Opportunities.
Ecology of the California Tiger Salamander
Trish Tatarian - Independent consultant and CNPS Milo Baker board member
Speaker Series, May 18, 2021 at 7:30pm via ZOOM
The California tiger salamander is one of our best unseen neighbors. It is the top aquatic predator on the Santa Rosa Plain and is an active hunter below ground. Come learn about this remarkable creature and its habitats.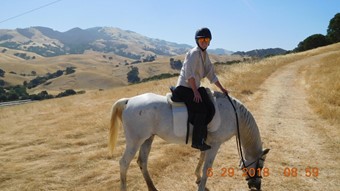 Trish Tatarian is an independent consultant with almost 30 years of experience. She received her B.S. from San Francisco State University and her M.S. from Sonoma State University. Her love of wildlife grew from working at the Alexander Lindsey Junior Museum, a wildlife rehabilitation center in Walnut Creek, and spending three years in South Africa in her formative years. She has conducted research on California red-legged frog in the East Bay as well as in the Sierra foothills and taught 16 classes on the Biology of California red-legged frog. She has conducted numerous studies of California tiger salamander in Sonoma County and the East Bay.Trish is currently enticing more wildlife to her yard by planting California native plants and working with the community to create a neighborhood natural park with a nature center.



Speaker Calendar 2021

June: Shane Hanofee, Botanizing Nevada and Placer Counties

September: Cynthia Powell, ED, Calflora.org, Entering Sonoma County Plants

October: Saxon Holt, Photographer, Naturehood Gardening

November: Lorenzo Washington, Mycorrhiza and Plant Communities




M

essage from the Chapter President


April was a busy month for so many of our members. Professionals are out doing field work, volunteers are tackling growing weeds, the gardens at SRJC are getting mulched and all the while we are all enjoying the wildflowers as much as possible. May will continue to be compelling as new waves of late flowers bloom and many coastal species start their finest displays.

Thank you to those who contacted us about conservation issues in the last month. There are quite a few topics being researched locally and by the state CNPS office. There are two important meetings at Sonoma County offices on May 18. The first is a discussion of the proposed Cannabis Ordinance by the Board of Supervisors (cannabis@sonoma-county.org) and the second is a public hearing about a possible Tree Ordinance. Milo Baker has been invited to weigh in on this, no time set yet for the meeting. This is our chance to speak up for our plants and plant ecosystems. It is also a chance to let the Board of Supervisors know we see Climate Change severely impacting our county plant habitats and rare plants. For more information, please call or email a Conservation Co-Chair.

The possibility for organized field trips is improving. In the meantime, Milo Baker Board members have begun a new feature for the website. Check out the "Favorite wildflower hikes" on the homepage milobaker.cnps.org . Natasha Granoff, Website administrator, has also been posting beautiful seasonal flower photos. Some photos are also posted on Instagram and Facebook by Allison Titus, Social Media Chair. All to entice us out into the beautiful spring. Don't hesitate to send us any photos or tips on best places to trek.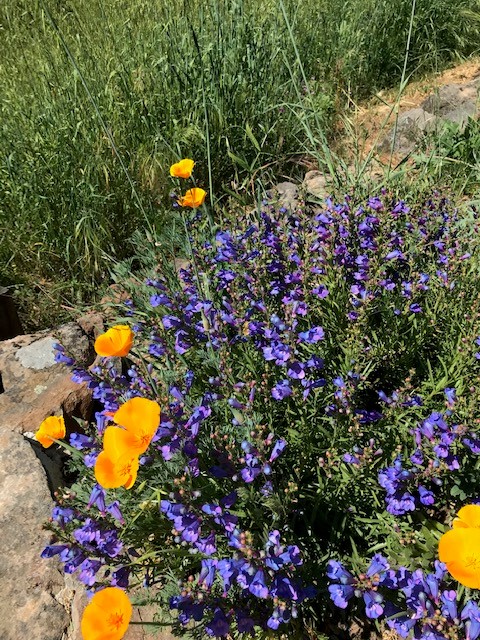 Penstemon and Eschschozia





As March begins we are hopeful that chapter activities will return to normal. I hope that you are all well and getting your vaccine appointments. Maybe in the fall we will be able to join together at meetings and enjoy the Speaker Series in person. Happy spring plant walking to all!

Wendy Smit,
Chapter President
Eco-Friendly Garden Tour

The Eco-Friendly Garden Tour is a public outreach and education program that promotes sustainable landscaping practices by showcasing inspiring gardens throughout Sonoma and Marin counties. The Tour highlights Russian River-Friendly and Bay-Friendly landscaping best practices
The 2021 Eco-Friendly Garden Tour will be available online on Saturday, May 15th!
Happy Earth Day
Kathi Dowdakin's Chimney Rock Excursion
(The plants mentioned below were observed on April 22, 2021)



We just about ran the board (the wildflower information board, that is) at Chimney Rock today. The National Weather Service called it perfectly, with an overcast, low-wind day. Drake's Bay was almost flat-calm, with the calls of the loons and elephant seals perfectly audible from the headland trails. The temperature was 52 degrees with excellent lighting for the abundant flowers! I haven't figured out why the wildflower shows have been so good around the state this month, given the lack of rain, but we've been enjoying the heck out of seeing many of our favorite flowers.

The roadway has been recently repaved from the Pierce Point turnoff all the way to the Lighthouse parking, and I feared for the rare yellow meadowfoam, Limnanthes douglasii ssp. sulphurea, as all the ditches have been re-worked as well as the roadway, but lo and behold, the meadowfoam is still present on the hairpin curve above Historic B Ranch. Yaaayyy! The roadway and trail weren't very busy, and parking was easy. The Point Reyes Lighthouse and Visitor Centers are closed (though the Drake's Beach bathrooms are open). People pulled up masks as we passed on the trail, so that worked out just fine.

It wasn't quite bright or sunny enough for a good Poppy show, but there seems to be a lot of them. Same story with the blue-eyed grass (Sisyrinchium bellum) today, but there are much higher numbers of that along the trail. It took us awhile to find the hairy star tulip (Calochortus tolmiei), but suddenly there were hundreds of them, almost to the far end of Chimney Rock Trail. Gobs of Douglas. iris (Iris douglasiana), some tidy tips (Layia platyglossa), still-fresh goldfields (Lasthenia californica), creeping checkerbloom (Sidalcea calycosa ssp. rhizomata), western dog violet (Viola adunca), mule ears (Wyethia sp.), Yarrow (Achillea millefolium) -- the last part of the trail is a great show, with only the cream cups (Platystemon californicus) seeming smaller than usual.

In a recent post, Doreen Smith made a correction to the wildflower info board, identified a photo there as San Francisco owl's clover (Triphysaria floribunda), instead of rosy butter'n'eggs (T. eriantha ssp. rosea). I'm familiar with the rosy butter'n'eggs, but not the rare San Francisco owl's clover, and was delighted to actually find the rarity today. The wind picked up at 3pm, and the baby blue-eyes (Nemophila menziesii) pictures are badly blurred. Oh well, it was a grand day out! And the rock cress (Arabis blepharophylla) is blooming on the cut-banks just outside of Tomales town, along with lots of canyon larkspur (Delphinium nudicaule). Thank you, Walter, for giving me a couple of the Arabis plants several years ago, as they're still living happily in pots, and bloom every year. Can't ask for much better than that!

Kathi Dowdakin


Gordon Beebe shared a couple of photos of native plants that have done exceptionally well this year.
The Ceanothus 'Ray Hartman' was purchased at a CNPS plant sale back in 2002! The Bush Poppy is just a couple of years old.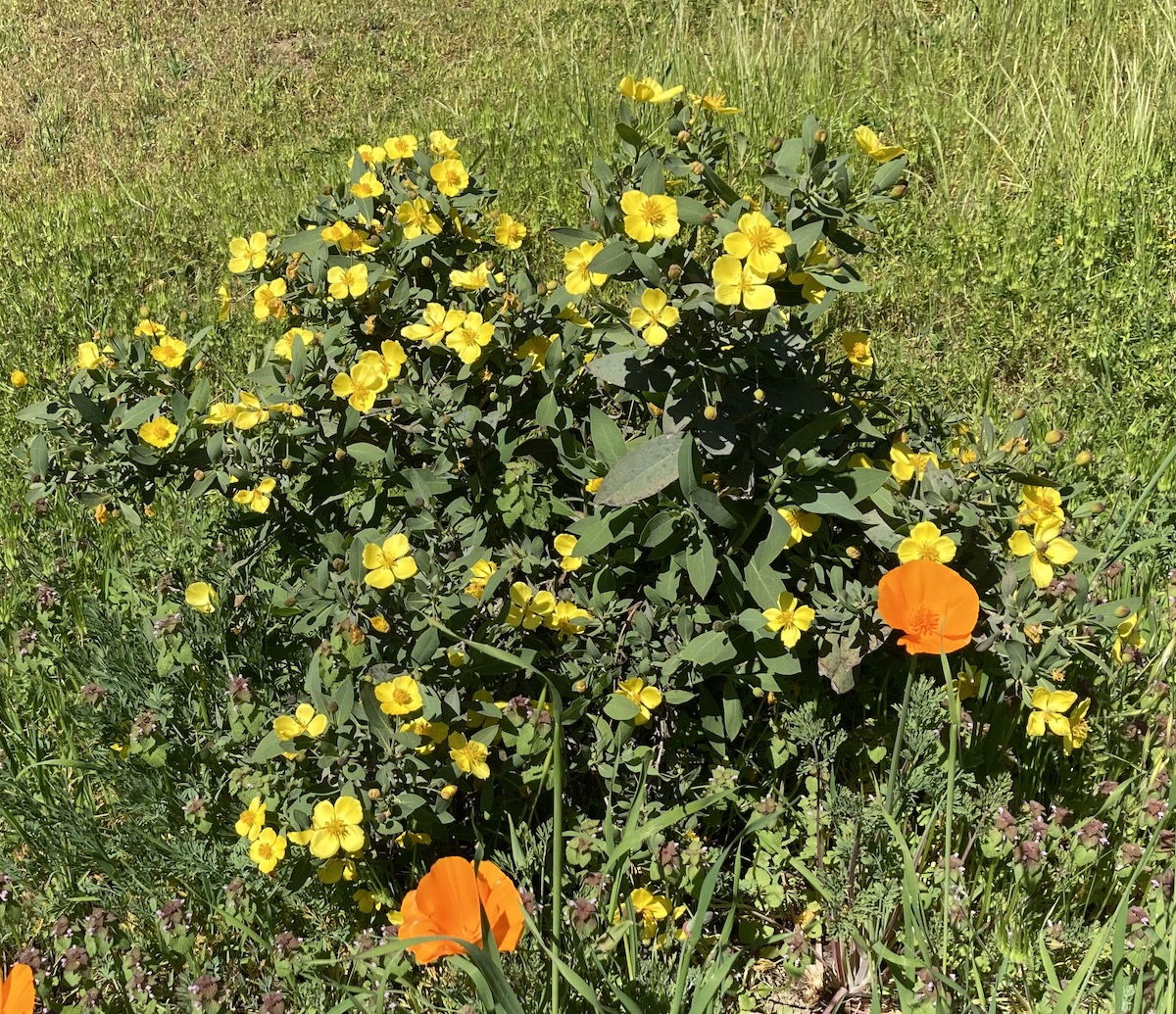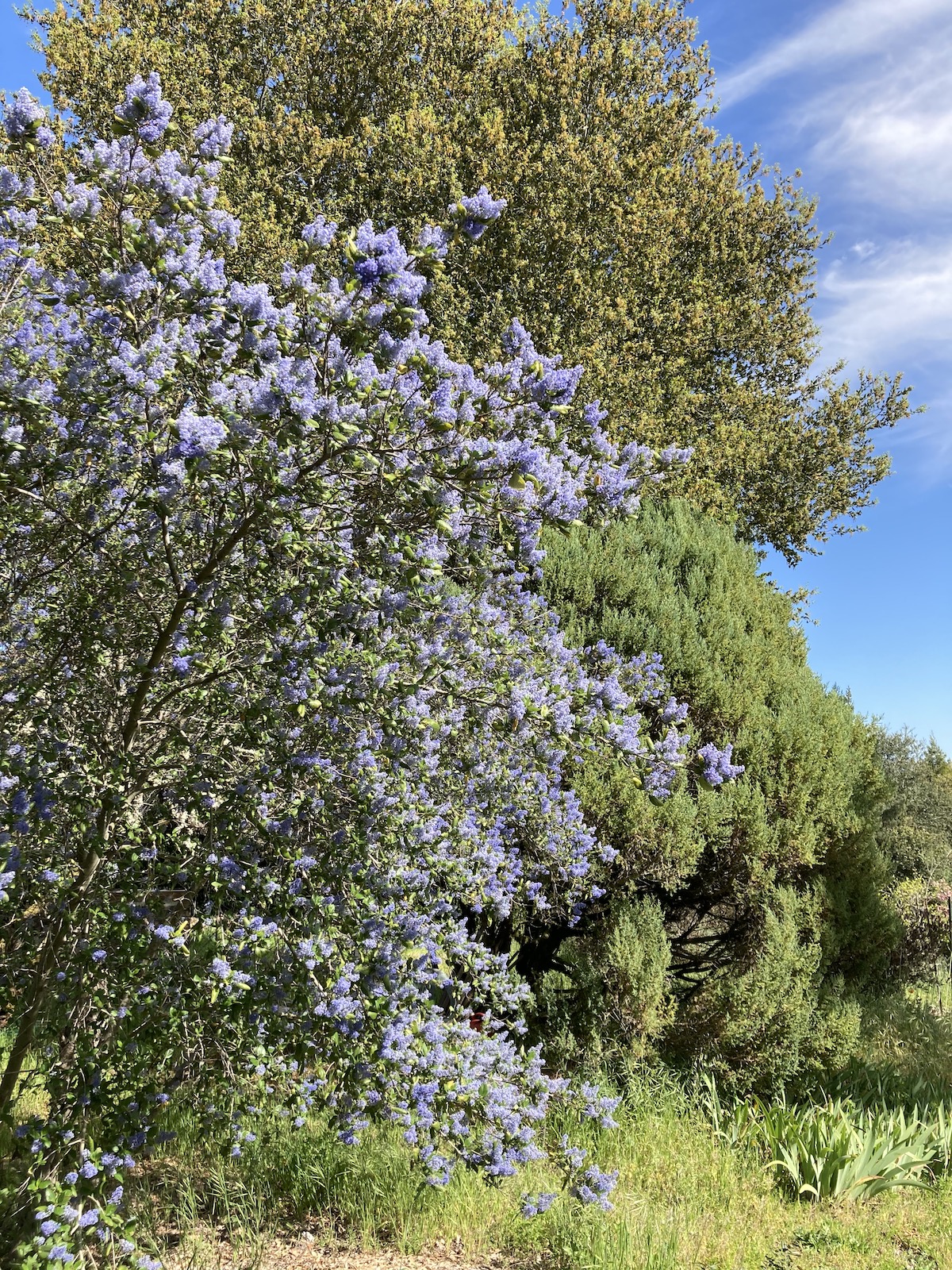 Ceanothus- The California Lilac
It may seem foolhardy to address the huge Ceanothus complex in a short article. However, here is a very rudimentary treatment, with emphasis on the horticultural varieties. The Ceanothus genus is in the Rhamnaceae family and is divided into two subgenera, the Ceanothus and the Cerastes. This is important distinction. Plants in the Ceanothus subgenus have round to linear leaves with smooth margins and an alternate branching pattern. They require more water and deer seem to like the fleshier leaves. Ceanothus foliosus, wavy-leaved, and C. thyrsiflorus are members of this subgenus. Plants in the Cerastes subgenus have conspicuously toothed, holly-like leaves with a thick, leathery texture. The branches and leaves are oppositely arranged. Ceanothus sonomensis, C. maritimus and C. confusus (Rincon Ridge Ceanothus) are members of the Cerastes subgenus. Plants in this section are the most drought tolerant and deer resistant.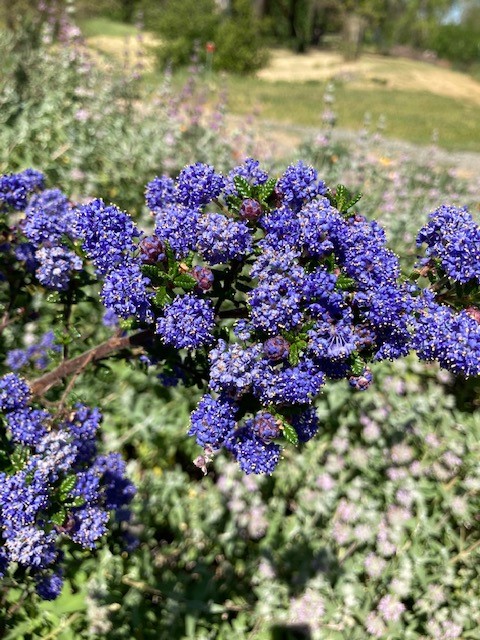 Early pioneers, with an understandable longing for familiar plants, graced it with the common name, California lilac, referring to the spring blooming panicle of small, blue flowers. (Aside: there are exceptions to all Ceanothus generalizations, the first is that some species have white flowers.) You can plant these evergreen shrubs as a shrubby groundcover, as a foundation planting, as a hedge, as a small tree, or as part of a shrub border.
As we would expect from plants that are native to the chaparral regions of the state, Ceanothus are drought tolerant, hence their value in California gardens. Ceanothus have a reputation for being short lived. This is often a problem of poor placement and poor management. Although, in my experience, they do not live as long as manzanitas and other native shrubs. They require good drainage and are short-lived in wet clay soils where too much water on their roots invite fungus diseases such as root rot. Ceanothus grow rapidly to their ultimate size. Prune in the warm months for rapid healing. Regulate the size by pinching out new shoots, rather than waiting until they are out of control and require radical surgery.
The modern cultivars that are sold in nurseries have proved to do well in our gardens and some will adjust to regular garden watering. Here is a brief introduction to some of those that are available:
Groundcover types are Ceanothus gloriosus var. 'Emily Brown', 'Heart's Desire', and 'Anchor Bay' (Cerastes). Other selections from the Cerastes subgenus are Ceanothus maritimus 'Point Sierra' and 'Valley Violet'. C. hearstiorum and C. griseus horizontalis 'Carmel Creeper' and 'Yankee Point'(Ceanothus). These will grow to cover an area of about 5 feet.
Mid-size shrubs that grow between 6' to 8' are C. impressus 'Julia Phelps' and 'Dark Star' which both bloom with brilliant cobalt blue flowers. Watch for them now, they are hard to miss! Other mid-size cultivars are C. 'Concha' and 'Joyce Coulter', and C. thyrsiflorus 'Skylark'. All of these are in the Ceanothus subgenus.
A very large shrub is C. arboreus, a native to the Channel Islands; in the trade one usually finds C. arboreus x griseus 'Ray Hartman'. C arboreus 'Cliff Schmidt' is available at Cal Flora Nursery. Both can be trained to be a small (15') evergreen tree or grown as a large shrub. C. thyrsiflorus commonly called blue blossom, is native to the Coast Ranges and can grow to 20 feet. Inland it appreciates some shade which will moderate the growth. Two C. thyrsiflorus varieties available are 'Oregon Mist' and 'Snow Flurry' which has masses of white flowers.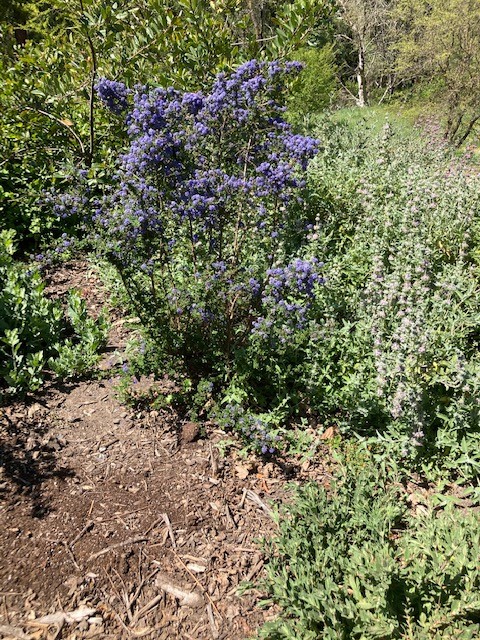 There are many other cultivars available. Check the Cal Flora Nursery website or visit their nursery in Fulton. The new Jepson (2012) lists 46 species and numerous sub-species that are found growing in California, so one can spend quite a bit of time getting to know this fascinating shrub group. There is a Timber Press book devoted to them by Fross and Wilkins published in 2006. The Sunset Garden Book has good information on the most common cultivars. If you enjoy old Fremontias, as I do, you will find information on the species origin of many cultivars in the January 1994 issue. The January 1987 issue has an article by Nevin Smith on cultivating Ceanothus.
I hope that I have piqued your interest with this brief account. Remember as you visit gardens and nurseries this spring to keep an eye out for blooming Ceanothus, and perhaps you might buy one or two. The best way to find out about any plant is to grow it in your garden.
Liz Parsons
*********************************************************************************************************
Send us some pictures and notes about your garden! We'd love to share your stories.




Volunteer Opportunities

Sonoma County Living Learning Landscapes first Friday of the month at 10am meet 1808 Albany Drive Santa Rosa email or call April Owens 707.331.2070 aprilleeowens@gmail.com.
Bring: hand pruners if you have them and a mask of course.

Invasive Ice Plant Removal Wednesdays 9:30-11:30 at Doran Beach. Text Invasive Plant Chair Jan 707.569.4724 to find out where they are working let her know you are coming!



Join Us!

We invite you to help us share the CNPS mission. We have many ways to get involved from helping in the nursery, on our preserves, with education and outreach and on our demonstration garden projects. Please contact Horticulture Chair April Owens, aprilleeowens@gmail.com or Education and Outreach Chair, Virginia Hotz-Steenhoven, vsteenhoven@sonic.net (707)528-6030 for more information


Plant Walks/Field Trips

While our Plant Walks and Field Trips are on hold at this time, we hope to be back in the great outdoors in 2021. Sign up for Email Alerts for our Plant Walks and Field Trips.
Contact Ruthie Saia: MiloBakerEvents@gmail.com.

Right image: Stump Beach, July 2019, Courtesy of Ruthie Saia.
Middle image: Piles of ice plant at Doran Beach Park, Courtesy of Jan Lochner. Left image:Native plant garden
2021-2022 Milo Baker Board Members
President

Wendy Smit

707-481-3765

wsmit8000@gmail.com

Past President:

Leia Giambastiani

707-322-6722

leiagia@gmail.com

Vice President:

Liz Parsons

707-833-2063

lizpar8993@aol.com

Secretary:

Kerry Wininger

707-888-5616

kerrywininger@gmail.com

Treasurer:

Karen Thompson
415-786-6788

ket@sonic.net

Conservation Co-chair:

Sean McNeil

707-480-2965
seanmcneil0@gmail.com
Conservation Co-chair:

Trish Tatarian

Trishtatarian@gmail.com

Director at Large:

Cody Ender

codyender@gmail.com

Director at Large:
Michelle Halbur
707-477-1648
mhalbur@pepperwoodpreserve.org

Director at Large:

Rosaleen Murphy

Wildplum13@gmail.com

Director at Large:

Jim Piercy

707-539-3441

terrapenecarolinamajor@yahoo.com

Director at Large:
Erika Erzberger
Plant Walks:

Ruthie Saia

707-322-7462

milobakerevents@gmail.com

H

orticulture Chair:

April Owens

707-331-2070

cnpsmilobakerhorticulture@gmail.com

Hospitality:

Karen Thompson

415-786-6788

ket@sonic.net

Hospitality:

Liz Parsons

707-833-2063

lizpar8993@aol.com

Invasive Plant Chair:

Jan Lochner

707-569-4724

4lochs@comcast.net

Membership:

Susan Dean

cnpsmbmembership@gmail.com

Newsletter Editor:

Caprice Disbrow

cnpsmbnewsletter@gmail.com

Outreach Co-Chair:

Virginia Hotz-Steenhoven

707-528-6030

vsteenhoven@sonic.net

Outreach Co-Chair:

Catherine Lipson

clipson@berkeley.edu

Plant Sale:

Liz Parsons

707-833-2063

lizpar8993@aol.com

Programs/Lectures:

Virginia Hotz-Steenhoven

vsteenhoven@sonic.net

Interim Progams/Lectures
Leia Giambastiani

707-322-6422

leiagia@gmail.com

Nursery/Garden Tour

Betty Young

707-595-1463

youngb0721@msn.com

Publicity:

Judith Rousseau

707-326-6454

jrousseau12@hotmail.com

Social Media Chair:

Allison Titus

530-859-5055

allisonbtitus@gmail.com

Sales Chair:

Judith Rousseau

707-326-6454

jrousseau12@hotmail.com

Website Administrator:

Natasha Granoff

cnpsmb.webadm@gmail.com

SCCC Representative:

Wendy Krupnick

707-544-4582

wlk@sonic.net
SRJC

Representative

:
Lynnette Bower


lynnette.m.bower@gmail.com

SSU

Representative

:

OPEN

Vine Hill Preserve:

Sarah Gordon

707-833-1243

sarahpgordon@gmail.com

Southridge Preserve:

Michelle Karle

michelle_karle@hotmail.com

Rincon Ridge Park:

Michelle Karle

michelle_karle@hotmail.com

Cunningham Marsh:

Marcia Johnson

707-829-3808

owlsnesttwo@att.net