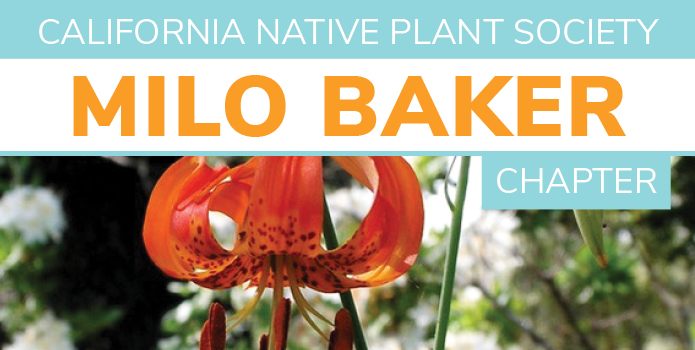 February Newsletter
What's in this issue: Speaker Series, Message from our President, Ice Plant Removal at Bodega Head, Plant Walks, Volunteer Opportunities
Speaker Series
Third Tuesday of the Month at 7:30pm
February 15th, 2022 via ZOOM
Discovering Mono County Plants
With Ann Howald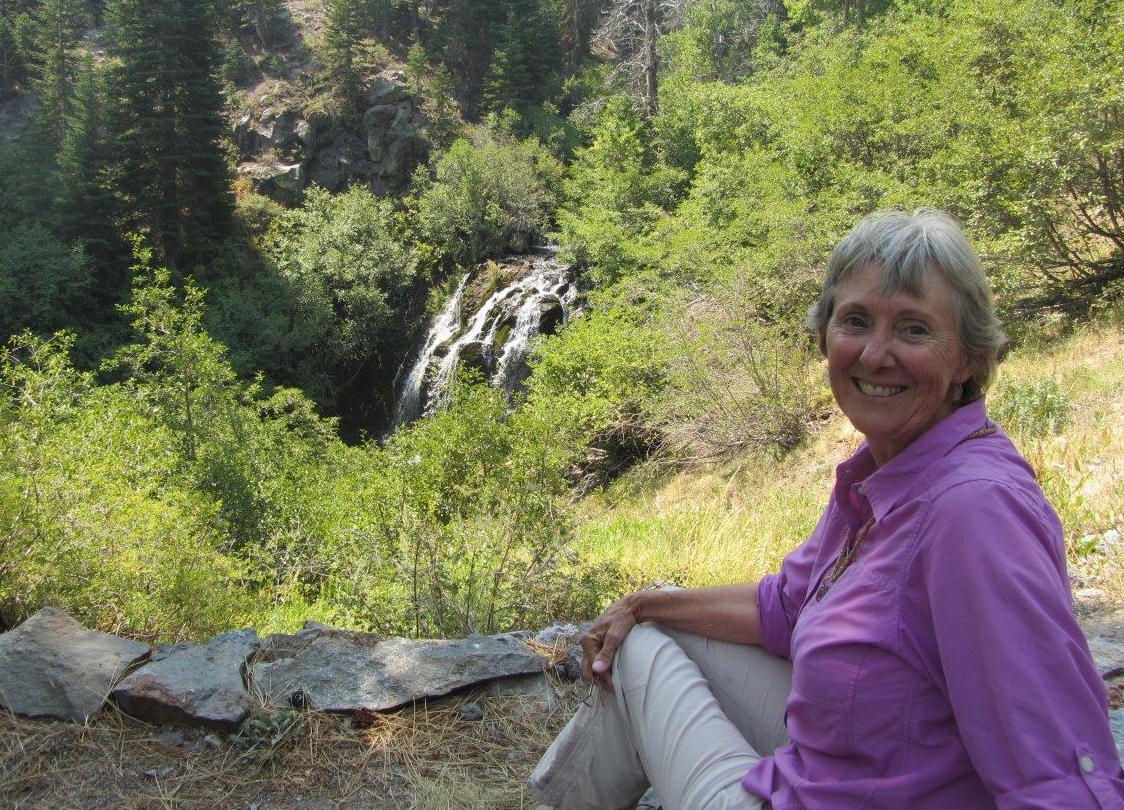 Ann is a retired botanist with an M.A. in Botany from U.C. Santa Barbara. She worked for many years as a teacher, consultant, and agency botanist. Since the 1970s she has studied the plants of Mono County in the Eastern Sierra. Upon retiring, she began spending summers in Mono County, living in her used Airstream trailer, and working on an annotated checklist of Mono County plants. By searching remote corners of the county over the past eight years she has found many previously undetected species, including one new to science. Her winter work includes research visits to herbaria statewide, although Covid has slowed that effort. Ann also is a volunteer for Sonoma County Parks, California State Parks, the Bureau of Land Management, the Mono Lake Committee, and has been a field trip leader and weed puller for the Milo Baker and Bristlecone chapters of CNPS for many years. Her presentation will highlight many of the beautiful and rare plants known from Mono County.
You can find the registration link for Ann's talk at our webisite: milobaker.cnps.org
Please note that Speaker Series events are being held over Zoom until further notice.
Message from our President
Happy New Year! Just when we thought we could start planning in person events the next wave of COVID hit our county. The Milo Baker chapter was able to host our traditional wreath making workshop in December. Thank you to all the volunteers and contributors especially Liz Parsons and Karen Thompson. The January speakers were also excellent and due to the virtual presentation, there were as many as 166 participants! Having wider participation is a silver lining to Zoom presentations. The February speaker Ann Howald was planned more than 2 years ago with hopes of being an in-person slide show. I am sure it will be fantastic, with excellent photos and information over Zoom.
Our planned plant walks will also be reappearing this spring. The good news is that the early
fern and flower season has begun, buoyed by last year's rains and cool damp weather. There are so many wonderful places to see our local wild plants. Already the ferns have emerged in canyons and on north slopes. A good place to see them is Shiloh Ranch Regional Park in Windsor, bear to the left from the parking lot and take the Creekside Trail to the pond. Take a photo, upload to iNaturalist to see what the identification might be. Or go to Calflora to search Sonoma County ferns. We are so lucky to have more than a half dozen native species. Early wildflowers are Pacific Hound's Tongues (Cynoglossum grande, right-hand photo) and milkmaids (Cardamine californica, photo below on left) also both found in shady cool woodlands. A good place to find them is Sugarloaf Ridge State Park near Kenwood.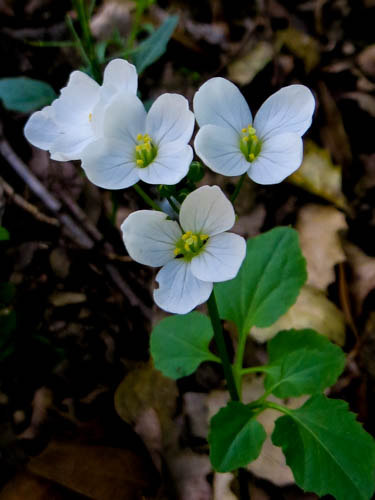 On a sad note, the Milo Baker community lost a friend in January when Ralph Johnson passed away after a battle with cancer. Ralph and his wife Marcia have been long time supporters of CNPS, stewarding their neighbor property, home of the Pitkin Lily. Their enthusiasm for nature including the plants and birds has been constant and illuminating. We will miss him.
In other chapter news, Natasha Granoff has stepped up to lead the Fall Plant Sale preparations for October. Thank you, Natasha! She will be working closely with Betty Young, Liz Parsons, and all the plant sale volunteers. This sale is our major fundraiser, and we so appreciate being able to carry on a fun and educational event at the Laguna Foundation location.
-Wendy Smit, Milo Baker President
Ice Plant Removal at Bodega Head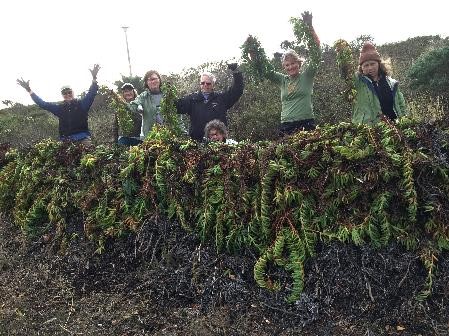 Start the new year off right by coming out to help support our native plants at Bodega Head! We are starting a new project removing ice plant at Bodega Head State Park. We will be meeting February 13, 2022, from 10am to 1pm. Put it in your calendar for the year- every second Sunday of every month. Bring your gloves, clippers, knee pads and YOUR FRIENDS; or just bring yourself and we can supply what you need. Join us at the far west parking lot, near the restrooms. Text Alynn at 707-321-1748 to let us know that you are coming.
-Alynn Kjeldsen & Jan Lochner, Invasive Plant Chair
Plant Walk- Sequoias and Flora of
Armstrong Redwoods State Natural Reserve
Leader: Armstrong Woods Docents: Cynthis Halliday & Larry Williams, Certified California Naturalist, Certified Animal Tracker Level 2
Monday, Febrary 21, 2022 | 12pm-2pm | Attendance limit: 11 | SOLD OUT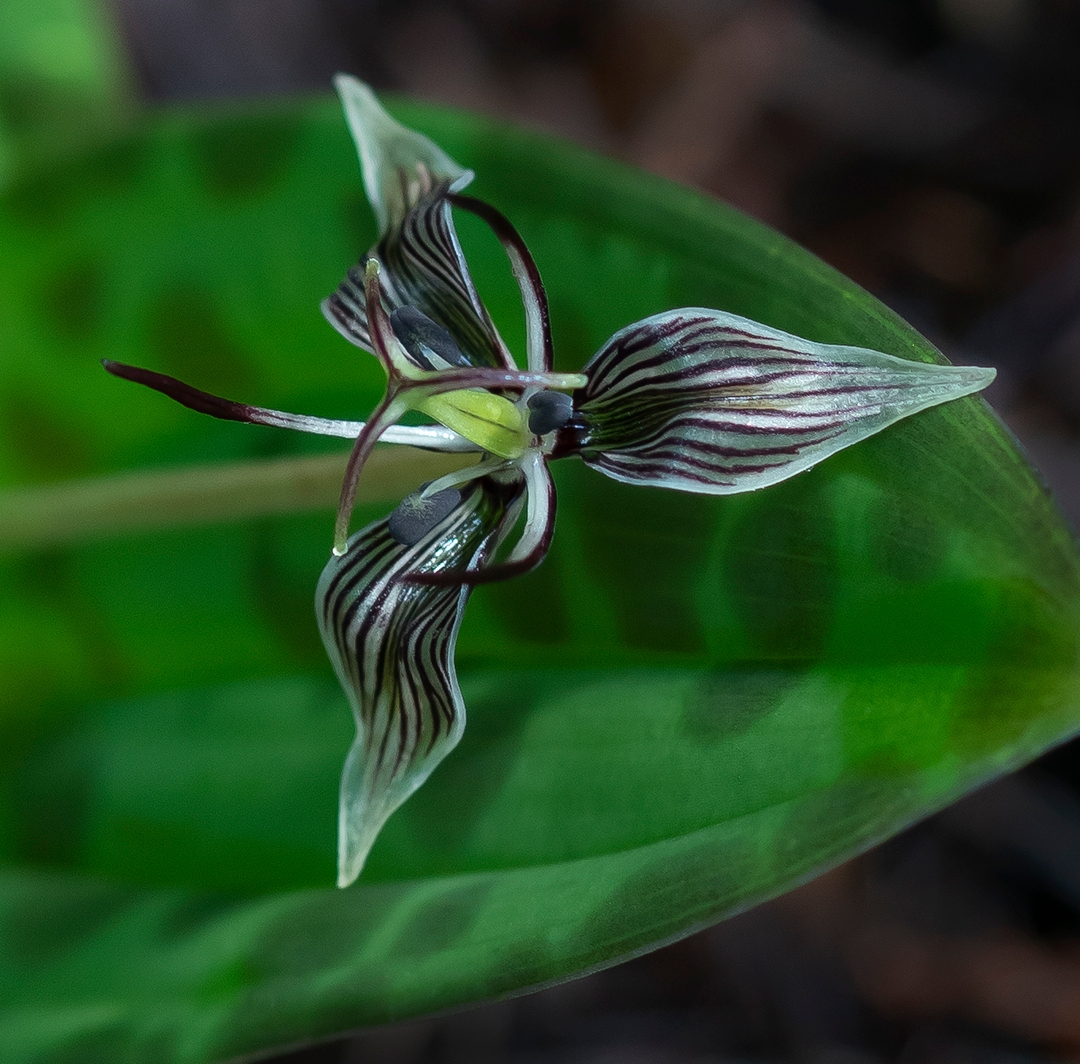 Meet in the Parking lot outside the Main Gate of Armstrong Redwoods in Guerneville, CA. Bring your Day-use State Park pass or pay $10 at the kiosk. This will be a true nature hike, and an easy walk on the biosphere floor. We will walk through the misty glades and learn about the majestic Coast Redwoods, check out the flora and learn about animals in the forest. We will witness the recovery from the 2020 fire season and see what is regenerating.
We will search for the early blooming slinkpods aka: Fetid Adder's Tongue (Scoliopus bigelovii, see photo), and other mysteries of the dark woods. Recommend to dress in layers, gloves, hat and scarf, sturdy walking shoes. Bring a bag lunch and hot beverages for your thermos. Heavy rain cancels. Happy Spring!
Questions? Contact Ruthie Saia, Plant Walks Chair, at 707-322-7462 or Milobakerevents@gmail.com

Plant Walk- Fascinating Ferns of
North Sonoma Mountain Regional Park and Open Space
Leader: Michelle Karle, Milo Baker Preserve Manager, Regional Park Aide
Monday, Febrary 28, 2022 | 1pm-2:15pm with option for long hike | Limit 15 people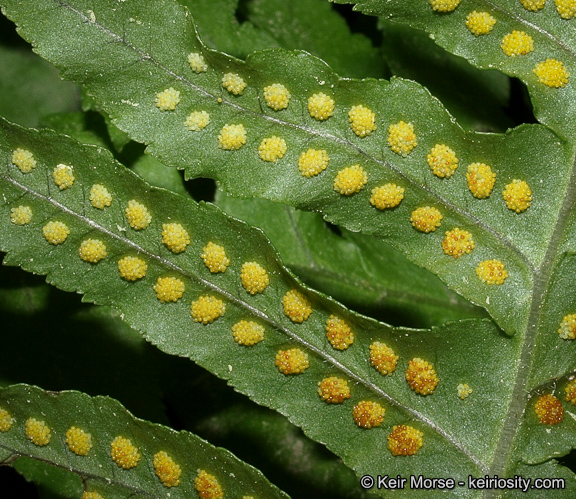 Meet at 5297 Sonoma Mountain Road, Santa Rosa.Bring your Sonoma County Regional Park pass,or pay $7 day use fee. Easy walk of half mile loop through oak woodland and redwoods groves looking for our native ferns.
Afterward there will be an optional hike on the North Sonoma Mountain Ridge Trail. This trail is moderately strenuous, 4 miles, 800 foot elevation gain (2 miles up, 2 miles back), up to Bennett Valley overlook.
Recommend sturdy shoes, dress in layers, Water, Hat/sun protection, bag lunch, and snacks. Sorry no dogs, carpool if you can.
Questions? Contact Ruthie Saia, Plant Walks Chair, at 707-322-7462 or Milobakerevents@gmail.com or Michelle Karle (831) 801-1383
Ongoing Volunteer Opportunties
Sonoma County Living Learning Landscapes first Friday of the month at 10am meet 1808 Albany Drive Santa Rosa email or call April Owens aprilleeowens@gmail.com, 707.331.2070.
Invasive Ice Plant Removal Wednesdays 9:30-11:30 at Doran Beach. Text Invasive Plant Chair Jan 707.569.4724 to find out where they are working let her know you are coming!

| | |
| --- | --- |
| | |
| | |