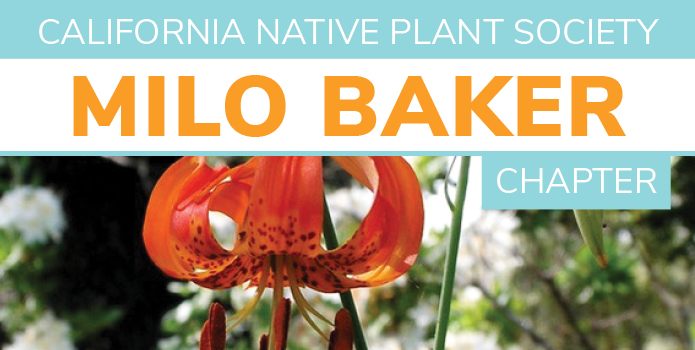 March Newsletter
What's in this issue: Speaker Series (in-person), Message from our President, Spring Scholarships, CNPS News, Plant Walks, Volunteer Opportunities
Speaker Series
Third Tuesday of the Month at 7:30pm
March 15th, 2022
in-person
Luther Burbank Art and Garden Center
2050 Yulupa Ave, Santa Rosa, CA 95405

Back-to-back Burns: Post-fire Recovery and Restoration of Coastal Forests with Michelle Halbur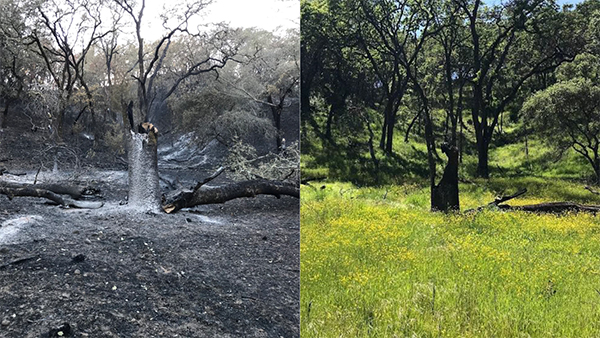 Abstract: Eastern Sonoma County has experienced multiple large wildfires in the past four years, some of which overlapped within a two-year period. The effects of increased fire frequency and severity, confounded by the impacts of climate change and drought, may have consequences for our inner coastal forest communities. At Pepperwood Preserve, a 3200-acre nature reserve that burned in the 2017 Tubbs and 2019 Kincade fires, researchers and land managers are working together to assess the impacts of wildfires and experimenting with ways to steward this fire-altered landscape. Michelle will be presenting on the lessons they are learning about forest recovery and sharing some innovative ways they are tending to forest and woodland communities. She will also provide information about new tools developed for the public to better understand wildfire risk and connect them to resources for land stewardship and fuels management.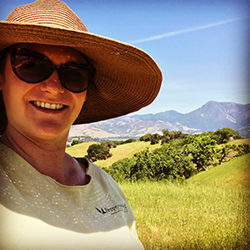 Bio:Michelle Halbur has served as Pepperwood's Preserve Ecologist since 2011. She supervises Pepperwood's biological monitoring projects including grassland and forest monitoring, plant phenology monitoring, and breeding bird surveys. She also oversees visiting scholars that utilize the preserve for research and manages the Stephen J.Barnhart Herbarium at Pepperwood. In her spare time, Michelle enjoys cooking wholesome meals to share with friends and wandering natural landscapes with her two children looking for nature treasures. She is also a Milo Baker Chapter board member.
You can find the registration link for Michelle's talk at our website: milobaker.cnps.org
Message from our President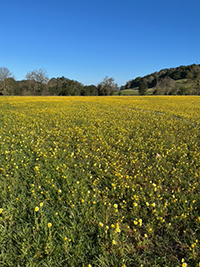 Every morning we all watch the sky for signs of March rains. Another dry month has gone by, yet our native wild plants seem to take it in stride. The early shrubs and wildflowers are dazzling even if not robust. The October and December rains created ideal germination conditions for annuals and soaked the forests enough to last through the year.
The chapter's plant walks have begun but have proven so popular they sell out in hours. As encouragement to all our members I recommend looking back at previous year's newsletters for ideas of places to hike (milobaker.cnps.org, click on newsletters). To my amazement, I looked at the March 2020 newsletter and discovered 9 walks all planned and then cancelled. Our hard working Plant Walk chair, Ruthie Saia was thwarted by "new Coronavirus". She is back planning however, so watch for upcoming outing possibilities. Ruthie has brought in friends to widen the committee. Thank you to Rosaleen Murphy and Lynnette Bower for your help, and thank you Ruthie! She and Natasha Granoff have also worked hard to keep the website Field Trips page updated and interesting. Check it out!
Also this month the Scholarship committee has reworked the application materials and streamlined the process for SRJC and SSU applicants. New committee member Michelle Halbur spearheaded efforts to launch the program with assistance from Karen Thompson , Cody Ender, Kerry Wininger, Leia Giambastiani, and Sean McNeil. See details below.
And, finally, it's not too late to visit nurseries and ask for native plants. Pop them in the ground so they can establish before the heat arrives. You may be hand watering for the first year! Next month- Native Plant Week April 16-23.
-Wendy Smit, Milo Baker President
Spring Scholarships
The Milo Baker Chapter of the California Native Plant Society (Milo Baker) is looking to support students who are interested in learning about native plants or are engaged in study and/or research relating to native plant conservation, restoration, or other native plant studies.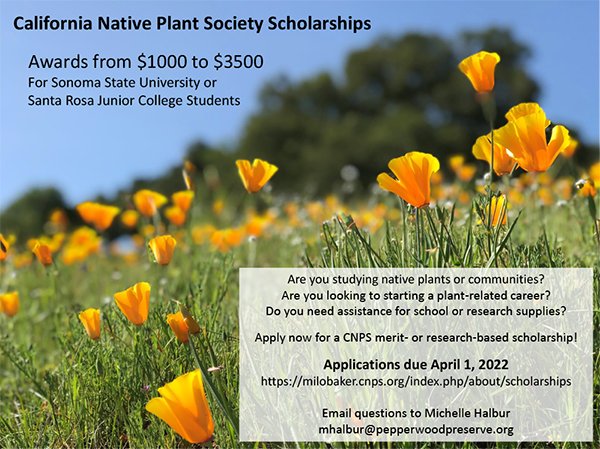 Milo Baker provides two types of scholarships: a merit scholarship for educational expenses and a research scholarship to provide funding for research-related expenses. Awards are open to current and incoming students of Sonoma State University or Santa Rosa Junior College. Preference will be given to applicants who demonstrate a focus on Sonoma County flora or issues affecting plant communities of Sonoma County.
Merit Scholarships are available for students studying native plants, plant ecology, plant genetics, or related studies. Applicants will be evaluated on a combination of academic background, work experience, and personal commitment to plant-related studies or profession.
Awards of $1,000
Must participate in one Milo Baker volunteer activity (outreach and education event participation, invasive species removal, native plant nursery, garden tour, or other approved activity)
Must provide a letter of appreciation to scholarship donor
To apply: Submit the Milo Baker Merit Application available online at: https://milobaker.cnps.org/index.php/about/scholarships
Research Scholarships are available for students that need funding for research related to plants in Sonoma County. Expenses may be used for new or existing projects. Applicants will be evaluated on a combination of academic background, work experience, and personal commitment needed to carry out proposed research successfully.
Awards up to $3,500 depending on project budget
Must participate in one Milo Baker volunteer activity (See Merit Scholarship description)
Must submit short written or oral report of research activities to the Milo Baker Board within a year
Must provide a letter of appreciation to scholarship donor
To apply: Submit the Milo Baker Research Scholarship Application available online at https://milobaker.cnps.org/index.php/about/scholarships, including any other pertinent information to support your application (such as a resume or CV).
Deadline: Applications for the spring semester award must be received by April 1, 2022. If you have questions, please email Michelle Halbur at mhalbur@pepperwoodpreserve.org
CNPS News
Recently the state Board of Directors adopted a new 5 year Strategic Plan. The updated vision reads: "Our vision is a California in which native plant diversity flourishes, where all people have access to native plants in both the built environment and the wild, and where people of all backgrounds play a vital role in the conservation of our native plant heritage." The state staff have embarked on very ambitious programs to meet this challenge. Just a few are 'Saging the World' campaign to save wild white sage (salvia apiana), "Bloom! California" that encourages nurseries to carry native plants, and "Naturehood" a series of monthly webinars on horticultural practices. Included in the work are all 37 chapters, Chapter Council, and the Board. For more information go to cnps.org.
Preparations for the next Conference have begun. Mark your calendars for October 20-22, 2022 in San Jose. The last conference was a fantastic opportunity to meet like-minded people, learn about new research and projects, see pretty slides of the flowers we love, go on local field trips, and to buy swag, books and artwork. The theme this time is "Rooting Together: Restoring Connections to Plants, Place & People". Learn more about submitting an abstract or sign up for email updates at conference.cnps.org. Registration opens later in the spring.
Plant Walk- Rincon Ridge Preserve
Leader: Michelle Karle, CNPS Milo Baker Volunteer Preserve Manager
Monday March 14, 2022 | 3:00pm - 5:00pm | Attendance limit:15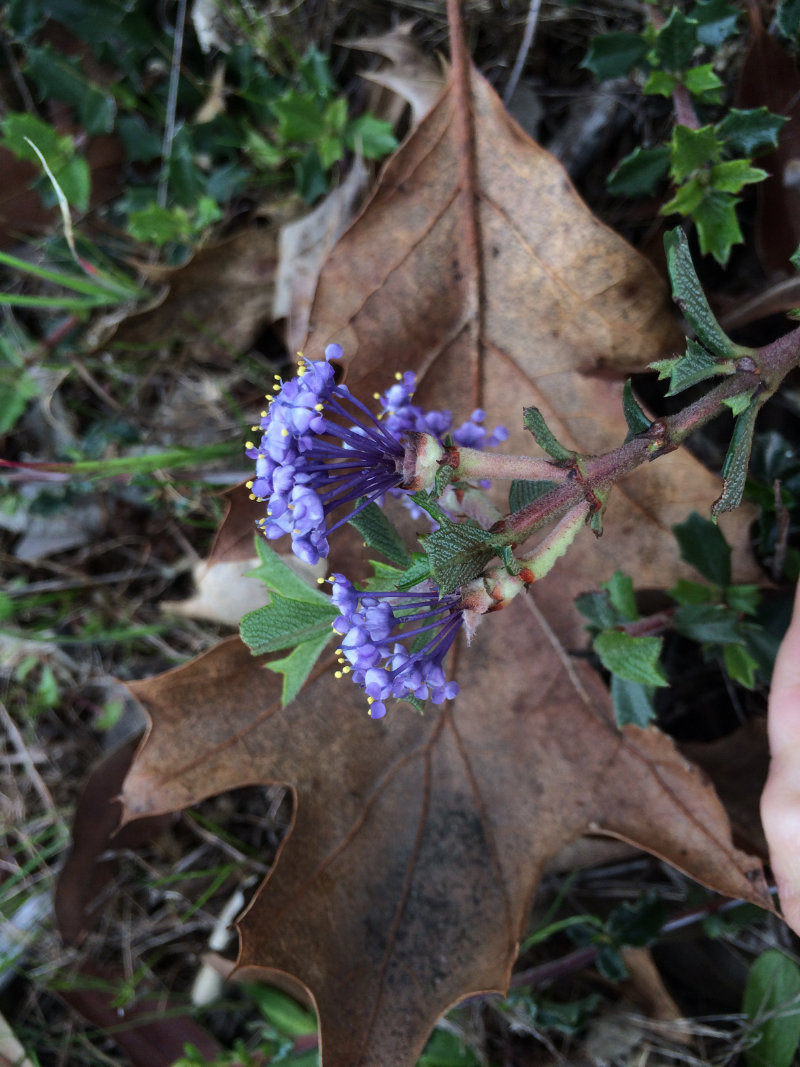 Meet at 3949 Park Garden Drive (across the street).
Easy walk with spring blooms and fire-adapted chaparral plants in recovery mode from the 2017 Tubbs Fire. We will meander approximately 1/4 mile at cautionary speed to protect fragile (baby) plants. Bring hand lenses and kneeling pads if needed.
Recommend sturdy shoes, hat/sun protection, water. No dogs please. No bathroom on site.
Questions? Contact Ruthie Saia, Plant Walks Chair, at 707-322-7462 or Milobakerevents@gmail.com or Michelle Karle (831) 801-1383
Plant Walk- Jenner Headlands Preserve Wildflowers & Serpentine Grassland
Hosted by The Wildlands Conservancy, Ranger Patrick Ziegler
Monday March 28, 2022 | 1:00pm - 4:00pm | Attendance Limit:15
Meet at 12001 CA-1 Jenner, California. Parking and access are free. Donations to Wildlands Conservancy are appreciated at kiosk.
We will hike the moderate to strenuous 1 mile up the Raptor Ridge trail enjoying the hillsides of Douglas Iris, to the Treebeard outcrop to have lunch.
Afterwards you have the option to continue up the steep slope, or turn around. It's approximately 1.5 miles and 750' elevation gain, here we enter the serpentine meadows.
If you choose to do the full Costal Prairie Loop Hike, Please come prepared to hike 4 miles in uneven terrain with very little shade, and it can get windy.
Wear sturdy shoes, dress in layers, hat/sun protection. No potable water is available so be sure to bring enough for the day. No dogs please. We may run into some friendly cows. Bathrooms are available at the trail entrance.
Questions? Contact Ruthie Saia, Plant Walks Chair, at 707-322-7462 or Milobakerevents@gmail.com
Ongoing Volunteer Opportunties
Living Learning Landscapes workday was moved to the second Friday of the month since Laguna has theirs on the first, 10-12. Contact April Owens: aprilleeowens@gmail.com, 707.331.2070
Weed Warriors!! Save the Date!! Thursday, March 24th
We will have a one of a kind opportunity to work at Salt Point near Stump Beach. There is an acre of natives, almost park-like as per 2 top state employees, that needs some TLC (weeding, including Holcus) and the State Parks has asked us to tend to it!! I have not seen the spot yet but will send the time and directions with carpooling options to those that email. Contact Jan at 4lochs@comcast.net. I am hoping for 8 people and will close it at 10 people.
Another chance! Saturday, March 5th - Laguna Uplands (for those not able to make the workdays this month) 9:30 - 2:30 (or portion thereof.) I found teasel, poison hemlock and thistle at the Uplands today and cannot leave it there. Yes, there is also more Holcus for the taking/hacking.
It is nice if I know you are coming so let me know please.
Contact Jan Lochner, Invasive Plant Chair at 4lochs@comcast.net

| | |
| --- | --- |
| | |
| | |