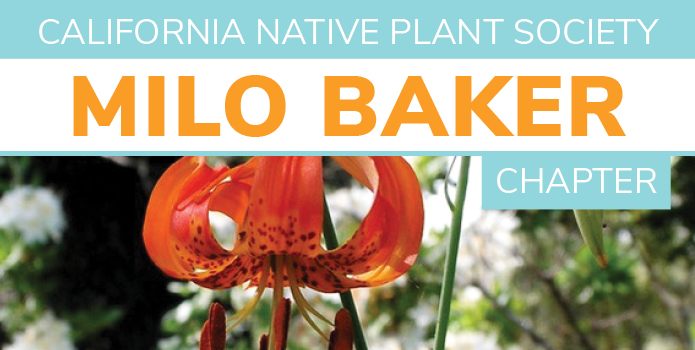 April Newsletter
What's in this issue: Speaker Series (in person), Message from our President, Eco-friendly Garden Tour, Plant of the Month, Gardening Book in Progress, Conservation Committee News, Plant Walks, Volunteer Opportunities
Speaker Series
Third Tuesday of the Month at 7:30 pm
April 19th, 2022 in-person
Luther Burbank Art and Garden Center
2050 Yulupa Ave, Santa Rosa, CA 95405
Mahalo California: The tarweed origin of Hawaiian silverswords with Dr. Bruce Baldwin, Professor, Department of Integrative Biology, UC Berkeley and Curator Jepson Herbarium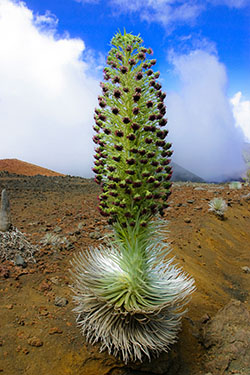 Abstract: The idea that the spectacular Hawaiian silverswords and relatively humble California tarweeds have a natural affinity goes back to the mid-1800s, when Asa Gray placed them together as the exclusive representatives of subtribe Madiinae, in the sunflower family, Asteraceae. That classification proved controversial for well over a hundred years, until detailed studies supported and extended Gray's hypothesis. Thanks to careful anatomical work by the late, great Sherwin Carlquist and a series of subsequent evolutionary studies, we now have a more refined understanding of the relationship between tarweeds and silverswords and an emerging picture of how both groups have diversified as exemplars of adaptive radiation in oceanic islands or island-like environments, including the Mediterranean-like California Floristic Province. Join us for a presentation about those radiations and the beautiful diversity of plants that arose from them both in California and Hawaii.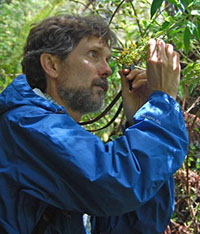 Bio: Since 1994, Bruce has served as convening editor of the Jepson Flora Project, which has produced The Jepson Manual: Vascular Plants of California and The Jepson Desert Manual: Vascular Plants of Southeastern California, and currently produces the Jepson eFlora — a living, regularly updated online flora of California. His research focuses on evolution and diversity of the native California flora and Hawaiian plants that descend from Californian lineages, with an emphasis on the sunflower family.
You can find the registration link for Dr. Baldwin's talk at our website: milobaker.cnps.org
We are resuming the before meeting dinners at the Kirin Restaurant, 2700 Yulupa Ave, Santa Rosa. We will meet there at 5:45 PM. Please contact Liz Parsons (707) 508-8345, or lizpar8993@aol.com if you plan to go.
Message from our President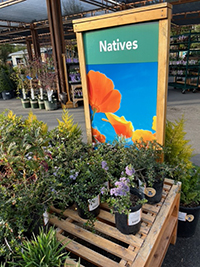 April is always my favorite month for gardening and wildflowers in Sonoma County. At low elevations the poppies and lupines cover the hillsides and the sticky monkeyflowers are exuberant in garden beds. It's also the month when tiny blooms appear all across the rocky scree of serpentine road cuts, and even the vernal pools start their flushes of color.
So for us, it is fitting that April is National Native Plant Month and for California the week of April 16-23 is our own Native Plant Week. Milo Baker chapter will host a plant walk at Fairfield Osborn Preserve on April 18 and also a presentation by Bruce Baldwin of the Jepson Herbarium on April 19. That week we will also have our regular weeding events so come out and enjoy the lovely spring weather!
The state CNPS has organized nurseries all over California to participate in highlighting native plants in what they've named Bloom! California! Sonoma County's premier native plant nursery California Flora Nursery in Fulton is joining in the fun with a 'Bouquet Bash' where you can craft and take home your own bunch of flowers (while supplies last) April 1-30. For more information visit Bloomcalifornia.org/public-events or calfloranursery.com.
Another way to encourage supplies of native plants at your local nursery is to ask for them! As the public demands more, dedicated sections have started to appear. Even as dry conditions make planting difficult, many potted specimens can be held over in a protected spot until fall planting season. It's likely to be an ideal time to enjoy your garden before the coming dry period.
– Wendy Smit, Milo Baker President
Eco-Friendly Garden Tour
Mark your calendar for Saturday May 14 to watch videos from Sonoma County native plant gardens. Yes, I am afraid the Eco-Friendly Garden Tour is all video again this year, but the great news is that ALL of the gardens on the tour are native and 3 are from our own members, Phil Van Soelen and April Owens. Phil is including both his current and his former gardens, the latter created from 1978-2015. His earlier garden is now owned by his daughter and son-in-law and continues to evolve. This is your only chance to see them since there is no room for parking for an in-person tour. April's garden is a rebuild after fire and displays beautiful examples of fire-resistant landscaping.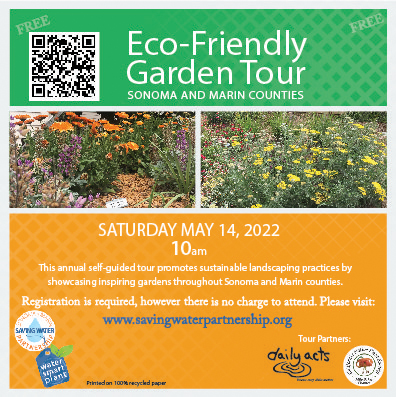 The gardens will be filmed by a professional production company and narration will be by the garden owners or designers. The virtual tour is free, but you must sign up to get a link to the videos, beginning on May 14. Go to: www.savingwaterpartnership.org to sign up. They will send a link to watch once the videos are online.
Plant of the Month
Salvia apiana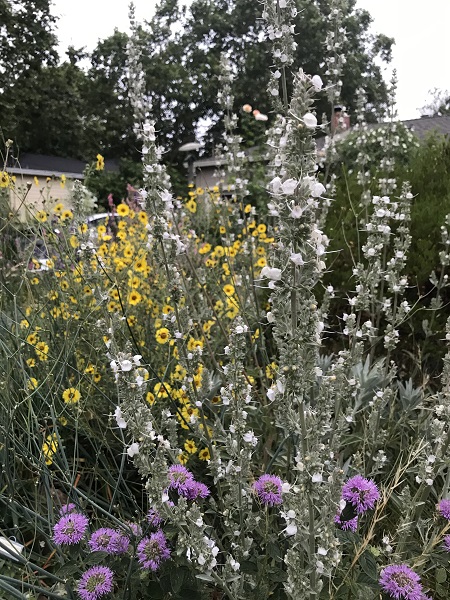 Salvia apiana, white sage or bee sage, is a shrub that can grow to 4'x4'. The specific epithet, apiana, refers to bees and the attraction white sage has for them. It is a CA native and occurs from Santa Barbara County through Baja California. It grows on dry, rocky hillsides in exposed conditions. It is part of the coastal scrub and chaparral habitat. Plants can grow in a mass and cover large areas. The leaves contain aromatic oils and resins and Native Americans use the dried or fresh leaves for ceremonial purposes. The aromatic oils are released when the leaves are burned in what is called a smudge. The smoke produced is said to purify the air.
The fact that white sage is used by Native Americans is leading to an overuse of the leaves. In the last 20 years, it has become increasingly popular to burn the leaves in purifying ceremonies. Bundles of the leaves are sold over the internet and at craft fairs. This popularity has led to over-exploitation of the resource. People go into areas where it grows and cut huge amounts of the foliage. In the delicate desert areas of Baja this disturbs the delicate soils and the adjacent plants. The CNPS has produced a video documenting the damage that this over-harvesting is doing. It will be available in April.
It is easy to grow Salvia apiana in the garden. It has a stiff habit with silver-white leaves. The long flowering stalks of white flowers are produced in the spring. It is a good plant for sunny dry areas with good drainage. If you would like to use a white sage for ceremonial burning, grow your own!
Salvia apiana and Dudleya farinosa are both precious CA native plants that have been "discovered" and over-exploited. Dudleya farinosa or bluff lettuce from our North Coast has been over-harvested and exported to Asia where it is a popular garden plant and people are willing to pay a lot of money for individual plants. There are efforts to interdict this illegal traffic, and local CNPS chapters are replanting the confiscated succulents. However, this is not easy because they grow on difficult to access coastal bluffs and once the roots are disturbed, it is difficult to reattach them.
As an organization, CNPS encourages the use of CA native plants, but please grow your own. Never harvest from the wild!
– Liz Parsons, Milo Baker Vice President
Gardening Book in Progress
Way back in 1976, revered member, Jack Guggolz, wrote a gardening booklet, "Milo Baker Gardener". Fifty years later, we honor Jack but think it is time to update the booklet. Since we want to include more current topics like fire resistance and creating habitat, we are pretty much starting over.
A great committee of experienced Sonoma County native plant gardeners and April Owens, native plant landscape architect, is working on the booklet. With their valued input, I will be putting words to the page. We are focusing in on a beginner's guide and our own Sonoma County natives. It will be 20-25 pages and available to download as a PDF. We will also print copies for sale at meetings and the plant sale. October is our goal to have the booklet ready for the plant sale and fall/winter planting.
We hope "Sonoma County Native Plant Gardener" will offer you some ideas and useful techniques for your gardening fun.
– Betty Young, Nursery and Garden Tour Chair
Conservation Committee News
The Milo Baker conservation program encompasses a wide range of activities, from preserve management, to rare plant hunts, invasive plant issues and involvement in local planning processes. The Milo Baker Conservation Committee is busy reviewing applications for public and private development in the county and cities, working in partnership with other conservation groups and commenting to elected officials and policy makers. The committee is excited to announce an upcoming feature in the newsletters called "Conservation Corner" beginning in May. The goal is to keep members updated on committee activities, and will include date sensitive comment periods about county and city planning for Milo Baker Chapter members to engage and have their voices heard. Issues this year include the Local Coastal Plan, beginning of the County General Plan update process, and the updated County Tree Ordinance.
The committee meets the fourth Tuesday of the month via Zoom from 6:30-7:30 pm and welcomes members who would like to join. Please contact Wendy Smit if you would like to attend, wsmit8000@gmail.com.
Plant Walk - Healdsburg Ridge Open Space Preserve Spring Botanical Adventure with Rosaleen Murphy, Certified California Naturalist
Monday April 11, 2022 | 1:00 pm - 4:00 pm | Attendance limit: 15
Meet at the trailhead at the end of Bridle Path and Arabian Way. Parking is in the adjacent neighborhood and is somewhat limited, so carpooling is encouraged. Parking and access are free.
Join us in exploring this stunning piece of land and all the botanical treasures the season has to offer. The easy to moderate walk will take us on a three-mile loop with 300 feet elevation gain at a botanical pace. We will explore diverse plant communities, including wetland, open grassland, chaparral, oak woodland, and serpentine outcrops, and explore topics such as fire ecology, plant community succession and serpentine endemics. We will also be graced with views of Fitch Mountain, the Russian River and the Mayacamas Range.
Bring sturdy shoes, water, snacks, sun protection, and a hand lens if you have one. This botanical outing is not appropriate for dogs. No bathrooms or water on site.
Questions? Contact Ruthie Saia, CNPS Plant Walks Chair at milobakerevents@gmail.com
or Rosaleen Murphy, CNPS Plant Walks (707) 318-0387
Plant Walk - Fairfield Osborn Preserve Sudden Oak Death Education
plus Spring Wildflowers
Monday April 18, 2022 | 1:30 pm - 4:30 pm | Attendance Limit: 20
Leaders: Kerry Wininger, Sudden Oak Death Program Coordinator for UCCE Sonoma County, Ruthie Saia, Certified Osborn and California Naturalist, Alan Chesterman, SOD Specialist, UC Master Gardener Program of Sonoma County.
Meet at 6543 Lichau Road, Penngrove.
Please be on time, as the gate will be locked at 1:45 pm.
Directions from Cotati: East on East Cotati Road, right on Petaluma Hill Road, left on Roberts Road, Right on Lichau, follow nearly to the end, please drive carefully, narrow lumpy roads. Turn right at the wooden Fairfield Osborn Preserve sign through the gate into the parking lot.
Join us for a journey across this varied and abundant landscape while learning about Sudden Oak Death (SOD) biology and hosts, history, ecology, current state of the field and what you can do to help protect our native oaks, while also keeping an eye out for the abundance of striking wildflowers that appear at Osborn Preserve each spring.
Plan to hike moderate to strenuous steep trails, 1 mile with a 200-foot elevation gain, and up to 3.5 miles with 500-foot elevation gain. Prepare for an adventure through shady oak woodlands and sunny grasslands with ticks and insects, poison oak, and uneven terrain.
Sonoma County has more SOD than any other area in California, with new outbreaks still appearing. Osborn Preserve is home to majestic oak woodlands along with 8 other plant communities, including dozens of native species that are susceptible to this devastating forest disease. Osborn Preserve is the location where SOD was first confirmed in the county in 2019, hosted the first fully bilingual (English and Spanish) SOD blitz citizen science event in the state last spring, and continues to be a hot bed of SOD research and educational activities.
Please wear sturdy shoes, bring a snack, water, Hat/sun protection, dress in layers. You will be asked to sign a liability waiver upon your arrival. No dogs or smoking are permitted. Phone reception is poor on the mountain.
SSU-CEI - COVID-19 Safety Requirements: Do not attend if you test positive for COVID-19 or have any symptoms. SSU requires that you must properly wear a mask indoors (e.g., education center, carpooling to or from the preserve), and outdoors when a six-foot physical distance between persons cannot be maintained, even if you are vaccinated. Bandanas, gaiters or vented masks are not suitable. We will spend all of our time outdoors. All SSU updated guidelines can be found at http://covid19.sonoma.edu/
Questions? Contact Ruthie Saia, CNPS Plant Walks Chair at milobakerevents@gmail.com,
or Kerry Wininger (707) 888-5616
Ongoing Volunteer Opportunities
Living Learning Landscapes Workday was moved to the second Friday of the month since Laguna has theirs on the first, 10-12. Contact April Owens: aprilleeowens@gmail.com, (707) 331-2070
Weekly Doran Beach Ice Plant Removal – every Wednesday (9:30 am - 11:30 am). Meet at 9:30 at the Cypress Day Use parking lot, west end. Bring clippers and gloves and knee pads if you like. One of the most pleasant workdays happens every week – a trip to Doran Beach to pull ice plant. We are clearing out the ice plant that is in the marshland to make room for natives. It is very visual and quite satisfying, with the sound of the waves, birds and foghorn.
SAVE the DATE for "A Special Acre" (on the Coast above Salt Point). Hacking the Holcus – Thursday May 5th
For more information, please visit the Volunteer Opportunities page on our website.

| | |
| --- | --- |
| | |
| | |