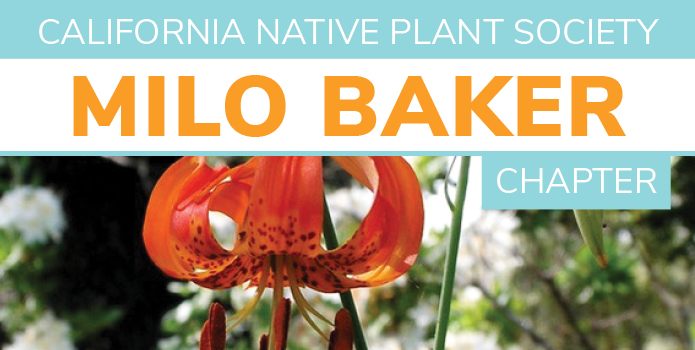 July/August Newsletter
What's in this issue: Speaker Series, Message from our President, Chapter Picnic, Horticulture with Liz, Plant Walk, Volunteer Opportunities
Speaker Series
Third Tuesday of the Month at 7:30 pm
There are no general meetings scheduled during July and August. The Milo Baker general meeting/speaker series will resume on September 20, 2022. Please check our website for information on upcoming speakers.
Luther Burbank Art and Garden Center
2050 Yulupa Ave, Santa Rosa, CA 95405
Message from our President
As summer rolls around, and the days get longer and warmer, plant enthusiasts are out loving the fresh air in the mornings. There are still plenty of flowers to see, milkweeds with their inside out blooms, tar weeds in white and yellow, buckwheats in white and pink. The display at the coast is especially rewarding, much flowering at the bluffs all along our state parks. Watch for Seaside daisies and Swamp Harebells. One of my favorites is Pleated Gentian, a rare treat in the coastal grasses. Inland, even an evening hike is rewarded with soap plant shooting white stars of lovely lily flowers along the trail.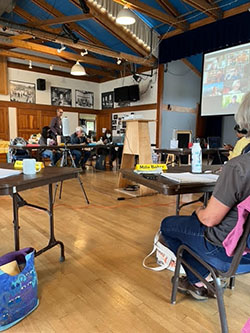 In early June a group of Milo Baker Board members co-hosted the quarterly Chapter Council meeting at Point Reyes Station. Thank you Natasha Granoff, April Owens, and Betty Young. The Marin chapter was the primary organizers and they did a fantastic job of setting up The Dance Palace for an interesting gathering. Many chapters attended on Zoom and about 20 others came in person. The interim Executive Director gave a report on the excellent financial condition of the organization. Good news is that the State Assembly passed AB 2146 Pollinator Protection Act and it is headed to the Senate. Also U.S. Representative Garamendi has proposed the bill to protect Molok Luyuk aka Walker Ridge in Congress. CNPS is working at the Federal level for the first time. Preparations for the October Conference are ramping up, watch for registration date information. A new CNPS Fellow was elected, Marin Chapter's Kristin Jakob. This is just a short sample of all that was discussed! Next meeting is in Sacramento on September 10, also a hybrid meeting.
Have a wonderful summer! The newsletter will be back in September.
Note: there will be no Speaker series in July or August.
– Wendy Smit, Milo Baker President
Milo Baker Chapter Picnic
August 14, 2022 3 pm to 6 pm

The Chapter picnic returns this year at Pepperwood Preserve located at 2130 Pepperwood Preserve Road, Santa Rosa.. Pepperwood Preserve has been a valuable partner for the chapter hosting seminars, workshops, and potluck gatherings. This year we are lucky to enjoy the scenic Bechtel House with its casual indoor and outdoor space overlooking a stunning view of the Preserve and the Santa Rosa hillsides. It will be a wonderful place to meet friends, enjoy the summer afternoon and share a potluck dinner.We will begin to assemble at 3 P.M. and serve dinner at 4:30. Bring your own utensils and a dish to share. Beverages will be provided. Folding chairs and wide brimmed hats are recommended. Parking is limited so please carpool if possible. Families Welcome!
For more information and directions, email Wendy S. at wsmit8000@gmail.com.
Horticulture with Liz Parsons
I just returned from a three week visit to Illinois where I grew up and lived for the first 30 years of my life. In Illinois, they expect to get regular rainfall and people there mow acres of lush, green lawns, and grow acres of corn and soy beans. The contrast with my adopted home in California couldn't be greater. Here we are in the middle of a prolonged drought and lawns are discouraged. Replacing lawns with drought tolerant CA native plants is encouraged.
When I first moved to California 50 years ago, the different rainfall patterns between my new home and my old home really impressed me. I began to learn about gardening in California, first by taking horticulture classes at the SRJC. The classes were taught by Bob Cannard, Sr. I learned so much about growing plants from him, especially about growing plants that are adapted to a summer dry/winter wet Mediterranean climate. In 1975, I took field botany classes with Steve Barnhart and really learned about the special plants of Sonoma County. We took field trips all over the county and studied the plants in depth using the Manual of California Plants by Phillip Munz. It was while I was in Steve's class that I was introduced to the Milo Baker Chapter by his assistant Nancy Harrison. Nancy was the President of the Chapter then.
I was immediately interested in the fledgling plant sale because I wanted to apply my horticulture training to growing the beautiful plants that I was seeing in the field. So I volunteered to help, and soon I was deeply involved in organizing the sale at the Vet's Memorial Building in Santa Rosa. (The sale started in Old Courthouse Square, moved to the Union at the SRJC and then took up residence at the Vet's Building where it stayed for 35 years.)
50 years later, I am still planting CA native plants. I have moved from my Kenwood home where I gardened for 34 years. The Kenwood garden fulfilled all my dreams of growing CA native plants and learning their secrets. I have moved a few miles away to Oakmont where I am beginning again. In front of my house is a huge, old Quercus agrifolia—Coast Live Oak. When I saw that tree, I knew that I had found my new home. I have begun again with plantings of Coffeeberries, Manzanitas, Monkeyflowers, Flannelbush, and Zauschnerias. The drought tolerant CA native plants that I have grown to love.
Many of us come to California from other places with different climates. The California Native Plant Society is such an important source of education for transplanted people.
– Liz Parsons, Milo Baker Vice President
Plant Walks
Plant walks will be taking a break for the summer, have a great time out there in nature! Hope to see you again in the Fall. Sign up for future walks at MIlobakerevents@gmail.com
Plant walks are free and open to members and non-members. This is a great way for beginners and botanists alike to appreciate the flora of Sonoma County.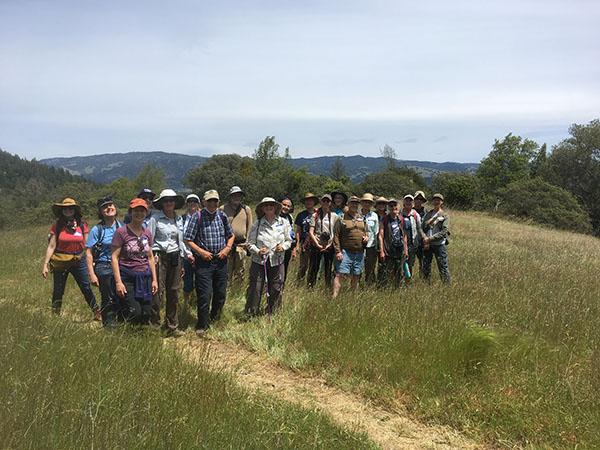 Questions? Contact Ruthie Saia, CNPS Plant Walks Chair at milobakerevents@gmail.com
or Rosaleen Murphy, CNPS Plant Walks (707) 318-0387.
Ongoing Volunteer Opportunities
One-gallon pots needed. Our volunteers are busy in the nursery beginning to pot up plants for the fall sale. We are about 500 short. If you have 1 gallon pots, please recycle at the nursery. The gate is open M-F 9-4. The dirty pots go on the south side of the nursery across the road. 900 Sanford Road, Santa Rosa. Extra good karma for you if you rinse them out. Contact Betty with questions at youngb0721@msn.com or (707) 695-4257.
Living Learning Landscapes Workday was moved to the second Friday of the month since Laguna has theirs on the first, 10-12. Contact April Owens: aprilleeowens@gmail.com, (707) 331-2070
Weekly Doran Beach Ice Plant Removal – every Wednesday (9:30 am - 11:30 am). Meet at 9:30 at the Cypress Day Use parking lot, west end. Bring clippers and gloves and knee pads if you like. One of the most pleasant workdays happens every week – a trip to Doran Beach to pull ice plant. We are clearing out the ice plant that is in the marshland to make room for natives. It is very visual and quite satisfying, with the sound of the waves, birds and foghorn.
Bodega Head Ice Plant Removal Project – second Sunday of each month (10:00 am - 1:00 pm). CNPS is leading volunteers at Bodega Head to save native species from getting smothered by ice plant. Meet at the main parking lot near the bathrooms. Bring water, clippers and gloves if you have them. Text Alynn at 707-321-1748 for more information and to let us know that you are coming.
For more information, please visit the Volunteer Opportunities page on our website.

| | |
| --- | --- |
| | |
| | |