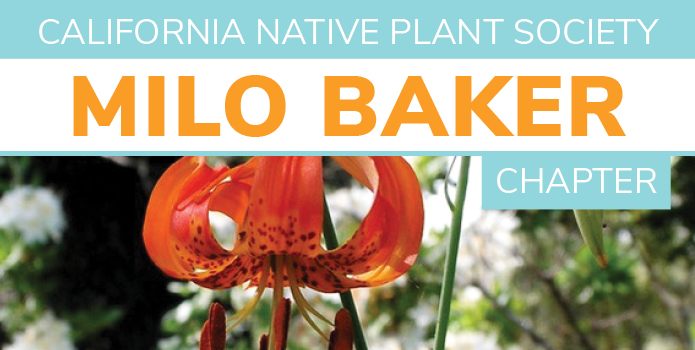 November Newsletter
What's in this issue: Speaker Series, Message from our President, Milo Baker Election Ballot, October Plant Sale, Fall Scholarship Recipients, What Makes a Great Plant Sale, Volunteer Opportunities
Speaker Series
Third Tuesday of the Month at 7:30 pm
November 15, 2022 In-person and on Zoom
Luther Burbank Art and Garden Center
2050 Yulupa Ave, Santa Rosa, CA 95405
Invasives in your face! A layman's presentation of what is invasive,
why it matters and what you can do
Presented by Milo Baker Invasive Plant Co-Chairs, Jan Lochner and Alynn Kjeldsen
Abstract: We live in a world of invasive plant species that can outcompete and take over our native plants. We will cover how to confront these invasives and discuss why it should matter to everyone. We will define the term invasive and learn to recognize these threatening plants in our region. Our goal is to empower everyone to take action to protect our native plant and animal species.
Jan Lochner: Jan is a retired Physical Therapist turned invasive plant terminator/destroyer/slayer with the California Native Plant Society. In conjunction with both the California State Parks and Sonoma County Regional Parks, she leads projects to eliminate ice plant and restore acres of native plant habitat.
A mother of two, she has spent her free time pressing flowers and making cards. This has grown into a retirement business including teaching classes at Riley Street Art Supply.
A Sebastopol resident of over 40 years, she also volunteers at Willowside School Nursery, The Laguna Foundation and LandPaths.
Alynn Kjeldsen: Alynn's love for native plants began in the first grade when she discovered a large Manzanita bush in her yard. It had endless amounts of flowers with tiny drops of nectar that she could suck out for a sweet treat. Later at Sonoma State University she rediscovered her love of native plants while getting her degree in Environmental Studies and Planning.
Alynn has had varied employment; Sonoma County Parks, Circuit Rider Productions, Caltrans, Sonoma County PRMD, and she is currently enjoying the diversity of her job as Domestic Engineer of her home and 1/2 acre in Sebastopol. For fun she volunteers at CNPS ice-plant removal projects at Doran Park and Bodega Head. She is blessed with a wonderful husband and two clever teenage daughters.
You can find the registration link for this presentation at our website: milobaker.cnps.org
We are resuming the before meeting dinners at the Kirin Restaurant,
2700 Yulupa Ave, Santa Rosa. We will meet there at 5:45 pm.
Please contact Virginia Steenhoven (707) 528-6030 if you plan to go.
Message from our President
Volunteers from the Milo Baker chapter were working in overdrive last month with the annual fall plant sale. Planting California native plants in gardens has become quite a phenomenon. Once again we had excellent turnout of buyers and most of the plants were sold in a few short hours. A huge thank you to Betty Young for leading the propagators of lush plants and our star Plant Sale Chair Natasha Granoff. And thanks to all who chipped in to make it a fun and successful event!
The Milo Baker Board continues to have some openings. We look forward to a November election of officers for the 2023-2025 terms. We need a new President and Members at Large. Please submit your name if this interests you. Our election will take place at the next General Meeting/Speaker presentation on November 15. Also needed are chairs of publicity, hospitality, social media and co-chair of books and t-shirt sales.
Our next presentation will be by our energetic and enthusiastic Co-Chairs of Invasive Plants. Jan and Alynn are intrepid ice plant pullers, and we thank them for organizing constant attacks on our coastal ice plant. That will be the last presentation of the year but be sure to save the date for the annual member's wreath making evening on December 20th. Next year the plan is to continue our hybrid meetings, in person and on zoom.
CNPS Conference Report
Every few years CNPS holds a statewide Conference. This year the theme was 'Rooting together: Restoring Connections to Plants, Place, and People'. Over three days many presentations were given on a range of topics, from 'Innovation in California Herbaria and Specimen Records' to 'Changing Young Lives Through Outdoor Education'. Milo Baker chapter had two presenters 'Saving an endangered species from extinction due to Phytophthora' by Betty Young and 'Resilient landscapes: In defense of CA native plants in the fire-prone landscape' by April Owens. Other Milo Baker attendees were Leia Giambastiani, Cody Ender, Lynnette Bower, and Alynn Kjeldsen. Other presentations were by Sonoma County CNPS staff member Ann-Marie Benz, and Ariana Rickard from Sonoma Land Trust spoke on 'Critical Role of land trusts in advancing the 30x30 Initiative'. In short, our county was well represented!
I was able to attend only a few of the many sessions presented. One that highlighted the importance of conservation and restoration was a description of the severe poaching of coastal Dudleya for export and a robust effort to grow rare Dudleya species on a large scale for restoration and conservation at Tree of Life nursery in Southern California. Another great session was about growing wildflowers for bouquets.
In addition to the many educational sessions were fun activities like the Botanical Tattoo Contest, an art exhibit, music jam, poetry slam, raffle, and screening of the film 'Saging the World'. And of course the exhibit hall provided ways to mingle and chat with new and old friends. All in all, it was a very stimulating few days. Most of the CNPS staff were there and they deserve huge recognition for a successful gathering. The next conference hasn't been announced but if they hold another, I would highly recommend planning to attend.
– Wendy Smit, Milo Baker President
Ballot for Milo Baker Chapter
CNPS 2023-2025
Election to be held November 15th at the General Meeting. Members attending the meeting on Zoom will be able to vote via the chat panel. Nominations are open until then.
President: Open
Vice President: Liz Parsons
Treasurer: Karen Thompson
Secretary: Kerry Wininger
Directors at Large: (Vote for 3)
Cody Ender
Rosaleen Murphy
Caprice Disbrow
October Plant Sale
We had another wonderfully successful plant sale at the CNPS/Laguna Foundation nursery selling over 1500 plants between the member's only sale on Friday and the public sale on Saturday. Over the two days, 511 people came to shop, garnering the chapter $19,000 in sales. The plants looked gorgeous-healthy and vigorous and the volunteers out did themselves selling more bulbs, seeds, t-shirts, books, and memberships than ever and selling out the first two printings of the Sonoma County Native Plant Gardener by Betty Young and April Owens.
Thanks to all who volunteered their time to make the sale as smooth as possible, before, during and after:
The Plant Sale Committee: Betty Young – master plant grower; Pat Sesser and Cindy Tancreto – volunteer wrangling; Louise Riedel – bulb & seed packaging and sales; Judith Rousseau – merchandise & sales, and the designer of the new bright green "Horticulturist" visors; Karen Thompson, MB Treasurer – the unenviable "cashier show"; Penny Dalton, the plant sale box queen; Wendy Born – fern propagator; Liz Parsons – emeritus Plant Sale Chair and advisor.
Communications and promoting the sale: Liz Parsons for designing the 2022 plant sale flyer and Alina Neubel for her lovely drawing of Salvia clevelandii; April Owens for the fabulous Press Democrat article by Meg McConahey on the day of the public sale; Judith Rousseau for posting to all media; Erika Erzberger for posting to social media and all those who put up flyers all around Santa Rosa and the county.
Tabling at the sale: Education & Outreach/Membership – Susan Dean, Virginia Hotz-Steenhoven and Catherine Lipson; Invasives – Alynn Kjeldsen.
Plant Removal table: Horticulturists who sold the heck out of all those beautiful plants: Wendy Born, Kathi Dowdakin, Ann Howald, Wendy Krupnick, Terry Loveton, April Owens, Liz Parsons, Ruthie Saia, Pat Sesser, and Cindy Tancreto.
Talliers: Leah Harmon, Lexie Haralson, Judy Johnson, Michelle Karle, Pat Chan and Sandy Martinson.
Cashiers: Lynnette Bower, Sharon Bouton, Michelle Halbur, Lynn Houser, Denise Kelly, and Theresa Wistrom.
Plant Holding: Sherry Adams, Penny Dalton, Patty Mohar.
Greeter Table: Becky Montgomery, Linda Widdifield.
Plant Carriers/Plant Holding: John Dean, Bryan Sesser, Heidi Stewart, Steve Smit, Lee Riedel.
Parking/Traffic Control: Marcia Johnson, Lynne Lyle, and Gary Morgret (photographer) and many Laguna volunteers.
Volunteer snacks and sandwiches: Wendy Smit
And to our partners the Laguna Foundation – Christine Fontaine, Maggie Hart, Ayla Mills, and Brent Reed and their volunteers, and to Cal Flora Nursery – Josh Williams, we could not do this without you!
– Natasha Granoff, Plant Sale Chair
Meet the 2022 Fall Scholarship Recipients
Milo Baker Merit Scholarship recipient – Evangelina Austin
I am a student at Sonoma State University. I am working towards a BS in Environmental Science, and a minor in Biology. Currently I am serving with Americorps as a Watershed Steward. My placement site, which I am teaming up with for research, is the North Coast Regional Water Quality Control Board. Some of my other work includes restoration projects with Sonoma Ecology Center, and Circuit Riders. I have also participated in cultural burning research with Dr. Erica Tom, Director of Native American Studies – Sonoma State University. This inspired me to start working towards my FFT2 certification so that I can participate in local prescribed burns. Next spring I will be helping out with herpetology surveying with Sonoma State University. I am hoping to put the money I am receiving from this scholarship towards a Botany California Ecologist certification, watershed research, and workshops and classes to learn more about fire ecology.
Milo Baker Merit Scholarship recipient – Viviane Merces Fuller
I am a first generation college student and I am currently studying at Santa Rosa Junior College. I recently obtained a Natural Resources Certificate and I am currently pursuing Horticulture and Sustainable Horticulture Certificates. My passion is to help inspire people to connect with our native flora and fauna while acknowledging our roles as stewards of the land. I see myself as an example that it is never too late to take action and transition to a career that is meaningful and beneficial to our planet. Thank you CNPS Milo Baker Chapter for helping me achieve these goals!
Milo Baker Merit Scholarship recipient – Taylor Nelson
Hi, I'm Taylor Nelson and I'm a fourth year biology student at Sonoma State University. I'm currently working on my undergraduate Honors Research Thesis about urchin kelp grazing with the Hughes Marine Ecology Lab. I've been learning more about restoration efforts along the California coast. In addition to my love for the coast, I also have a passion for terrestrial systems and have spent time giving guided hikes at the Fairfield Osborn Preserve in Sonoma. I'm incredibly grateful for the Milo Baker scholarship and the beautiful California landscapes I've been able to explore. After graduating I plan on pursuing a career in conservation ecology.
What Makes a Great Plant Sale?
First and foremost, it is the plants. We were all proud of the plants sold this year. The plants were beautiful thanks to the amazing Nursery Volunteer Team.
Lynnette Bower was always there to propagate and give me back-up. She also spent hours printing out the plant label sticks. Wendy Born as always grew beautiful ferns. Natasha Granoff and Kristi Cain helped with the essential chore of testing our crops to be sure they were pathogen free. Everyone was willing to do whatever needed to be done from disinfecting benches to spraying those blinking aphids off of the milkweed. Penny Dalton hates the little stuff but does the jobs no one else wants – she ties on her PPE and disinfects pots, flats, tools – all the things that make the program run. Liz Parsons and Pat Sesser – two old hands at propagating, along with Louise Riedel sowed seed and stuck cuttings. Louise also led Seed Packaging – we had more seeds this year than ever before. Cindy Tancreto, Wendy Smit. Marcia Johnson, Michelle Karle, Denise Kelly, Jan Lochner, Judith Rousseau and everyone pitched in and potted up and potted up more; moved plants, disinfected benches, labeled and recorded our work.
You all are the best team ever! The team produced 1729 plants for the sale, which makes possible all of the important conservation work the chapter does.
Thank you one and all!
– Betty Young, Nursery Chairperson
Volunteer Opportunities
ReOak Sonoma– Intrepid volunteers, Susan Dean, Marcia Johnson, and Natasha Granoff have been collecting acorns as we can. Thanks to the property owners who allowed us to collect. We should be able to plant acorns in one property just off of Saint Helena Road in January. We had hoped to also plant on a property on Coleman Valley Road but have been unable to find Coast live Oak acorns from that watershed. If you would like to help with the planting off Saint Helena Road, let me know. This will be easy peasy direct seeding in shallow holes; we hope after the rain starts. Sign up with me, Betty Young youngb0721@msn.com 707-695-4257.
Vine Hill Manzanita – I asked for hardy volunteers in our last newsletter and at the CNPS statewide conference and have had an amazing response. Thanks to all who volunteered. We hope to plant our endangered Manzanitas in their new homes in December or January. I will advise all the volunteers when we have planting dates set.
– Betty Young, Nursery Chairperson
Ongoing Volunteer Opportunities
Living Learning Landscapes Workday – second Friday of the month (9:30 am - noon). Meet at 1808 Albany Drive in Santa Rosa. Please RSVP to April Owens aprilleeowens@gmail.com so we know to expect you!
Weekly Doran Beach Ice Plant Removal – every Wednesday (9:30 am - 11:30 am). Meet at 9:30 at the Cypress Day Use parking lot, west end. Bring clippers and gloves and knee pads if you like. One of the most pleasant workdays happens every week – a trip to Doran Beach to pull ice plant. We are clearing out the ice plant that is in the marshland to make room for natives. It is very visual and quite satisfying, with the sound of the waves, birds and foghorn.
Bodega Head Ice Plant Removal Project – second Sunday of each month (10:00 am - 1:00 pm). CNPS is leading volunteers at Bodega Head to save native species from getting smothered by ice plant. Meet at the main parking lot near the bathrooms. Bring water, clippers and gloves if you have them. Text Alynn at 707-321-1748 for more information and to let us know that you are coming.
For more information, please visit the Volunteer Opportunities page on our website.

| | |
| --- | --- |
| | |
| | |