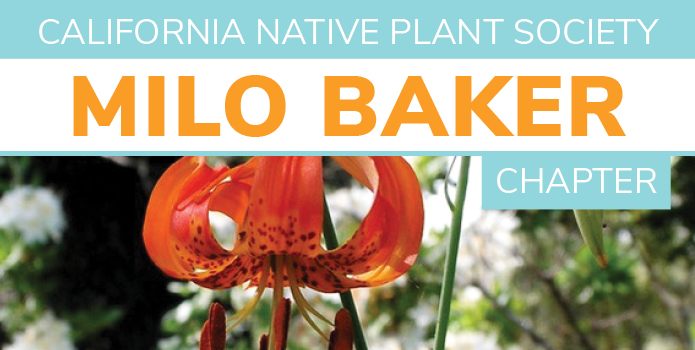 December/January Newsletter
What's in this issue: Wreath-making Workshop, Message from our President, Merlin Arborist Group, Fall Scholarship Recipient, Volunteer Opportunities
December Meeting: Wreath-making Workshop
December 20th at 7:30 pm
Luther Burbank Art and Garden Center
2050 Yulupa Ave, Santa Rosa, CA 95405
We will hold our annual wreath-making workshop at the December meeting again this year. This event is for members only. Liz Parsons will give a few simple instructions and you will discover how easy it is to make a spectacular wreath for your home.
The Milo Baker Chapter will provide wreath rings, paddle wire, and greenery for the wreaths. Most of the greenery comes from Alan Brubaker's Kenwood garden. Members are encouraged to bring pinecones and ribbons but no red berries please. They are too hard to clean up! Remember to bring your clippers. There will be cider and cookies for holiday cheer.
This may be our last wreath activity. Alan and I are ready to retire. His beautiful garden has burned over twice and the greenery that I used to harvest is in short supply. If you have a source of greens, please bring them. Call or text Liz Parsons, 707-508-8345 if you have questions. (photo: Betty Young shows off her wreath from last year's workshop.)
Speaker Series
Third Tuesday of the Month at 7:30 pm
January 17, 2023 (In-person and on Zoom)
Luther Burbank Art and Garden Center
2050 Yulupa Ave, Santa Rosa, CA 95405
January Speaker Series to feature "Sea Grasses" with Marian Parker, Marine Ecologist, Coastal and Marine Sciences Institute, UC Davis. More information to come in January and to be posted on the Milo Baker website: milobaker.cnps.org
You can find the registration link for this presentation at our website: milobaker.cnps.org
We are resuming the before meeting dinners at the Kirin Restaurant,
2700 Yulupa Ave, Santa Rosa. We will meet there at 5:45 pm.
Please contact Liz Parsons (707) 508-8345 if you plan to go.
Message from our President
There was a lot of publicity in November about the COP-27 conference in Egypt on Climate Change. Another conference that supports Bio-Diversity will be happening Dec 7-19, the UN Conference of the Parties COP-15 in Canada. This is a global effort that is supported by CNPS and the State of California. A delegation of CNPS staff members will be going to participate as observers. In California AB 2278 30X30 Biodiversity and Conservation requires the CA Natural Resources Agency to provide an annual report on their progress and plans for the implementation of the 30X30 initiative outlined in Governor Newsom's Executive Order to reach 30% conservation of our lands and waters by 2030. For more information visit powerinnature.org and watch for publicity on this important conference. CNPS has been pulling together data on Important Plant Areas (IPA) for years, an effort now led by Sam Young who will be going to the COP-15 along with other staff members.
On a disappointing note, AB 2146, the ban on neonic chemicals was vetoed by Newsom.
CNPS announced that all the October Conference recordings will be made available to anyone interested. Also, the next Chapter Council Meeting will take place in Los Altos Hills December 2-4, and all members are welcome.
Closer to home, the November Speaker Series on Invasive Plants got off to a late start. The presentation by Jan Lochner and Alynn Kjeldsen was delightful and the Zoom connection was a disaster. I apologize to all who attempted to attend virtually – we had a glitch that we just couldn't solve. Jan and Alynn will be making another presentation that will be recorded with all the audio, slides and video working properly and it will be available before the end of the year. Also at the November meeting we held an election for the officers of the Milo Baker Chapter for 2023-25. The slate was unanimously adopted. Thank you to Liz Parsons (VP), Karen Thompson (Treasurer), Kerry Wininger (Secretary), Cody Ender, Rosaleen Murphy, and Caprice Disbrow, the Members at large for continuing to be on our Board. The position of President is still OPEN!
Our last event in 2022 will be wreath making on December 20 – a little late, however the materials will be fresh and fragrant for your holiday celebrations. Come make a table arrangement, if not a wreath!
I was honored to attend a native planting at the Alexander Valley School garden on November 19. (Right photo: planting of Alexander Valley School native garden.) There is much interest in bringing our kids into knowing more about the natural world and gardening skills. On January 5 there will be a CNPS Naturehood webinar "Gardening with Kids". Visit CNPS.org, scroll down to Naturehood for registration. Also in the next Flora magazine, will be an announcement of a youth writing contest.
All this news makes for an exciting time of year, on top of the holiday events. And with a little more rain, the flowers will be starting to appear out in the wilds. Have a wonderful early winter season!
– Wendy Smit, Milo Baker President
Merlin Arborist Group to the Rescue!
Merlin Arborist Team at Cunningham Marsh, from left to right: Merlin Schlumberger, Jessie Truman, Seamus Quinn, and Kyle Dowling.
We are extending a heartfelt thank you to Merlin Schlumberger and his Merlin Arborist Group for volunteering pro bono to do an emergency procedure on one of the heritage black oaks at Cunningham Marsh.
Black oaks in Cunningham Marsh are a key component of the Pitkin Marsh lily habitat and the canopy of this particular oak shades the most abundant population of the endangered lily within the marsh. In early August this year, Laguna Foundation project manager Asa Voight noticed a slight crack beginning to open on this heritage tree. On a subsequent visit in early October, it was obvious that the crack was rapidly worsening.
In the wild, oaks commonly lose branches and are able to heal over their injuries. These breaks over time can create cavities that serve as wildlife habitat and do not threaten the health of the tree. However, in this instance, the location of the crack – diving vertically, deep into the main trunk of the tree – and the size of the fracture would ultimately greatly reduce the life expectancy of this tree. We have seen other lily habitat negatively impacted by the sudden loss of oak canopy, as the non-native invasive velvet grass can rapidly colonize this new sunny habitat. With this knowledge, Asa realized immediate action needed to take place to minimize injury and prolong the life of the tree.
Betty Young knew just the person for the job, Merlin Schlumberger of Merlin Arborist Group. Merlin quickly responded to Betty's SOS message, and after viewing the tree and learning of the importance of the black oaks within the Pitkin lily habitat, Merlin rescheduled his other work and prioritized this volunteer project.
Merlin's team trimmed branches to reduce the amount of weight on this limb and cabled the unstable limb to a healthier branch. Thanks to Asa's discerning eye, and the life-saving work performed by Merlin Arborist Group – we hope this majestic oak will continue sheltering the Pitkin lily population many years into the future. We are deeply grateful to Merlin for donating his time, expertise, and crew.
– Sarah Gordon, Vine Hill Preserve
Milo Baker Fall Merit Scholarship recipient – Katerina Lim
I am a student at Santa Rosa Junior College studying Natural Resource Management with plans to transfer to Cal Poly Humboldt for a degree in Wildlife Conservation. Learning about the diversity of California's flora has pushed me to be more present in the natural world. Following trees and flowers have ignited my passion for native plant restoration.
Currently, I am a part of the restoration crew in the Wildfire Resiliency Program at Shone Farm. Restoration work guides me in understanding how our ecosystem works and strengthens my relationship with the earth.
Achieving this CNPS Milo Baker Scholarship has affirmed my passions and supports the direction I am heading within my education.
Volunteer Opportunities
ReOak Sonoma– Intrepid volunteers, Susan Dean, Marcia Johnson, and Natasha Granoff have been collecting acorns as we can. Thanks to the property owners who allowed us to collect. We should be able to plant acorns in one property just off of Saint Helena Road in January. We had hoped to also plant on a property on Coleman Valley Road but have been unable to find Coast live Oak acorns from that watershed. If you would like to help with the planting off Saint Helena Road, let me know. This will be easy peasy direct seeding in shallow holes; we hope after the rain starts. Sign up with me, Betty Young youngb0721@msn.com 707-695-4257.
Vine Hill Manzanita – I asked for hardy volunteers in our last newsletter and at the CNPS statewide conference and have had an amazing response. Thanks to all who volunteered. We hope to plant our endangered Manzanitas in their new homes in December or January. I will advise all the volunteers when we have planting dates set.
– Betty Young, Nursery Chairperson
Ongoing Volunteer Opportunities
This is a photo of the Kiwanis group that came out to Doran Beach on 11/11 to pull ice plant. They were fantastic and had members of the high school club with them as well. They have cleared over 1000 sq. ft.!!!
Living Learning Landscapes Workday – second Friday of the month (9:30 am - noon). Meet at 1808 Albany Drive in Santa Rosa. Please RSVP to April Owens aprilleeowens@gmail.com so we know to expect you!
Weekly Doran Beach Ice Plant Removal – every Wednesday (9:30 am - 11:30 am). Meet at 9:30 at the Cypress Day Use parking lot, west end. Bring clippers and gloves and knee pads if you like. One of the most pleasant workdays happens every week – a trip to Doran Beach to pull ice plant. We are clearing out the ice plant that is in the marshland to make room for natives. It is very visual and quite satisfying, with the sound of the waves, birds and foghorn.
Bodega Head Ice Plant Removal Project – second Sunday of each month (10:00 am - 1:00 pm). CNPS is leading volunteers at Bodega Head to save native species from getting smothered by ice plant. Meet at the main parking lot near the bathrooms. Bring water, clippers and gloves if you have them. Text Alynn at 707-321-1748 for more information and to let us know that you are coming.
For more information, please visit the Volunteer Opportunities page on our website.

| | |
| --- | --- |
| | |
| | |