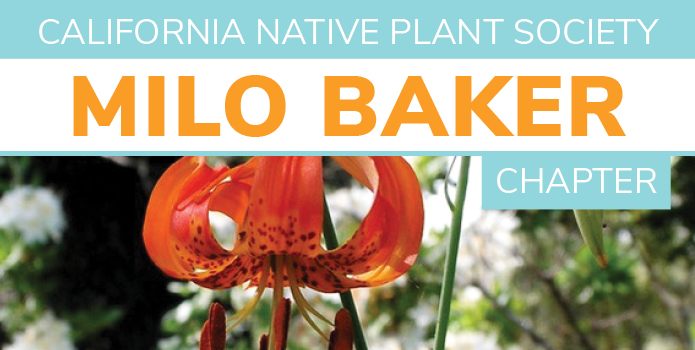 July/August Newsletter
What's in this issue: Speaker Series, From the Board, Update from the Conservation Committee, Horticulture, Spring Scholarship Recipients, Plant Walks, Doran Beach and Bodega Head Ice Plant Removal, Ongoing Volunteer Opportunities
Speaker Series
Third Tuesday of the Month at 7:30 pm
There are no general meetings scheduled during July and August. The Milo Baker general meeting/speaker series will resume on September 19, 2023. Please check our website for information on upcoming speakers.
Luther Burbank Art and Garden Center
2050 Yulupa Ave, Santa Rosa, CA 95405
Milo Baker Chapter Picnic – Sunday August 20th
The Chapter picnic will be held at Ragle Ranch Park in Sebastopol on Sunday, August 20th. Located on Ragle Road, west of downtown Sebastopol, off Highway 12. The picnic will be at the Lions Grove on a shaded knoll. The shade is provided by redwoods and ancient Coast Live Oaks. As you enter the park there is a place where a fee of $7.00 is collected. If you have a Regional Parks Annual Pass, there is no fee. Turn right after the fee station and the picnic area is on the left, up a short path. There is ample parking. There are picnic tables for us to use. It will be a wonderful place to meet friends, enjoy the summer afternoon and share a potluck dinner.
We will begin to assemble at 3 P.M. and food will be served at 4:30. Bring your own utensils and a dish to share.
Join the Milo Baker Board!!
There are several openings in our Board roster and we hope you will volunteer to help out and join our group. All are welcome! Right now we need a Hospitality Co-chair to help at general meetings starting in September, a Publicity Chair, Plant Walks/field trips Chair, Rare Plants Chair, and several Members at Large. If you are interested in joining the fun, please contact any one of us! Or email wsmit8000@gmail.com.
Update from the Conservation Committee
– Wendy Smit, Milo Baker Conservation Committee
The Conservation Committee has been working on a number of County issues. Last November we met with the County planners who are working on drafts of a Tree Ordinance, and an Oak Woodland ordinance. Following that meeting we submitted a letter encouraging the drafters to include more native tree species, and a broader age range of trees. We strongly advocated to include agriculture in the permitting process, both of existing cultivated fields and new ones. In late May the County circulated a survey that was open to the public but touched only on mitigation measures for tree removal. In June we met again with the county planners and continued the dialogue with them, with the new ordinance focusing more on conservation of existing habitat than mitigating for loss of habitat. The proposed new Oak Woodland Ordinance will rely on the State Forestry Act, with evaluations of quality of habitat to be removed (i.e., low versus high habitat values) to be assessed for mitigation purposes. They are hoping to have the drafts ready before the Planning Commission meets on August 3 and September 7, with a tentative date for the Board of Supervisors agenda on November 28.
The Local Coastal Plan Update is still a work in progress. The Chapter has sent several letters to the County encouraging strong protections for our beautiful coastal parcels, with an emphasis on site specific evaluations and protections for wetlands. The Board of Supervisors will meet on this topic July 17 to hear from the public. For more background visit https://localcoastalplan.com.
Another work in progress is the programmatic EIR for Cannabis cultivation. A consultant has been hired by the County and we attended the scoping meeting earlier this spring with suggestions for priority topics.
Thank you to Trish Tatarian and Betty Young for attending the virtual meetings and letter writing. Thank you also to all the members of the Committee for their attention to these issues. We welcome any input or suggestions from other Milo Baker members. Please contact Trish or Sean, or any Board Member.
Reny Parker's Wildflower Guide
– Liz Parsons, Milo Baker Vice President
I recently received a letter from our Past President, Reny Parker. She was the Milo Baker President for three years, 2003-2005. During that time she organized a fabulous event for us. A very successful wildflower festival that was held at the Luther Burbank Center for the Performing Arts in 2004. It was a huge undertaking and unique in our history. I still have the beautiful t-shirt featuring Iris douglasiana.
Reny is a fine photographer and published a wildflower book featuring her photographs. It was first published in 2007 and revised in 2015. The final edition extends the range of the book to the Oregon border with many new photos and plant identities. It is called Wildflowers of California's North Coast Range. The revised edition sold out and she chose not to reprint it.
Reny writes that "I have just put it online at Amazon as a Kindle e-book and it can also be bought as a print on demand book that comes out quite nice. On Amazon if you just search on Reny Parker, or the name of the book, the options will come up. The print version is $42.00 and the Kindle version is $20.00. I am glad to have it available for nature lovers again as it was so popular."
I am so happy to hear that the this beautiful and useful guide to the wildflowers of the North Coast is available in some form. Many chapter members helped her in various ways. So as a chapter, we can be very proud of this book.
Meet the 2023 Spring Scholarship Recipients
Milo Baker Merit Scholarship recipient – Chloe Winsemius
Hello! My name is Chloe Winsemius and I am beginning my third year at Sonoma State University where I am studying for a BS in Environmental Science as well as minors in Biology, Sustainability, and Education. During the academic year, I lead tours as an Education Assistant at the Fairfield Osborn Preserve. One of my favorite aspects is inviting students to taste and smell some of the native plants on the preserve. One of the most popular among the students, is the Douglas-fir (the Christmas Tree), and many compare the taste to how citronella candles smell. I think it is very important to expose children to their local environment at a young age as it can help to foster inquiry about the importance of native plants, natural processes, ecosystem services, and how the needs of humans and nature must be balanced. Working with children on the Fairfield Osborn Preserve has encouraged me to become an Environmental Educator so I can help form impactful experiences in nature for children, inspiring them to become scientists, just as Sonoma County's environment has done for me. I would like to express my gratitude for the recognition of this award and its ability to help me pursue my educational goals in Sonoma County as well as to give thanks to those helping to make my education journey more than I would have ever imagined.
---
Milo Baker Merit Scholarship recipient – Roxanne Wilkerson
I am a Geography, Environmental Studies, and Planning (B.A.) student at Sonoma State University with a concentration in environmental systems. Throughout my academic career, I have always held a passion for studying applied and restoration ecology. One of my primary fascinations is with California's native wildflowers and what actions have been taken to rehabilitate endangered populations. I enjoy researching progress in local restoration projects across California for these wildflowers, along with other native plant species. I also desire to build strong foundational knowledge on plant ecology. This scholarship will certainly support me in not only continuing my education, but also reaching my greatest aspirations in an academic setting. When I achieve my academic goals, I will be able to attain an environmental career that focuses on countering the climate crisis through efforts in restoration, conservation, and more.
---
Milo Baker Research Scholarship recipient – Isabella Boggio
Hello! My name is Bella and I am currently a graduate student at Sonoma State University studying California Native Oak regeneration in areas where exotic grazers are present. I am passionate about conservation, education, and habitat restoration. Receiving this CNPS Milo Baker scholarship is allowing me to conduct my research in our local oak woodland, and I couldn't be more grateful!
Plant Walks
– Ruthie Saia, Milo Baker Plant Walk Coordinator
Thank you everyone for coming out for the plant walks with Milo Baker this year!
I created and organized 15 walks and we managed with weather and other setbacks to pull off eight!
I'm now going to take the summer off!
I am also stepping back from my board position as Plant Walks Chair. I have had so much fun for the last six years planning, learning and leading these field trips. So the position is open and if any of you are interested in joining the Board and organizing walks for our chapter let me know. I will pass all the information I have over to my successor.
It's possible I may still set up some walks this fall, or in the future, or until someone else takes over. Also if someone wants to lead and organize a field trip let me know and we can set it up. It is so much fun and we learn so much and its great to meet all of you!
Thanks for coming out to learn with me!
For more details about our plant walks please check our website.
To sign up for email alerts contact Milobakerevents@gmail.com
Doran Beach and Bodega Head Ice Plant Removal
– Jan Lochner, Milo Baker Invasive Plant Co-chair
It is so wonderful to see the results of our work at Doran Beach. On the bay side across from the Cypress day use lot, Point Reyes Bird Beak is thriving where ice plant grew. It is the purplish leaf and flower plant shown in the photo above.
Stewards of the Redwoods hosted students in their Coastal Explorers Program at Bodega Head. The invasive team lead an ice plant station where students got to don gloves and pull ice plant while listening to information about its invasive nature.
So What's Wrong with Ice Plant?
Jan shares the following article from the South Bay Park Land Conservancy:
You may have heard that ice plant is bad. But you may have wondered what is wrong with it?
It stays green most of the time. It does well in droughts. It looks pretty when it flowers. It seems to be everywhere. How can that be bad? There's so much of it, isn't it native to California? If you've wondered about these things, you are not alone.
Read the full article on the South Bay Park Land Conservancy Blog
See the Invasive Plant Removal web page for information on Milo Baker Ice Plant removal projects.
Ongoing Volunteer Opportunities
This is a photo of the Kiwanis group that came out to Doran Beach on 11/11 to pull ice plant. They were fantastic and had members of the high school club with them as well. They have cleared over 1000 sq. ft.!!!
Living Learning Landscapes Workday – second Friday of the month (9:30 am - noon). Meet at 1808 Albany Drive in Santa Rosa. Please RSVP to April Owens aprilleeowens@gmail.com so we know to expect you!
Weekly Doran Beach Ice Plant Removal – every Wednesday (9:30 am - 11:30 am). Bring clippers and gloves and knee pads if you like. One of the most pleasant workdays happens every week – a trip to Doran Beach to pull ice plant. We are clearing out the ice plant that is in the marshland to make room for natives. It is very visual and quite satisfying, with the sound of the waves, birds and foghorn. To join us, please text Jan Lochner, (707) 569-4724, to let her know you are coming.
Bodega Head Ice Plant Removal Project – second Sunday of each month (10:00 am - 1:00 pm). CNPS is leading volunteers at Bodega Head to save native species from getting smothered by ice plant. Meet at the main parking lot near the bathrooms. Bring water, clippers and gloves if you have them. Email Alynn at alynnkjeldsen@gmail.com for more information and to let us know that you are coming.
For more information, please visit the Volunteer Opportunities page on our website.
| | |
| --- | --- |
| | |
| | |