In this issue: Speaker Series, Message From the President, Winter Wreaths, Scholarships, In the Februrary Garden, Member Spotlight (New!) and Volunteer Opportunities.
Oak Project at Pepperwood Preserve
Wendy Herniman, Milo Baker Scholarship Recipient
Speaker Series, February 16, 2021 at 7:30pm via ZOOM
Zoom link at milobaker.cnps.org

Wendy's talk will focus on the oak project which she has been working on at Pepperwood Preserve since 2014. The project looked at the phenology, dendrochronology and genetic sequencing of a mixed species group of oaks. She aimed to get a broad picture of the ages and levels of hybridization amongst these trees, as well as to compare any differences in phenophases like flowering and fruiting.
Wendy grew up in the UK, but has lived in Santa Rosa for a little over 20 years. She worked in the fields of healthcare and education, but found her community when she became a steward at Pepperwood Preserve almost 10 years ago. She became a California Naturalist in 2013 and then received a master's degree in Biodiversity, Wildlife and Ecosystem Health from the University of Edinburgh in 2019. Her project for that degree assessed the role of climate in driving the phenology of Californian oaks.


Message from the Chapter President


Last November the Chapter held an election for new two-year terms of our officers. Thank you to all who attended over Zoom and who voted for the slate. There were no challenges and no objections. In addition, we made a few changes to other Board responsibilities and welcomed a few new members at our January Board meeting. Current Officers are Wendy Smit, President; Liz Parsons, Vice President; Kerry Wininger, Secretary; Karen Thompson, Treasurer. In addition, we have returning Member- at- large Cody Ender. Also elected as Members-at-Large are Jim Piercy, formerly our Treasurer and new to the Board, Michelle Halbur.

A few other changes were made formally to our Board as Trish Tatarian is now Co-Chair of Conservation, Natasha Granoff is Website Administrator. At the January Board meeting new appointments were voted on by the Board. Rosaleen Murphy is now a Member-at-Large and Allison Titus is Social Media Chair.

In addition to our full Board, there are a few committees that have been active during the month. The Scholarship Committee headed up by Sean McNeil and assisted by Virginia Hotz-Steenhoven, Karen Thompson, and Cody Ender, will be starting an early spring round of applications. The Communications Committee headed up by April Owens and assisted by Susan Dean, Caprice Disbrow, Allison Titus, Ruthie Saia, and Natasha Granoff, meets to discuss the best ways to reach our members and plan publicity. In January, the Conservation Committee, headed up by Trish Tatarian and Sean McNeil and assisted by Natasha Granoff, Wendy Krupnick and Katie Elmore 'met' for the first time. In addition, Leia Giambastiani is the Interim Programs and Lectures Chair assisted by Virginia and Cody. They have been busy planning virtual programs into the Summer months and hoping to meet in person in the Fall. The full roster of our Board is on our Website and on the last page of the Newsletter. Members are always welcome to join in and assist. The Chapter is so lucky to have so many dedicated and enthusiastic board members and I thank them all for their time, contributions, creativity, and wittiness.



Ribes sanguineum at Del Rio Woods Park

February is the month of early shrub flowers and a few wildflowers. Some of my favorites bloom early, perhaps like spring bulbs they are a welcome sign of new life to come. Look for the early fritillaries like our small fragrant fritillaries (Fritillaria liliacea) so elusive but such a charming surprise in the grasses. And more common are checker lilies (Fritillaria affinis) but so lovely and variable. The robust wildflower season is just around the corner!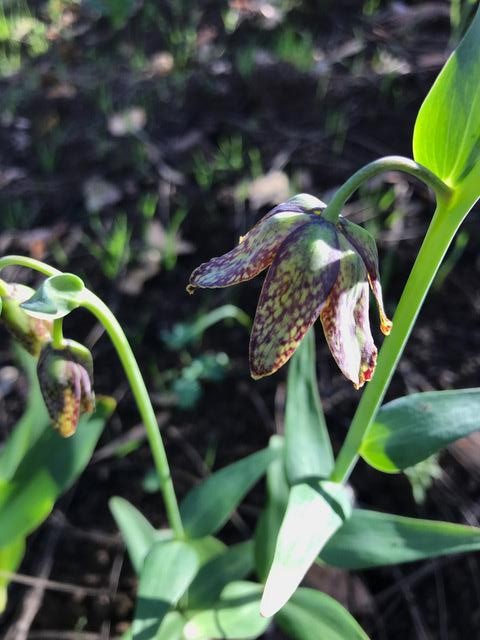 Fritillaria affinis, Checker Lily

Wendy Smit,
Chapter President
Winter Wreaths
Last year many Milo Baker traditions were missed. One, however, was celebrated in a novel way. Masked and distanced, the wreath tradition goes on in the parking lot!




Liz Parsons and Mary Aldrich

On a sunny day, the tarp was laid out, volunteer collectors Liz Parsons and Cody Ender spread piles of greens for wreath making enthusiasts. Kathi Dowdakin came to help along with Mary Aldrich. A small group swooped in to gather bows and fronds with visions of wreaths to come. Special thank you to Alan Brubaker and Liz Parsons who persisted despite threats of rain. Cheers to a New Year and hopefully future indoor wreath making with hot tea, lovely music, and happy chatter.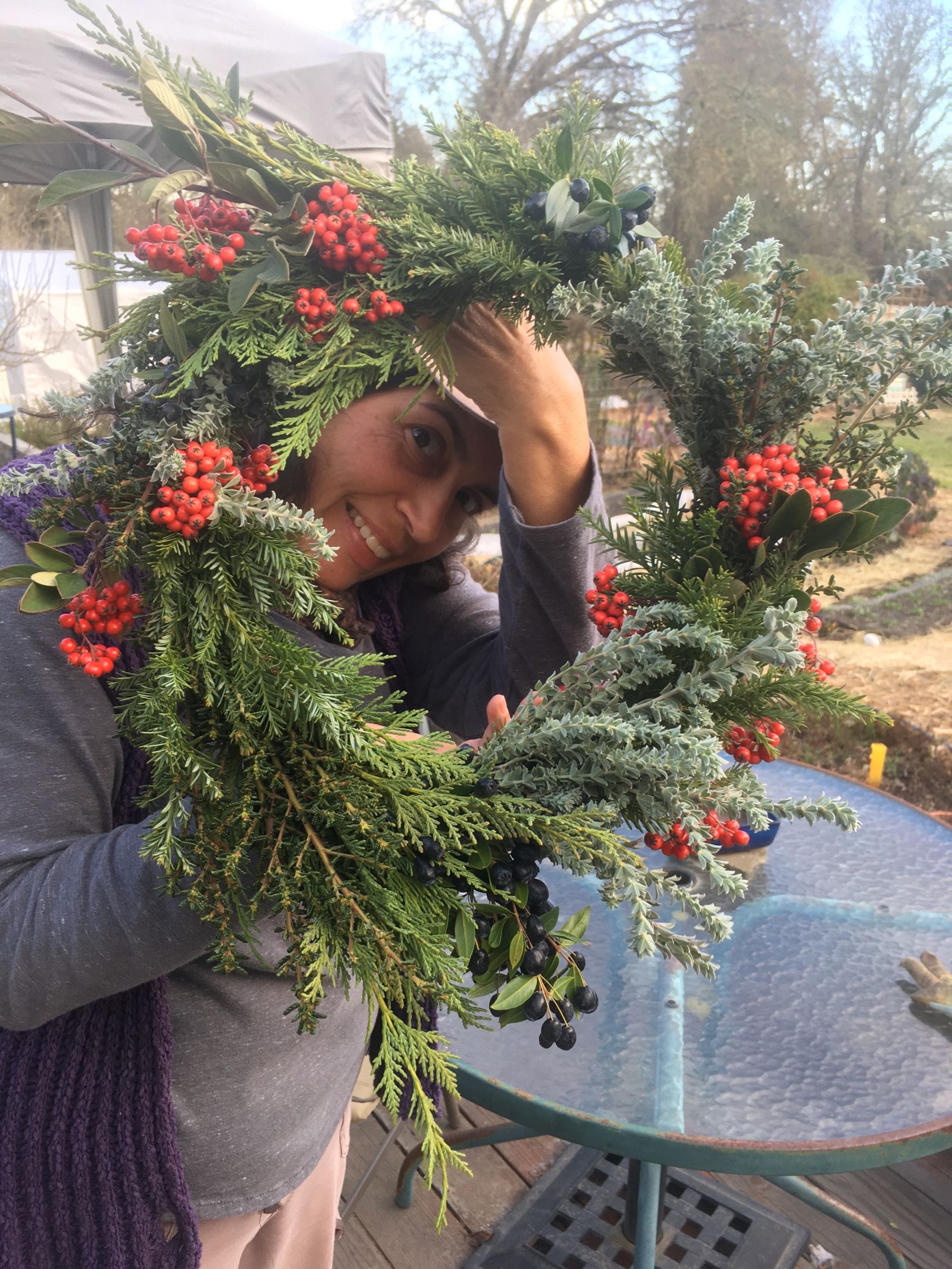 Ruthie Saia's Wreath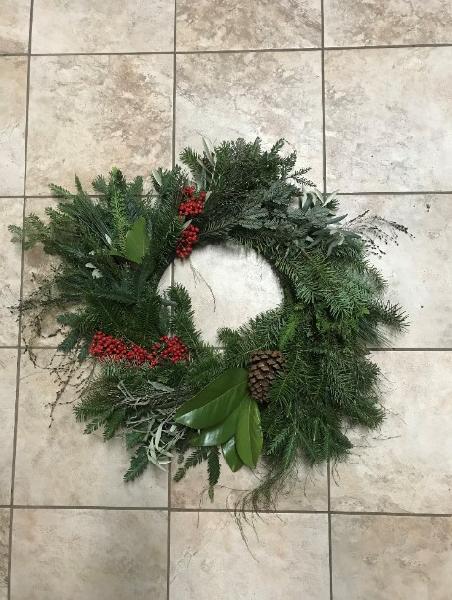 Cody Ender's Wreath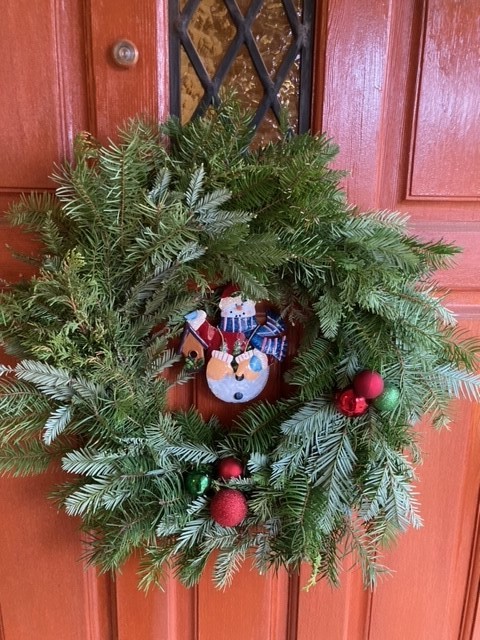 Liz Parsons' Wreath
---
You can help the Milo Baker Chapter raise funds by shopping at local stores!

All you have to do is register and shop. It doesn't cost you anything additional. To register: go to escrip.com, choose "Milo Baker-CA Native Plant Society" and complete the enrollment steps. This is an easy way to help support our chapter!
Let's support the next generation of botanists!
Scholarship Announcement
The California Native Plant Society Milo Baker Chapter offers two scholarships this spring for students of SSU or SRJC who are interested in plant science.

One is a $1,000 merit scholarship, which is needs-based; the other is up to $3500 for a student who is doing research. Applications are due by March 2, 2021.

If you have any questions, please feel free to email the Scholarship Committee chairperson: seanmcneil0@gmail.com
Fall Scholarship Recipients!
Luis Orozco-Sanchez
"I'm a curious cat that likes to take 4 hours on a 2 mile hike! Slowly walking and stopping every 10 feet to look at leaves and flowers is my jam! My goal in life is to help people find joy in their life and make nature more accessible to underrepresented communities; nature has given me life, and I want to share it with everyone. For the past 2 years as an outdoor educator, I've found incredible satisfaction guiding the curiosity of our youth in a positive direction! And now as a full-time new transfer student at UC Berkeley, I am happy to be learning more about plants than I ever knew was known! "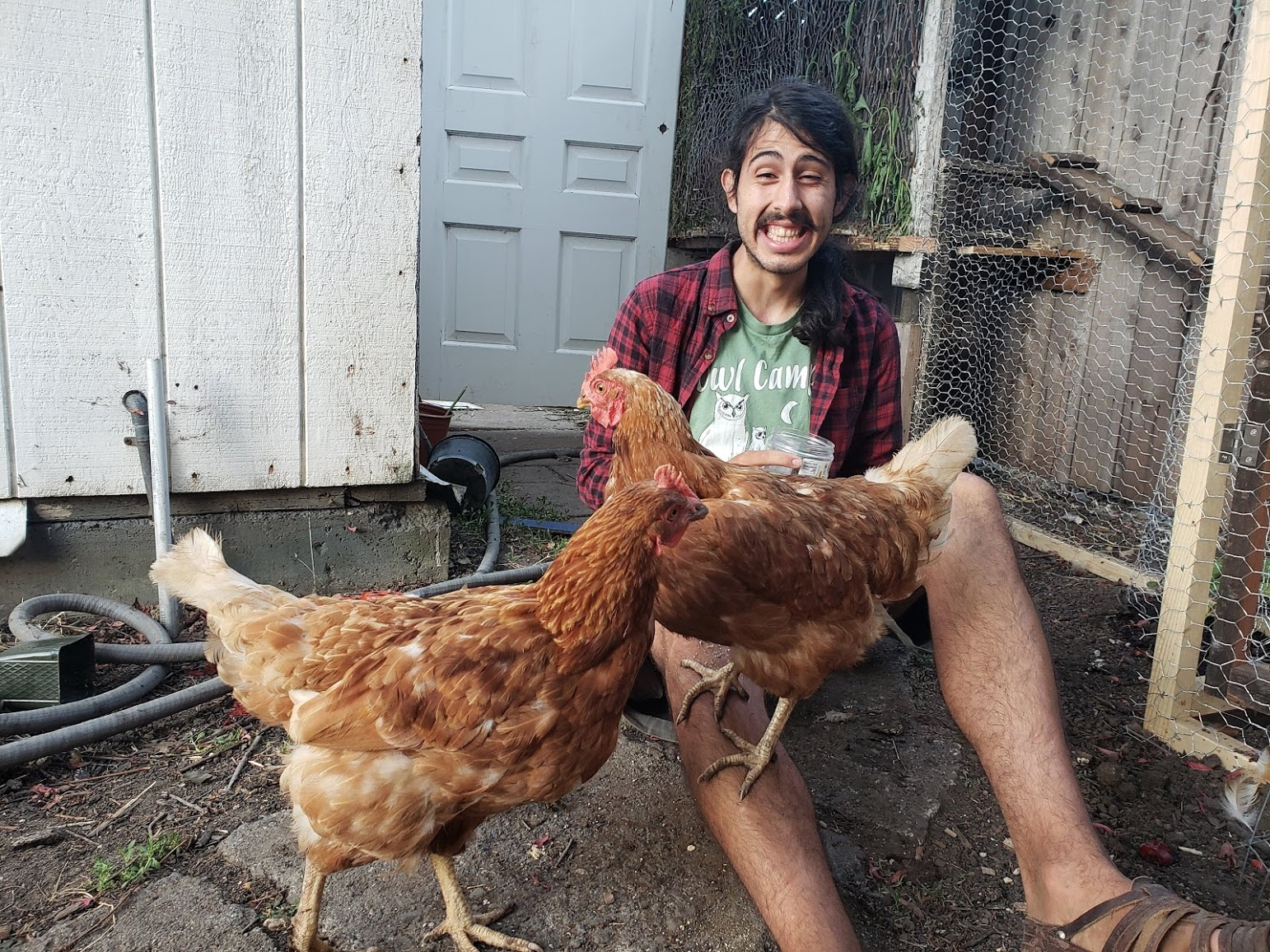 Luis Orozco-Sanchez
Julieta Gomez
I am a first-generation graduate student studying bull kelp resilience along the Northern California coast. My project aims to form a baseline for remnant bull kelp patches, while creating methods that could bring back strong and healthy bull kelp forests.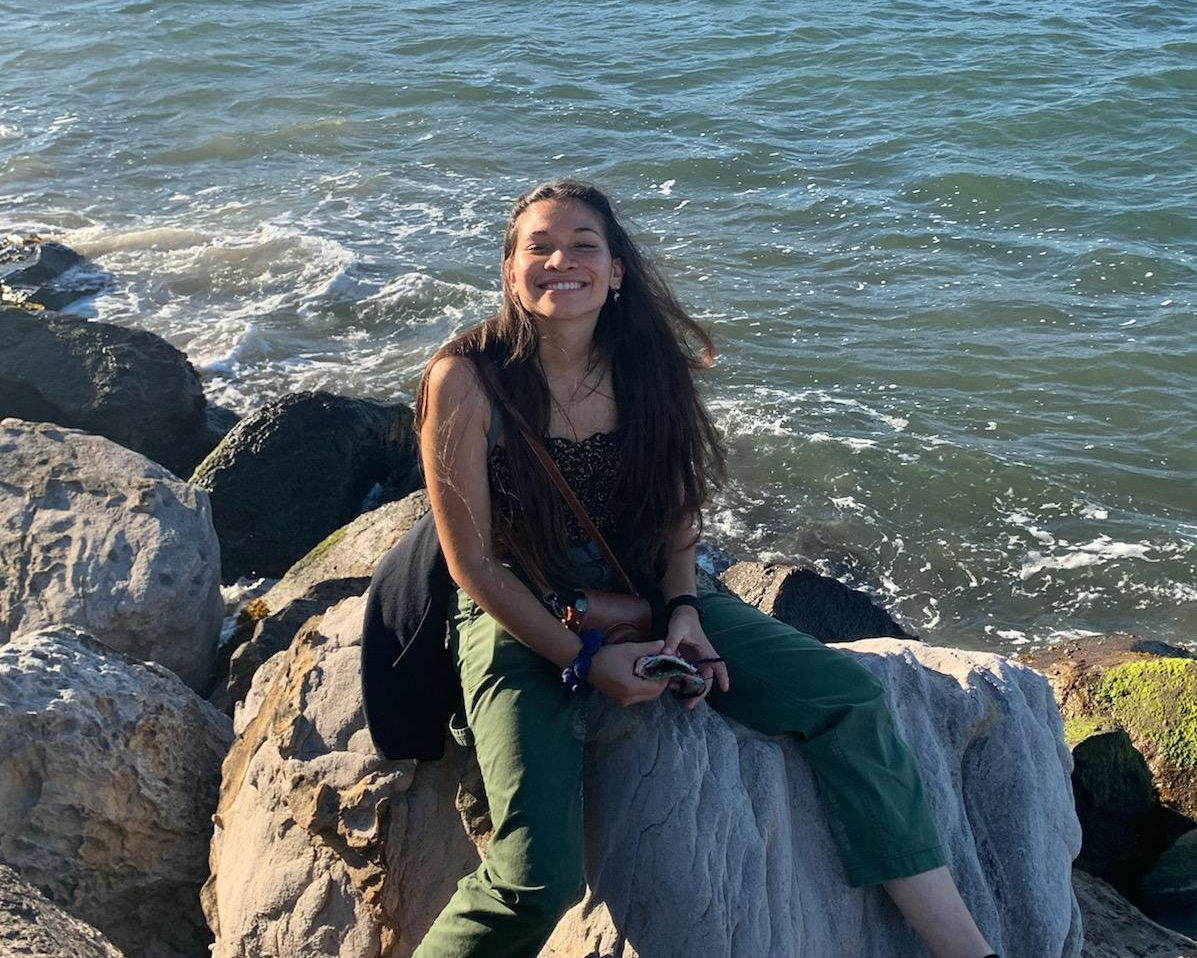 Julieta Gomez
Alissa Padilla
My name is Alissa Padilla and I am an undergraduate senior at Sonoma State University pursuing a degree in biology. My research focuses on plant pathology with an emphasis on the pathogen to host interaction of Phytophthora ramorum and Umbellularia californica and how this interaction may affect the chromosomal integrity of U. californica.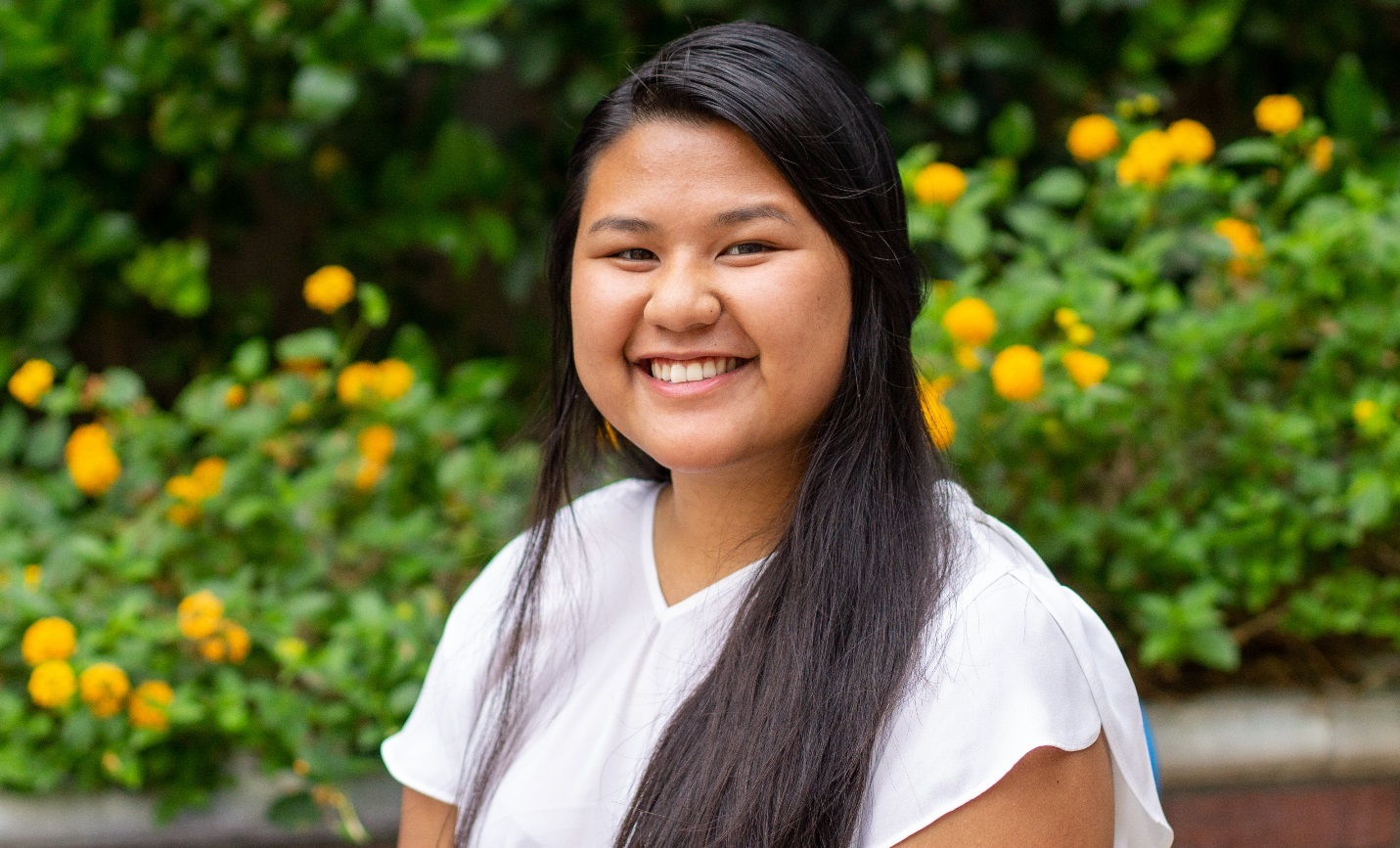 Alissa Padilla
Quinn Whisman (no picture)
I am very happy to hear I was awarded this scholarship, and grateful for those who made this scholarship available to students like myself. After completing an associate in Natural Resources at the Santa Rosa Junior College, I hope to continue my education at Humboldt State to study Natural Resources and or wildlife. Having lived on our coast for some years now I have a special interest in maintaining a connection to the North Coast of California, and I view Humboldt as the perfect place to immerse myself in the community that studies and works to preserve it.
Chris Mullen
Chris Mullen is an avid hiker, mountain biker, and skier who is currently studying at the SRJC with hopes to transfer to Sonoma State in the next year to pursue a BS in Biology. Chris is interested in the ways that fire mitigation in California's wildlands can be shifted to methods that are effective as well as sustainable, ecologically friendly to native plants, and carbon responsible.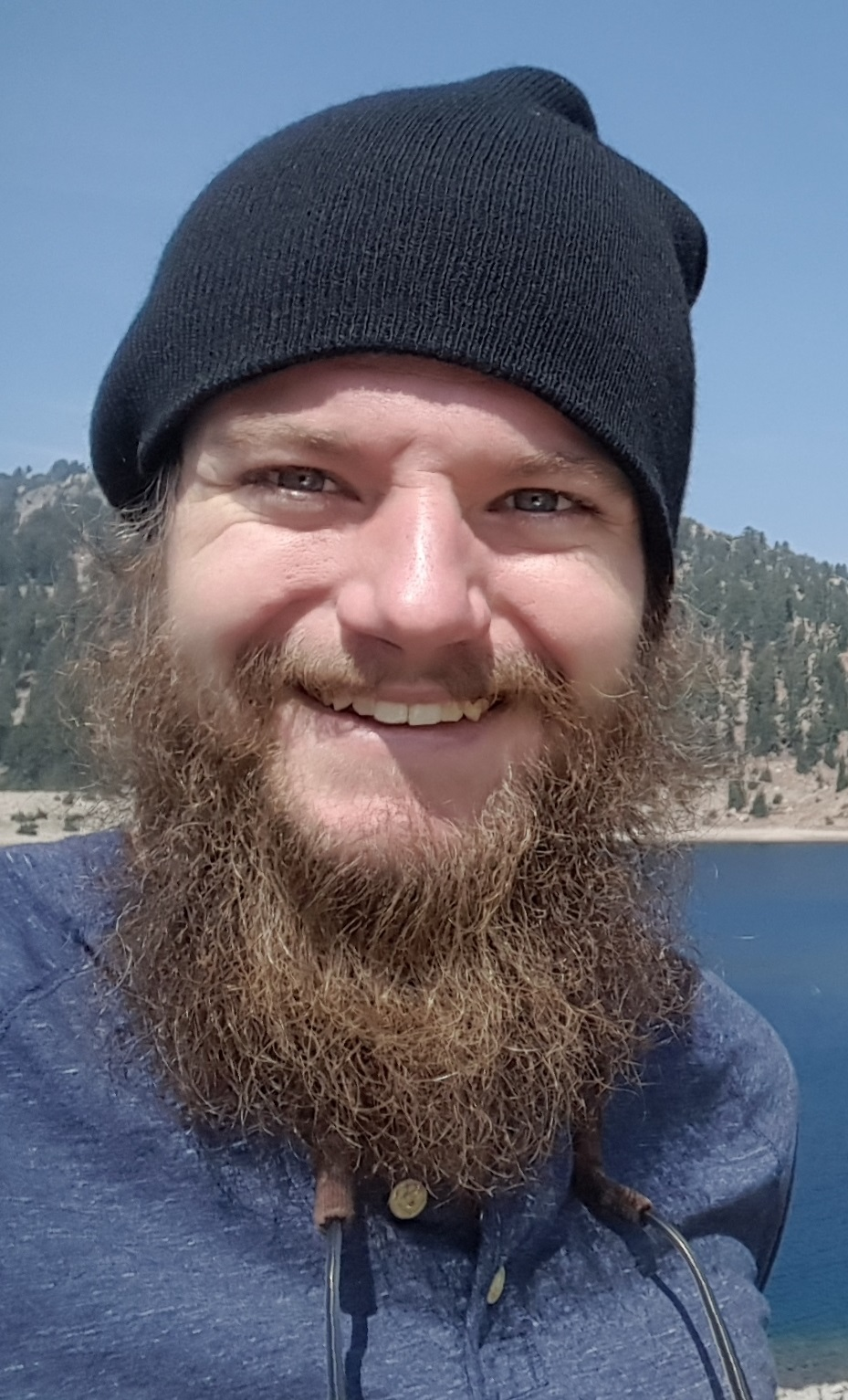 Chris Mullen
Rachael Karm
Hi I'm Rachael! I'm a master"s student at Sonoma State University and I love the ocean and conservation. I'm honored to be a recipient of this scholarship using it to further my passion on a project studying bull kelp resilience along the North Coast.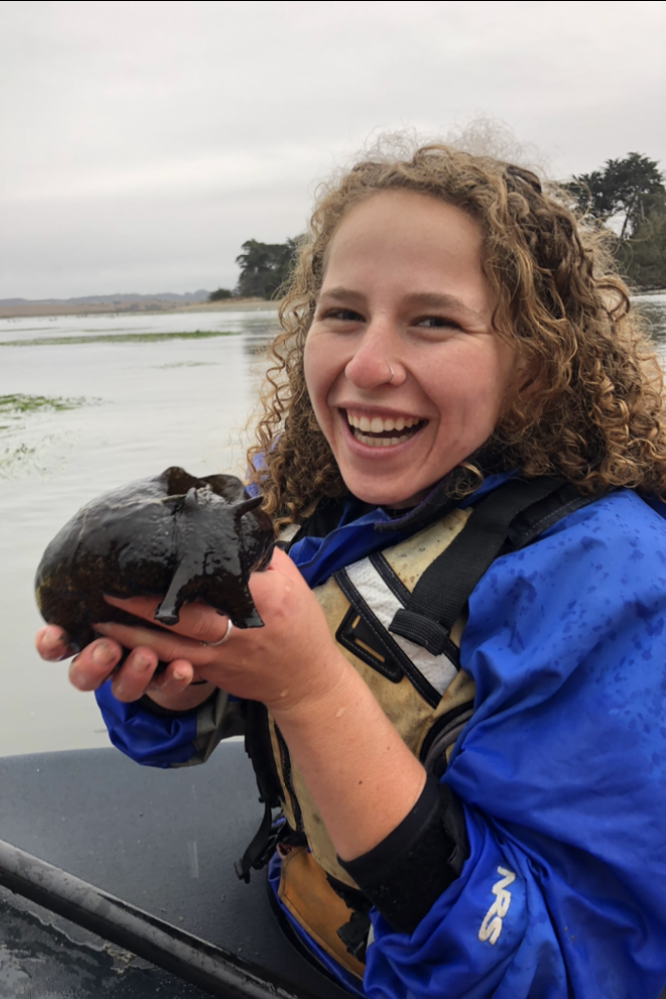 Rachel Karm
Huge thank you to our scholarship donors who keep this program thriving!
Let's Contribute to the Community!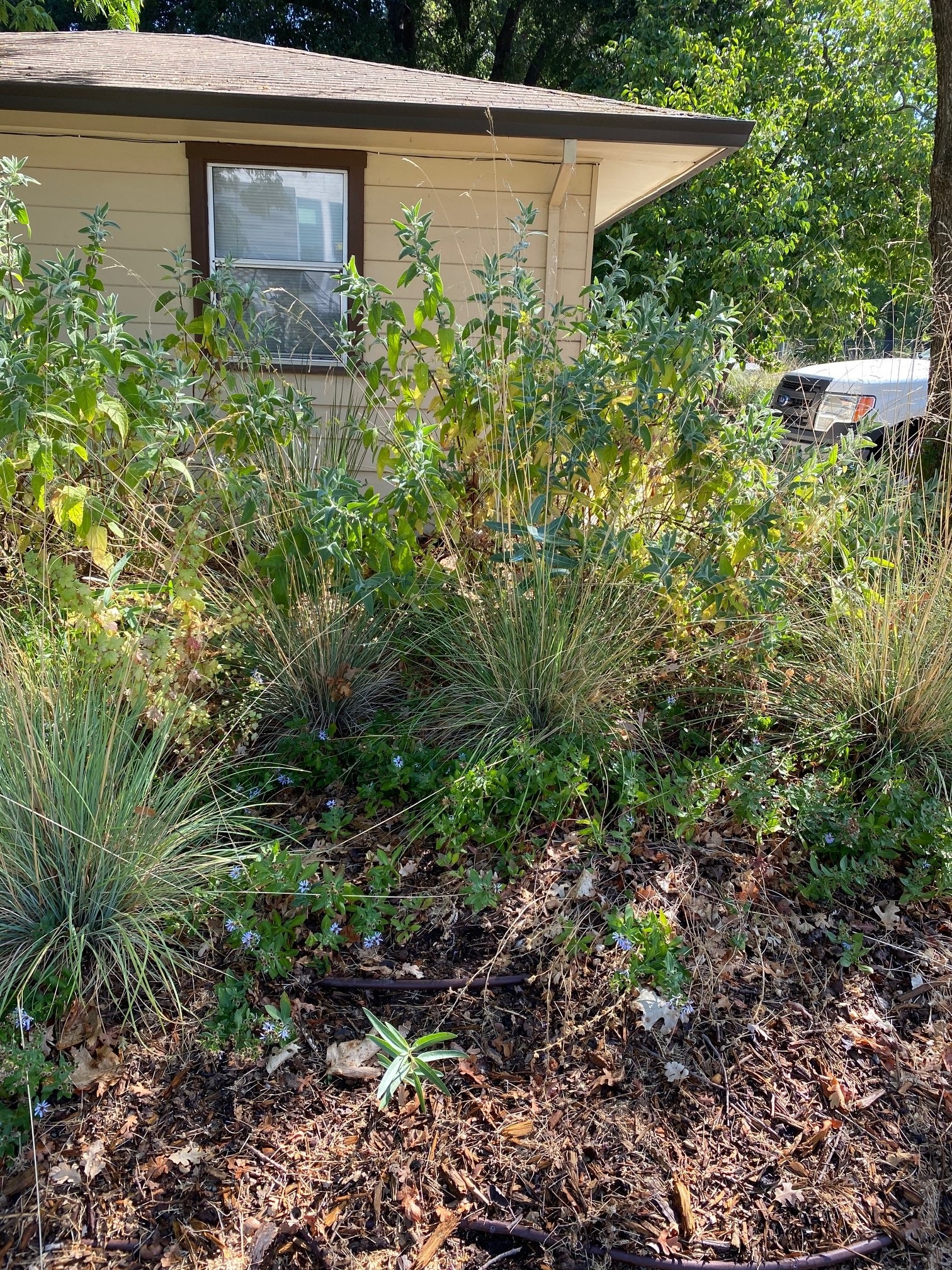 Volunteer Opportunities

Sonoma County Living Learning Landscapes first Friday of the month at 10am meet 1808 Albany Drive Santa Rosa email or call April Owens 707.331.2070 aprilleeowens@gmail.com.
Bring: hand pruners if you have them and a mask of course.

Invasive Ice Plant Removal Wednesdays 9:30-11:30 at Doran Beach. Text Invasive Plant Chair Jan 707.569.4724 to find out where they are working let her know you are coming!

Image: Native Plant Garden at Santa Rosa Junior College, Courtesy of April Owens.
Volunteer Opportunities

We invite you to join us in stimulating and energizing educational and horticultural to help us share the CNPS mission. We have many ways to get involved from helping in the nursery, on our preserves, with education and outreach and on our demonstration garden projects. Please contact Horticulture Chair April Owens, aprilleeowens@gmail.com or Education and Outreach Chair, Virginia Hotz-Steenhoven, vsteenhoven@sonic.net (707)528-6030 for more information

Image: Piles of ice plant at Doran Beach Park, Courtesy of Jan Lochner.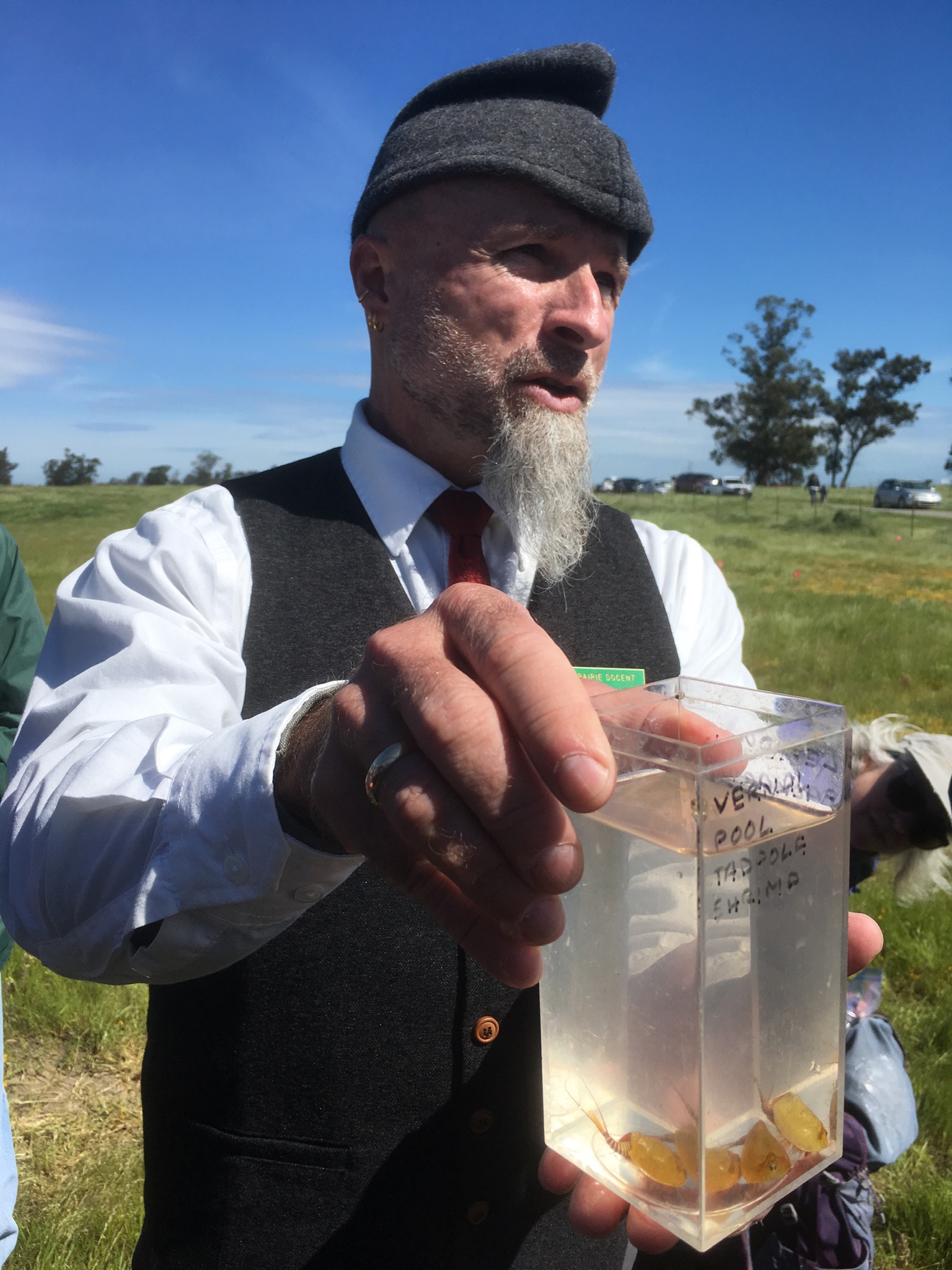 Plant Walks/Field Trips

While our Plant Walks and Field Trips are on hold at this time, we hope to be back in the great outdoors in 2021. Sign up for Email Alerts for our Plant Walks and Field Trips. Contact Ruthie Saia: ruthiegardengirl@gmail.com.

Image: Doug Wirtz at Jepson Prairie Preserve, May 2019, Courtesy of Ruthie Saia.
Find us on Facebook and Instragram!

In the February Garden
The Ribes are blooming! The Ribes are blooming! I love this time of year - out of the cold and quiet garden comes the lovely surprise of Flowering Currant and Gooseberries (Ribes spp.). Out my office window a Fuchsia Flowering Gooseberry (Ribes speciosum) and Golden Currant (Ribes aureum) are standing out in the afternoon light. I've waited patiently for them to focus on their rooted foundation so they are ready to bloom and now it's such a delight when they do. I fell in love with Ribes speciosum at the beginning of my landscape design career while hiking and biking at Fort Ord in Monterey. They were so lovely under the Coast Live Oaks (Quercus agrifolia) amongst the California native grasses. Now I use it in residential landscapes as an accent plant in perennial meadows. Send us some photos of your gorgeously flowering specimens so we can share them with our social media friends!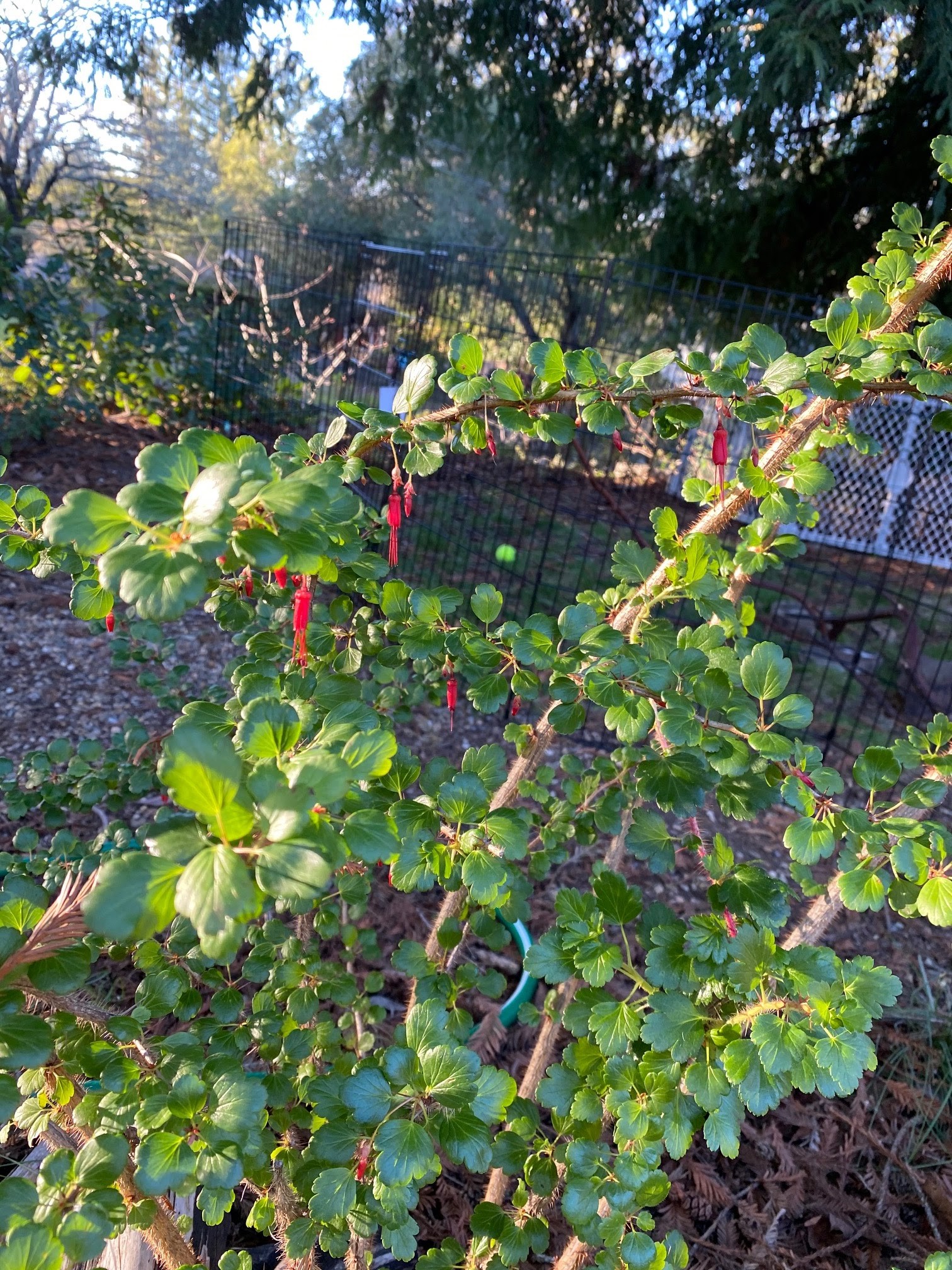 Ribes speciousm, Flowering Goosberry

April Owens,
Horticulture Chair
Introducing our New Column:
Member Spotlight!
CNPS Milo Baker Chapter is excited to highlight active members in our "Member Spotlight". This short newsletter feature shares your story with other CNPS Milo Baker chapter members, inspires future botanists and plant enthusiasts, and strengthens awareness of the importance of native flora and the CNPS Milo Baker chapter activities.

We'll highlight an individual member in our newsletter and social media platforms. Nominate yourself or another member by emailing Caprice, Newsletter Chair, at cnpsmbnewsletter@gmail.com or by clicking the link below.

Below are the questions we'll ask our nominated member!

What is your favorite memory associated with CNPS Milo Baker?

What do you do when you're not enjoying California native plants?

What is your favorite place to go to look at California native plants in Sonoma County?

What's your favorite CA native plant?

Why are California native plants important to you?






We're looking forward to celbrating Milo Baker Chapter members!

Caprice Disbrow, Newsletter Chair
and
Allison Titus, Social Media Chair
2021-2022 Milo Baker Board Members
President

Wendy Smit

707-481-3765

wsmit8000@gmail.com

Past President:

Leia Giambastiani

707-322-6722

leiagia@gmail.com

Vice President:

Liz Parsons

707-833-2063

lizpar8993@aol.com

Secretary:

Kerry Wininger

707-888-5616

kerrywininger@gmail.com

Treasurer:

Karen Thompson
415-786-6788

ket@sonic.net

Conservation Co-chair:

Sean McNeil

707-480-2965
seanmcneil0@gmail.com
Conservation Co-chair:

Trish Tatarian

Trishtatarian@gmail.com

Director at Large:

Cody Ender

codyender@gmail.com

Director at Large:
Michelle Halbur
707-477-1648
mhalbur@pepperwoodpreserve.org

Director at Large:

Rosaleen Murphy

Wildplum13@gmail.com

Director at Large:

Jim Piercy

707-539-3441

terrapenecarolinamajor@yahoo.com

Plant Walks:

Ruthie Saia

707-322-7462

ruthiegardengirl@gmail.com

H

orticulture Chair:

April Owens

707-331-2070

cnpsmilobakerhorticulture@gmail.com

Hospitality:

Karen Thompson

415-786-6788

ket@sonic.net

Hospitality:

Liz Parsons

707-833-2063

lizpar8993@aol.com

Invasive Plant Chair:

Jan Lochner

707-569-4724

4lochs@comcast.net

Membership:

Susan Dean

cnpsmbmembership@gmail.com

Newsletter Editor:

Caprice Disbrow

cnpsmbnewsletter@yahoo.com

Outreach Co-Chair:

Virginia Hotz-Steenhoven

707-528-6030

vsteenhoven@sonic.net

Outreach Co-Chair:

Catherine Lipson

clipson@berkeley.edu

Plant Sale:

Liz Parsons

707-833-2063

lizpar8993@aol.com

Programs/Lectures:

Virginia Hotz-Steenhoven

vsteenhoven@sonic.net

Interim Progams/Lectures
Leia Giambastiani

707-322-6422

leiagia@gmail.com

Nursery/Garden Tour

Betty Young

707-595-1463

youngb0721@msn.com

Publicity:

Judith Rousseau

707-326-6454

jrousseau12@hotmail.com

Social Media Chair:

Allison Titus

530-859-5055

allisonbtitus@gmail.com

Sales Chair:

Judith Rousseau

707-326-6454

jrousseau12@hotmail.com

Website Administrator:

Natasha Granoff

cnpsmb.webadm@gmail.com

SCCC Representative:

Wendy Krupnick

707-544-4582

wlk@sonic.net
SRJC

Representative

:

OPEN

SSU

Representative

:

OPEN

Vine Hill Preserve:

Sarah Gordon

707-833-1243

sarahpgordon@gmail.com

Southridge Preserve:

Michelle Karle

michelle_karle@hotmail.com

Rincon Ridge Park:

Michelle Karle

michelle_karle@hotmail.com

Cunningham Marsh:

Marcia Johnson

707-829-3808

owlsnesttwo@att.net